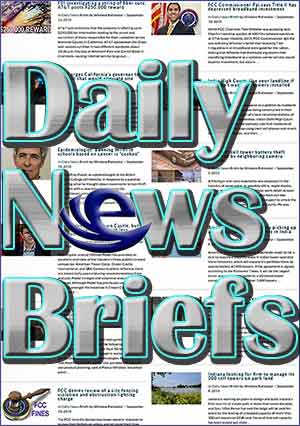 Crown Castle International has filed a lawsuit against the City of Rye, N.Y. after the City Council rejected a proposal that allowed Crown to install wireless equipment in the community's rights of way.
In its complaint, Crown said Rye improperly refused to grant the company access to public rights of way to expand an existing network of small cells, or a distributed antenna systems, "by responding to repeated requests for legally irrelevant information and providing the city with three alternatives plans for this expansion, over the sourse of a year and a half review process."
SBA Communications Co. CEO Jeffrey Stoops sold 94,289 shares of the business's stock in a transaction on May 17. The stock was sold at an average price of $133.76, for a total transaction of $12,612,096.64. Following the sale, the chief executive officer now owns 329,124 shares in the company, valued at $44,023,626.24. The sale was disclosed in a legal filing with the SEC, which is accessible here
AT&T's striking workers this weekend had little impact on the company, according to officials that said that they were well prepared  with a "substantial contingency work force of well-trained managers and vendors in place."
About 37,000 AT&T workers, approximately 14% of the company's workforce, began their three-day strike on Friday.
"A strike is in no one's best interest, and it's baffling as to why union leadership would call one when we're offering terms in which our employees in these contracts … will be better off financially," AT&T spokesman Marty Richter told Reuters.
Wireless workers, who are back on the job today, said that some retail stores closed because of their actions.
Wireline workers, who work in phone, landline and cable services businesses in California, Nevada, and Connecticut, and DirecTV technicians across California and Nevada joined the strike
The wireless workers' concerns are available here.
In a statement, the carrier said, "AT&T remains committed to reaching a fair agreement, and is offering terms in which AT&T employees in these contracts – some of whom average from $115,000 to $148,000 in total compensation – will be better off financially. The terms are consistent with what other company employees across the country have ratified in similar contracts."