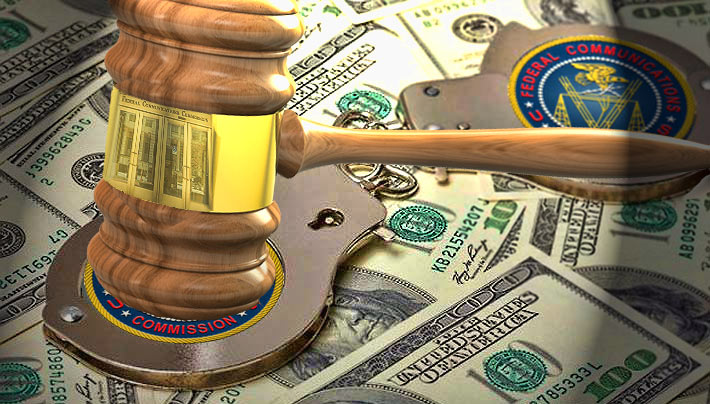 Newly minted FCC Chairman Ajit Pai instituted a process reform measure yesterday that will handcuff his Enforcement Bureau chief so that Commissioners will become more fully involved in the agency's enforcement activities.
One of the ways in which the FCC's Enforcement Bureau resolves an investigation is by entering into a consent decree, in which the party being investigated agrees to comply with certain terms in exchange for the government closing its inquiry, such as last month when the bureau agreed to a settlement valued in excess of $100 million with Straight Path Communications to resolve an investigation of Straight Path's failure to deploy wireless services as required under its FCC spectrum licenses.
It is expected to be one of many changes that he will make in the bureau that he has often criticized, once stating that it had unjustly claimed the roles of "judge, jury, and executioner".
Pai said, in a statement, over the past few years, in cases in which the full Commission has previously voted to propose and/or impose a forfeiture, such consent decrees have generally not been presented to the Commissioners for a vote.
"Instead, they have simply been signed by the Chief of the Enforcement Bureau at the direction of the Chairman's Office. Indeed, many times, Commissioners were barely given any notice of such consent decrees before they were publicly released by the Bureau," Pai wrote.
"That process ends now. If Commissioners vote to propose and/or impose a forfeiture, the Enforcement Bureau should not settle that matter without their approval. Therefore, I have instructed the Enforcement Bureau that starting today, any consent decree settling a Notice of Apparent Liability or Forfeiture Order issued by the full Commission must now be approved by a vote of the full Commission. This will help promote Commissioners' involvement in and accountability for important enforcement decisions."
The reform, Pai said, is being put into force immediately, especially since yesterday the Enforcement Bureau circulated a consent decree for the Commission's consideration that would conclude an important investigation previously approved by the full Commission.
Michael Carowitz, who had been deputy chief of the FCC Consumer and Governmental Affairs Bureau, was named by Pai last month as his acting chief of the Enforcement Bureau, which had been headed by Travis LeBlanc.
"I look forward to working closely with my colleagues on that matter and other consumer protection efforts in the months to come," Pai said.
Last week, Commissioner Mignon Clyburn trashed a couple of Pai's decisions that she said were buried in a news dump. She believes it is a basic principle of administrative procedure that actions must be accompanied by reasons for that action, or else that action is unlawful.
When Clyburn was the acting FCC Chairwoman prior to Tom Wheeler's appointment, Pai did not dissent on any Enforcement Bureau actions, but became concerned about the way it was issuing fines and settlements under Wheeler's watch.
Pai has butted heads with the bureau for years 
Pai, as a Commissioner, has spoken out often regarding his concerns about the Enforcement Bureau, at times complaining that the bureau did not respond to his requests for information on current investigations.
In November of 2015, Pai testified before a U.S. House of Representatives committee regarding oversight of the FCC and said, "To be blunt, the FCC's enforcement process has gone off the rails. Instead of dispensing justice by applying the law to the facts, the Commission has focused on issuing headline-grabbing fines, regardless of the legality of its actions."
He pointed out that just days before his testimony, M.C. Dean was fined $718,000 for blocking consumers' Wi-Fi connections at the Baltimore Convention Center, but said that the FCC's "own rules expressly allow that conduct".
"In my view, the FCC should have rules that prohibit Wi-Fi blocking, but we don't. And it's not for the lack of any opportunity. Over a year ago, parties asked the Commission to adopt regulations on Wi-Fi blocking, and a broad cross-section of stakeholders urged the FCC to clarify the rules of the road. But instead, Commission leadership made it clear that no such guidance would be provided and the agency ultimately dismissed the petition," said Pai.