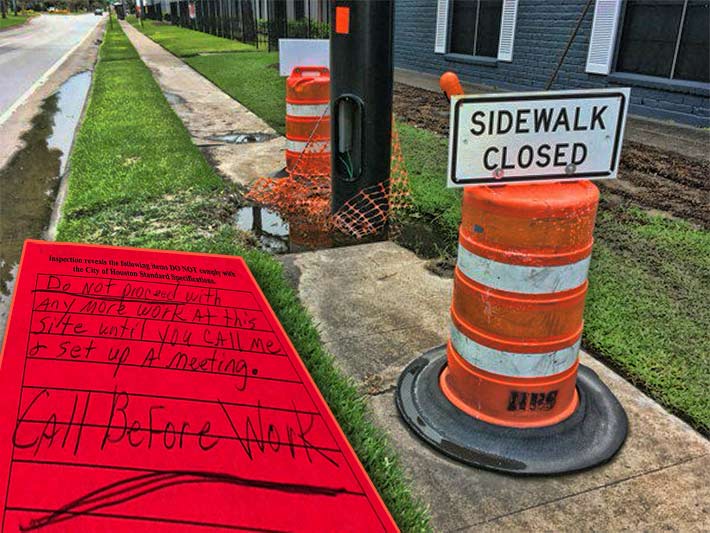 After the City of Houston, Tex. Public Works and Engineering Department recently became aware that numerous DAS nodes had been installed on sidewalks, a City engineer promptly red-tagged at least one monopole that was erected by MasTec North America, Inc. for Mobilitie, LLC.
It also prompted the department to issue FAQs on network nodes, below, that were released today.
Council Member Brenda Stardig alerted City engineers to the troubling placements of the 40-foot monopoles, three in her district, and believes that the State's Senate Bill 1004 passed last month setting forth rules regarding deployment of network nodes in public rights-of-way – in part – created the problem.
"While I understand the need for new technology," Stardig informed Wireless Estimator, "the State has placed a burden on the City to allow these poles with little say in how it can be implemented. Unfortunately, some of these poles have been placed in the middle of the sidewalk. As a strong supporter of the Americans with Disabilities Act, I will not stand for these poles to remain in the sidewalks."
However, the Senate Bill doesn't take effect until Sept. 1 and there's a possibility that Mobilitie might have recently installed the nodes that were applied for in 2016 since the legislation may actually present additional siting problems for the DAS provider.
The new requirements ensure that a new pole cannot "obstruct, impede, or hinder the usual travel or public safety on a public right-of-way." It also has height and distance requirements from existing poles.
In addition, it requires the pole to be installed no later than six months after approval has been provided and certification that the proposed network node will be placed into active commercial service by or for a network provider not later than the 60th day after the date the construction and final testing of the network node is completed.
The legislation also states that the node cannot violate the federal Americans with Disabilities Act of 1990, which the current installations appear to breach.
Without notifying the City's engineering department, MasTec relocated a Kempwood Drive pole in Stardig's Northwest Houston district onto a sidewalk when underground facilities were found  at the location detailed on a site plan, Public Information Officer Alanna Reed informed Wireless Estimator.
"The approved drawings did not authorize the pole to be placed in the middle of the sidewalk," said Reed.
MasTec's permit identified that it was pouring a foundation measuring 3'x3'x8'.
Reed said the sidewalk is being rerouted around the pole by MasTec and is scheduled to be completed shortly.
"This is not a typical occurrence, and to prevent situations like this from happening again, the Department of Public Works and Engineering is more closely monitoring plans and inspections for cellular network nodes. I have also confirmed that this project was not part of SB 1004," said Reed.
In a statement, Reed requested that if residents knew of any other poles that were placed in the middle of a sidewalk to contact the City's 311 department.
It's likely that they have been informed of another Mobilitie pole that has been recently installed in the center of a sidewalk in Mayor Pro-Tem Ellen Cohen's district at 2623 Allen Parkway.
Mobilitie is known for installing poles in unapproved locations throughout the country.
According to a report earlier this year, Sprint appeared to be complicit in providing Mobilitie permission to commence construction on "mini macro" and "monopole" wireless site installations "without necessarily securing certain build prerequisites," and the carrier along with Mobilitie knew that they were "breaking the process."
City of Houston FAQs on Network Nodes
WHAT ARE WIRELESS NETWORK NODES?
A wireless or cellular network node, sometimes called a small cell tower, is a standalone antenna and equipment to expand coverage and increase wireless network capacity.
WHAT IS A DISTRIBUTED ANTENNA SYSTEM?
A distributed antenna system (DAS) is another common wireless network system that can be placed in the right-of-way. DAS typically require less infrastructure attached to each pole and can be more easily made to resemble street lights and signs.
WHAT PERMISSION/PERMIT IS REQUIRED BY THE CITY OF HOUSTON?
The Department of Public Works and Engineering must approve the location and issue a street cut permit before a pole can be installed in the right-of-way. Additional permit requirements may vary based on location. CenterPoint Energy has an agreement with the City of Houston to install electric utility poles and gas distribution facilities in the right-of-way. Telecommunication companies are authorized from the state (Chapter 283) to install fiber, poles and boxes to provide telephone and data services.
CAN THE CITY REFUSE NETWORK PROVIDERS USE OF THE RIGHT-OF-WAY?
No. The City of Houston's master license agreement, approved in December 2015, allows wireless network providers to use the public right-of-way. On September 1, 2017, Senate Bill 1004 (Chapter 284) will prevent any City from denying wireless network providers use of public right-of-way.
WHO SHOULD I CONTACT IF I HAVE CONCERNS?
Please call 311.
WHAT IS SB 1004?
SB 1004 was approved by the Texas Legislature authorizing wireless network providers use of municipal public right-of-way. SB 1004 is effective September 1, 2017.
WHAT IMPACT WILL SB 1004 HAVE ON HOUSTON?
SB 1004 will allow wireless providers full use of Houston's right-of-way, except for the following locations, which require the City's approval:
Parks
Single family residential areas next to a street that is not more than 50 feet wide
Historic Districts
Management Districts (must comply with design requirements)
WHAT DOES THE CITY CONTROL UNDER SB 1004?
The City can control public health and safety matters not addressed in SB 1004.
WHAT CAN BE DONE TO PREVENT NETWORK NODES UNDER SB 1004 AND THE CITY'S AGREEMENT?
The City of Houston has remedies available under the agreement including: revocation of the license and an informal resolution of the issue. The City can revoke a specific location, but not the entire agreement. Finally, there is a provision authorizing the City Attorney to enforce the agreement. There is no remedy specifically stated for SB 1004 (Chapter 284). However, if the violation is related to a municipal, federal or other state law or regulation, then there may be remedies available under that law or regulation.
WHAT IS DIFFERENT BETWEEN SB 1004 AND THE CITY'S AGREEMENT? 
 
City's Agreement
SB 1004
Effective Date
Dec. 2015 – Aug. 31, 2017
Sept. 1, 2017
Right of Way Use Fees
(collected by ARA)
$2,000 to $2,700/location + Annual CPI adjustment
$250/location
$28/node for fiber
$0 micro network nodes
+ Annual CPI adjustment
Permit Fees
(collected by PWE)
$111.82 + $80.51/sheet plan drawings
$1,000/pole
$500 up to 5 network nodes
$250/additional network node per application
$0 for substantially similar replacement
Pole Height
50 feet maximum
55 feet maximum
Ground Box Size
3ft x 3 ft x 3ft
3.6 ft x 3.6 ft x 3.6 ft
Spacing requirements
Poles 300 feet apart unless approved
None
Use of City-owned poles
Prohibited
Allowed, subject to agreement with the City
City Approval for Location
Required for each location
Not required unless location is in a Historic District, Park, Design District with decorative poles, or single family residences next to 50 feet or smaller street
Compliance with Design Manual
Required
Required
Compliance with Other Regulations
Required

Must not create visibility or accessibility issue as required by Texas Department of Licensing and Regulation and Americans with Disabilities Act

Intersection and driveway visibility requirements

None
Permits
Required

(street cut, sidewalk closure, and lane closure permits)

Allowed if it is of general applicability to users of the right of way, does not apply exclusively to network nodes, and is processed on nondiscriminatory terms and conditions regardless of type of entity submitting the application for the permit.
Consolidated Application
Allowed as stipulated by PWE
Up to 30 network nodes on one application
Application Form
Application requests information required by agreement and as needed by PWE

GIS coordinates or nearest street address

Construction and Engineering drawings required

Information to ensure compliance with agreement.

Application cannot require applicant to provide more information than a telecommunications utility that is not a network provider is required to provide unless the information is required by Chapter 284

Construction and Engineering drawings may be required

Information to ensure compliance with Chapter 284

Certificate that network node complies with FCC regulations allowed

Certificate that proposed network node will be placed into service not later than 60th day after completion allowed.

Deadline for Notifying Applicant of Incomplete Application
From date of receipt:
30 days for network nodes
From date of receipt:
30 days for network nodes
10 days for fiber
Deadline for Approving Permit
From date of receipt: 30 days

From date of receipt of complete application:
150 days for poles
60 days for network nodes
21 days for fiberFrom date of receipt of revised application that was denied: 90 days
Installation Deadline
None
6 months after final approval
Permit Exemption
If replacing identical equipment
If replacing substantially similar equipment
Use of Municipally-Owned Utility Poles
None – the City does not own any
Allowed, subject to an agreement
Relocation of Network Nodes and Poles for Public Projects
Required for City construction or maintenance project or undergrounding utilities
Required relocation of network nodes without cost to cities, unless excepted by federal or state law
Removal
Required for City construction or maintenance project or undergrounding utilities

Required after revocation

None
Restoration
Required to restore to substantially same condition before Permit was granted for use of the right of way location
None
Remedies
Informal resolution, mediation, revocation or a location, revocation of the agreement, removal of pole or network node, and enforcement of the agreement by action of the City Attorney
None
Term
Sooner of 10 years or 2025
None
Termination
Either Party
None
Nondiscriminatory and Uniform Treatment of All Users of Right of Way
Nondiscriminatory and Uniform Treatment
Other Provisions
No generators, signage requirements, tree maintenance, graffiti abatement, liability, environmental laws, drug policy, security or bond, insurance
None