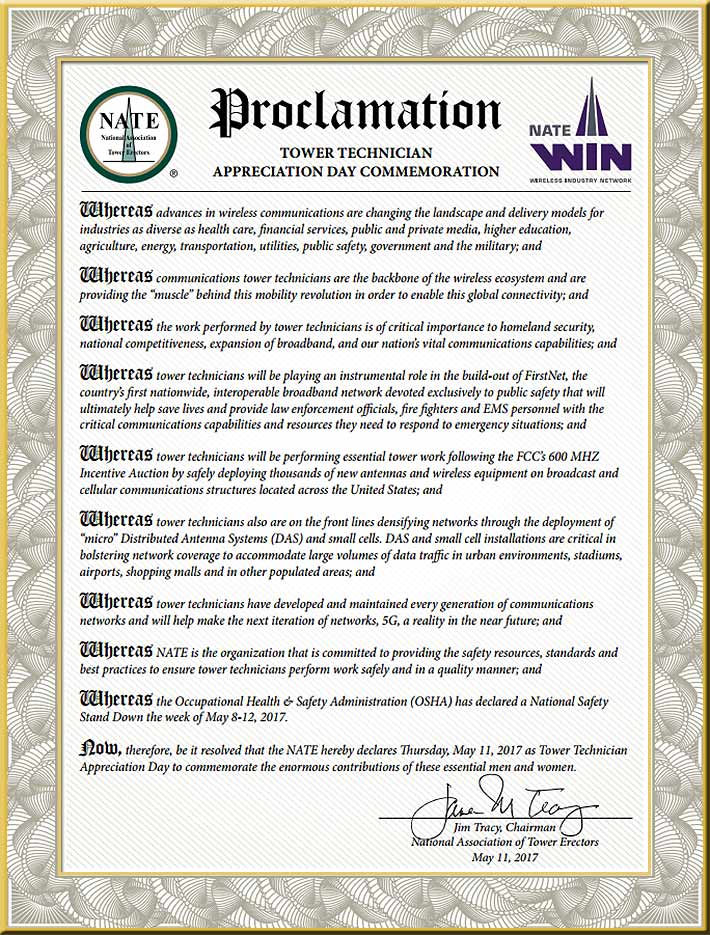 The National Association of Tower Erectors (NATE) this morning unveiled a commemoration declaring Thursday, May 11, 2017 as Tower Technician Appreciation Day. This day has been set aside by NATE to coincide with OSHA's National Safety Stand-Down Week in order to pay tribute to the important work that tower technicians conduct on a daily basis to enable a mobile society.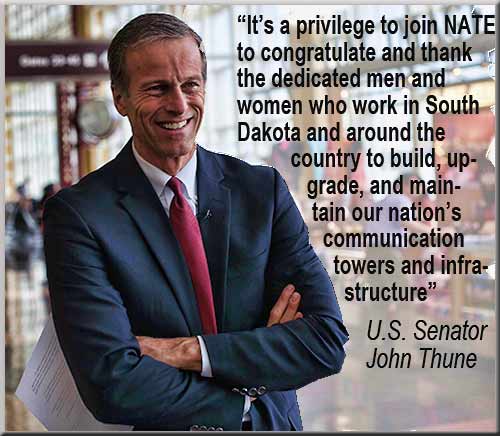 NATE was joined by U.S. Senator John Thune (R-SD), Chairman of the Senate Committee on Commerce, Science, and Transportation in honoring the work of the men and women who deploy and maintain America's communications infrastructure.
"It's a privilege to join NATE to congratulate and thank the dedicated men and women who work in South Dakota and around the country to build, upgrade, and maintain our nation's communication towers and infrastructure," said Sen. Thune. "Tower erectors and technicians put in long hours and hard work, and they possess a unique set of skills that is essential to effectively deploy today's wireless broadband network and lay the groundwork for the 5G network of the future."
"Access to ubiquitous wireless coverage is paramount for the public safety, economic development and welfare of all Americans," said NATE Executive Director Todd Schlekeway. "Today, NATE is honored to celebrate the communications tower industry workforce by highlighting the tireless contributions and sacrifices these men and women make in order to keep us safe, connected and prosperous."
"This is a great day and we are thrilled to provide this well-deserved recognition to the industry's most precious resource…the men and women who make up our workforce," said NATE Chairman Jim Tracy, CEO of Legacy Telecommunications, Inc. in Burley, Wash.
To download and print the official Tower Technician Appreciation Day Proclamation, visit HERE.