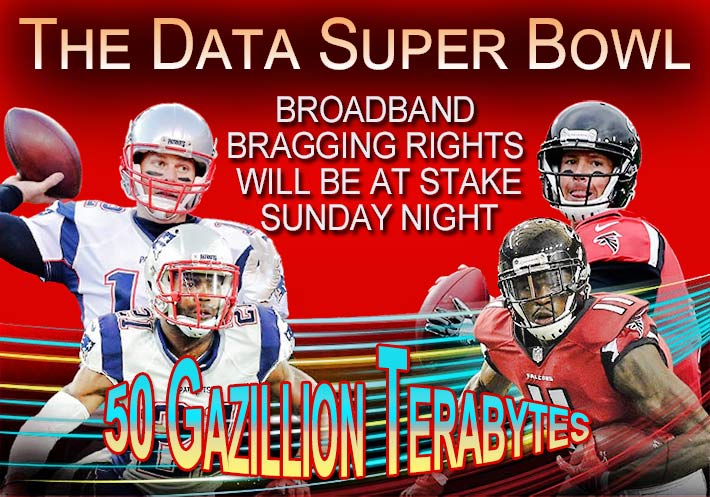 The Patriots and Falcons will match up in Houston Sunday at NRG Stadium, and the nation's wireless carriers are kicking off their public relations campaigns this week to show how they'll be capable of handling whatever their subscribers throw their way.
But unlike today's odds where New England is installed as a three-point favorite over the Falcons, the odds of the media correctly getting the projected and final numbers of the amount of carrier data gobbled up by fans might have a bigger spread, since a lot of the information proposed as gospel comes from embellished reports from carriers.
The best number being cobbled together is it is expected to be over 10 terabytes (TBs) of data, a number as good as any other guess.  The 10 TBs amount  is mostly attributed to information provided by Levi's Stadium (below) of data that was transferred during last year's Super Bowl where Verizon said it handled the most traffic, 7 TBs.
But T-Mobile cried foul, with CTO Neville Ray stating that while Verizon claimed it was kicking butt regarding the number of plays and field goals streamed, T-Mobile doubled the carrier with data speeds at the big game that were double those provided by Verizon.
However, this year's 10 TBs guess may be slightly off by 59% since following Super Bowl 50, announcements from the big four carriers boasted their data counts – Verizon, 7 TBs; AT&T; 5.2 TBs; T-Mobile 2.1 TBs; and Sprint, 1.6 TBs – a total of 15.9 TBs on the in-stadium distributed antenna system (DAS) network as well as any macro deployments outside the stadium in parking lot areas.
No matter who wins the Super Bowl, carriers will all find a handle to state that they came out on top.
Last year following San Francisco's Super Bowl, Verizon took literary license with their press release, extolling in a headline that their customers shared an impressive 68.6 TBs of data.
But with further reading it was identified that the total included the usage by subscribers "in the Bay Area on game day and throughout Super Bowl week."
And towards the end of their release, Verizon footnoted how they identify a week: "Total network data used over 9 days."
To hedge our bets, our projection is that there is a possibility that data transfer could be up to 50 gazillion TBs, with the additional caveat that it could easily be topped if Lady Gaga has a wardrobe malfunction during the halftime show.
STATISTICS FROM LEVI'S STADIUM FOLLOWING SUPER BOWL 50:
According to networking partners and industry experts, Levi's Stadium said it became the first venue to transfer 10 TB of data over a Wi-Fi network, transferring 10.1 TB of data during Super Bowl 50.
Super Bowl 50 saw 63 percent more data transferred than the previous high of 6.2 TB at University of Phoenix Stadium during Super Bowl XLIX. In fact, by halftime Levi's Stadium had already passed the previous standard for most data transferred at any sporting event.
Fans alone used more than 9.3 TB of data during Super Bowl 50 while logging onto the SB50FREE network at Levi's Stadium, while media covering the game used 453 GB of data on their dedicated network. Cumulative data figures were compiled from 6am to 11pm PT, the entirety of which featured substantial activity on the network.
Data compiled from all cellular carriers that utilize the Levi's Stadium Distributed Antenna System (DAS), including NFL and 49ers partner Verizon, showed that 9 TB of data was transferred via DAS at Levi's Stadium during Super Bowl 50, 2.5 times the total from the previous record achieved last year at Super Bowl XLIX. Verizon led the way by transferring 7.0 TB over its dedicated network.
Overall, the Levi's Stadium Wi-Fi and DAS systems both set new Super Bowl records by halftime, transmitting or downloading more data in the first two quarters of Super Bowl 50 than last year's game did for the entire day.
Levi's Stadium also set Super Bowl records by registering 27,316 unique Wi-Fi users and a peak of 20,300 concurrent users (set at 5:55pm PT) during Super Bowl 50, topping the previous Super Bowl records from last year set at 25,936 and 17,322, respectively. The previous max for concurrent Wi-Fi users at Levi's Stadium was 18,901 for its inaugural regular season game vs. Chicago on Sept. 14, 2014.
With an official attendance of 71,088, Super Bowl 50 saw more than 38 percent of attendees utilize the Levi's Stadium Wi-Fi system with a concurrent max of nearly 29 percent of all fans in the stadium using Wi-Fi at one time.