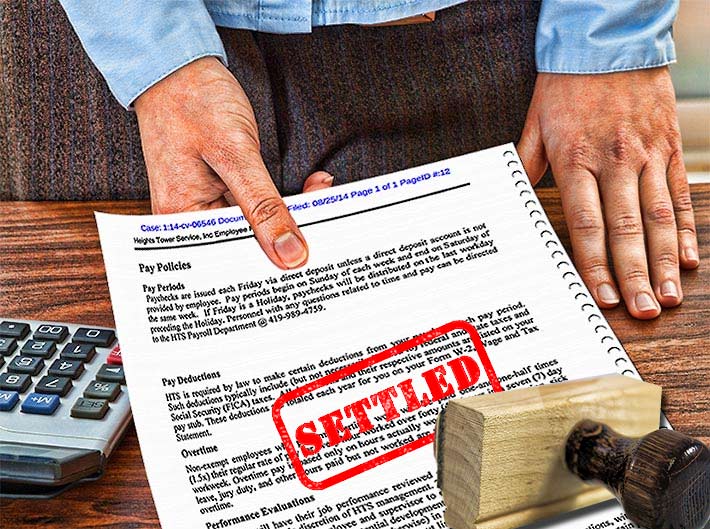 A Yorkville, Ill. wireless contractor agreed to pay $333,000 to settle a class action lawsuit by tower technicians who claimed they weren't paid overtime for the time they spent traveling between job sites.
Illinois U.S. District Court Judge Jeffrey Gilbert gave final approval Tuesday to the settlement between Heights Tower Service, Inc. and 65 employees (listed below), but in the agreement, Heights expressly denied the allegations contained within the complaint, specifically stating  that they have at all times been in compliance with the Fair Labor Standards Act (FLSA) and the Illinois Wage Payment and Collection Act (IWPCA).
Many contractors took interest in the case that was first reported by Wireless Estimator last December because they too have similar policies separating drive time hours that they pay for at a different hourly rate that aren't accruable hours towards a technician's 40 hour work week when the technician is riding as a passenger.
As an example, the primary plaintiff in the Heights action was Jason Pietrzycki who said he was paid $23 an hour regular time, but only received $10 an hour for drive time.
Heights' owner Mark Motter demanded a trial by jury and to be reimbursed his attorneys' fees and expenses, but at some point was convinced that a settlement was the better alternative.
However, the agreed upon calculations used for overtime payment in the settlement could possibly provide an indication of what a jury might have required if they ruled against Heights during a trial that was scheduled to take place this summer:
"The amounts were determined by using Defendants' payroll and timekeeping records to determine how many hours per week each Collective or Class member worked and how many "drive time" hours they logged. Where the regular and 'drive time' hours exceeded 40 in a work week, the overtime rate was calculated by multiplying the regular hours by the employee's usual rate and the 'drive time' hours by the drive time rate and then dividing by the total combined hours. This 'regular rate' was then multiplied by the first 40 hours worked and then the remaining hours were multiplied by one and one-half times the 'regular rate'. These numbers were then added, and additional compensation such as bonuses and per diem were added, and the total wages due were determined. The total wages due were then subtracted by the amounts previously paid."
The total overtime pay that the employees will receive totaled $121,567. Although the plaintiff's attorneys, The Fish Law Firm, P.C. of Naperville, requested $296,322 in legal fees from Heights, they settled for $211,432.
The lawyer for the workers, David Fish said, "We believe strongly in the rights of workers to be paid overtime. Heights Tower fought this case for four years and we are grateful that the workers hung in there to allow for a successful resolution.  This is an excellent result."
Heights was represented by Poling Law of Columbus.
The plaintiffs and their law firm will get two equal payments, the first on June 28 and the final payment on April 9, 2019.

Supreme Court ruling could curtail some class action wage lawsuits
On May 22, the U.S. Supreme Court delivered a blow to the rights of more than 25 million employees whose companies require them to sign away their ability to bring class-action claims against their employer.
By a 5-4 vote, the Supremes ruled that workers may not band together to challenge violations of federal labor laws.
Writing for the majority, Justice Neil Gorsuch said that the 1925 Federal Arbitration Act trumps the National Labor Relations Act and that employees who sign employment agreements to arbitrate claims must do so on an individual basis — and may not band together to enforce claims of wage and hour violations.
Justice Ruth Bader Ginsburg, in her oral dissent, called out the majority for what she said was an egregiously wrong decision.
She said that workers' claims are usually small and an employee would likely have to spend $200,000 to recover only $1,800 in overtime pay. The average overtime pay received in the Heights settlement was $1,870.
The ruling is the latest in a series of pro-business decisions by the conservative-majority Supreme Court in recent years limiting class-action claims of various types and endorsing arbitration to resolve contractual disputes.
Ginsburg said employees do not really have a choice about whether to sign such agreements, labeling them "arm-twisted, take-it-or-leave-it contracts."
The ruling does not affect workers represented by unions.
HEIGHTS TOWER SERVICE EMPLOYEE SETTLEMENT PAYMENTS
| | | |
| --- | --- | --- |
| Bach, Brandon – $207.93 | Gukich, Steven – $1,683.32 | Reynoso, Roy – $920.89 |
| Barnes, Bryan – $281.99 | Hernandez Gurrola, Oscar – $56.08 | Roemer, Phillip – $105.53 |
| Beagley, Randall – $2,398.32 | Hiett, Curtis – $1,282.80 | Rojas, Jorge – $3,606.44 |
| Bonifay, Anthony – $111.66 | Holmstrom, Dean – $914.51 | Rojas, Moses – $5,084.37 |
| Broge, Joshua – $571.53 | Howell Joe, – $534.32 | Rojas, Sergio – $922.39 |
| Bustamonte, Leonardo – $11,403.37 | Kanuckel, Clinton – $1,913.36 | Rygula, Stephen – $1,159.10 |
| Cepeda, Carlos – $718.61 | Korbisch, Louis – $1,794.04 | Sandoval, Carlos – $3,587.42 |
| Chavira, Eduardo – $195.96 | Lopez-Gonzalez, Isidro – $209.36 | Schmidt, Dustin Ryan – $4,893.59 |
| Cherry, Nate – $3,420.09 | Lyon, Joseph – $336.15 | Senesac, Brian – $3,755.36 |
| Destani, Austin – $4,922.26 | Mena, Daniel – $3,376.71 | Solano, Hugo – $254.16 |
| Doucette, Phillip – $277.26 | Mollison, Mathew – $1,945.93 | Stacey, Dustin – $3,249.81 |
| Duncan, Curtis – $1,198.87 | Monyelle, Cameron – $19.62 | Standley, Karmon – $787.48 |
| Duncan, Zachary – $1,192.80 | Monyelle, Chad – $160.61 | Staver, Blake – $106.49 |
| Edmondson, Michael – $372.96 | Moon, Benjamin – $1,882.88 | Terrazas, Alvaro – $2,336.86 |
| Fiene, Chris – $918.75 | Murphy, Michael – $1,832.76 | Torres, Joel – $580.34 |
| Flandro, Jeffrey – $3,604.17 | Natola, Sean – $2,516.41 | Torres, Jose – $555.76 |
| Follestad, Christopher – $657.32 | Natola, Taylor – $2,604.91 | Torres, Rodolfo – $379.91 |
| Gauna, Luis  – $1,267.21 | Nelson, Andrew – $249.69 | Triplett, Shaine – $2,571.85 |
| Golubic, Blade – $646.70 | Padilla, Alejandro – $5,661.21 | Windom, Walter – $1,605.11 |
| Gomez, Tevin – $499.71 | Peek, Andrew – $1,843.47 | Wolfe, Bradley – $469.23 |
| Gonzales, Andrew – $83.00 | Phillipps, Chad – $454.74 | Zagal, Alejandrino – $3,271.36 |
| Grigsby, Steven – $472.29 | Pietrzycki, Jason – $14,668.03 | |