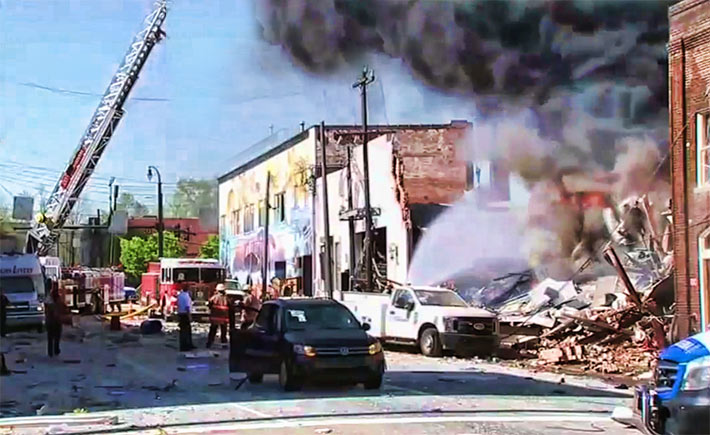 The N.C. Department of Labor's Occupational Safety and Health (NCOSH) is using a shotgun approach to uncover whether proper procedures were followed marking utility lines as well as drilling around those lines prior to a gas explosion on April 10 that killed  a shop owner and utility employee and injured 25 other individuals.
N.C. DOL Public Information Officer Mary Katherine Revels informed Wireless Estimator today that NCOSH has opened an investigation against Crown Castle, PSNC Energy, Optic Cable Technology Inc., PS Splicing, and Tower Engineering.
The Durham Fire Department is also being investigated. Eight of the nine firefighters injured in the explosion have returned to work.
Although Revels said she could not provide specifics of the investigation, she said one of the things OSH inspectors typically look for is to "ensure emergency evacuation procedures were in place."
Crown Castle's subsidiary, Fiber Technologies Networks, pulled the permit and hired the contractor that struck the line. Although that company's name wasn't provided, it appears to be PS Splicing.
The company CEO, Don Smith, was at the site when the explosion occurred and suffered severe injuries. He took the "brunt of the blast," said Rodney Fields, the company's vice president. PS Splicing was required to make an OSH report within 24 hours since Smith had suffered the loss of an eye and remained in the hospital.
Although a 61-year-old coffee shop owner died in the explosion, his death is not being investigated since OSH only investigates worker deaths that are required to be reported within eight hours.
PSNC Energy was responsible for marking the gas lines before excavation for the fiber optic cable began. One of their employees who was injured during the blast died last week
Tower Engineering reportedly handled the permitting process and was managing the work site.
It is not known why OSH is investigating Optic Cable Technology, a fiber optic excavation and installation contractor.
The company, established just 39 days prior to the explosion, might have been a subcontractor of PS Splicing.
'Controlling Employer' liability will be assessed
NCOSH will be assessing Crown Castle's role as well as others in regards to the Multi-Employer Worksite Doctrine that allows the agency to extend liability to almost any company that can be conceivably related to an employee accident or alleged safety hazard.
However, Seyfarth Shaw LLP attorneys Mark Lies, Scott Nelson and Adam Young recently published an article regarding an Occupational Safety and Health Review Commission decision reining in OSHA's "scattershot approach" to cite all employers at a worksite.
According to the authors, "Moving forward, OSHA will be required to hold the controlling employer liable only based on objectively reasonable evidence that the employer failed to meet its more limited duty of care.  Further, this decision will help guide employers in how to avoid multi-employer worksite and 'controlling employer' liability going forward, and provide some solace that a rigorous safety program and efforts to promote employee safety will not be in vain and be used improperly against the employer by OSHA."