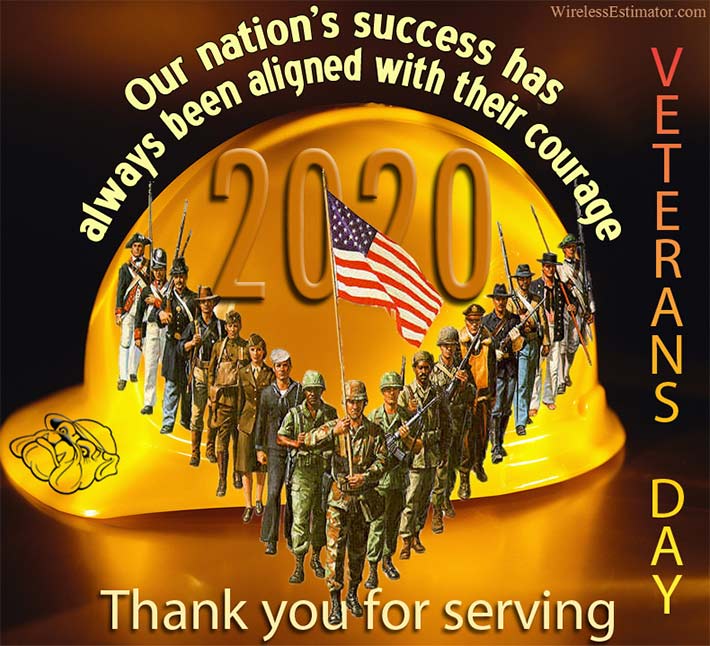 Veterans Day every November 11th honors all Americans who have served our country in war or peace. It is a day set aside to thank the living veterans for their service and sacrifice made to a grateful nation.
It is a day of remembrance with parades, services, ceremonies, and most of all to honor all those who have served our country in any capacity, whether  during peace or war in combat or support roles who have served honorably.
It takes a special kind of individual to serve and answer the call to duty.
However, honoring those who've served isn't just about what is said during today's events. It's about how we honor our veterans every day of the year. It's remaining committed to supporting them and their families in every way possible. It's about serving them as well as they've served our nation.
That can be accomplished through donating to the various charities that support our veterans, but an equally important way to express your gratitude is to reach out and hire a veteran.
They will have a positive impact on your company. They're used to teamwork and perform well, coming from a background of frequently limited resources and the desire to seek solutions and get the job done safely. They don't want to look back but want to look forward.
Oftentimes promising veterans seeking career opportunities can be found on Wireless Estimator's Position Wanted job board or can be reached through Warriors4Wireless.
Recently, NATE: The Communications Infrastructure Contractors Association introduced its Military of NATE initiative that enables veterans, active duty, National Guard and Reserves, to achieve their full potential to help support their success in the communications infrastructure industry.
More information regarding the veteran sourcing program can be found here.
Legacy is solidly behind supporting veterans

Jim Tracy, CEO of Legacy Telecommunications, based out of Gig Harbor, Washington, takes pride in his company's commitment to veterans, representing about 15% of Legacy's 115 employees.
Legacy released the below video this morning, Legacy Loves Vets, promoting their dedication to hiring and appreciating the work ethics of veterans and the sacrifices they were willing to make while serving the nation. As one Legacy employee correctly said, "Our freedom goes to your courage."
That freedom isn't guaranteed. It's protected by the men and women in our Armed Services. To those who secure our way of life: THANK YOU!