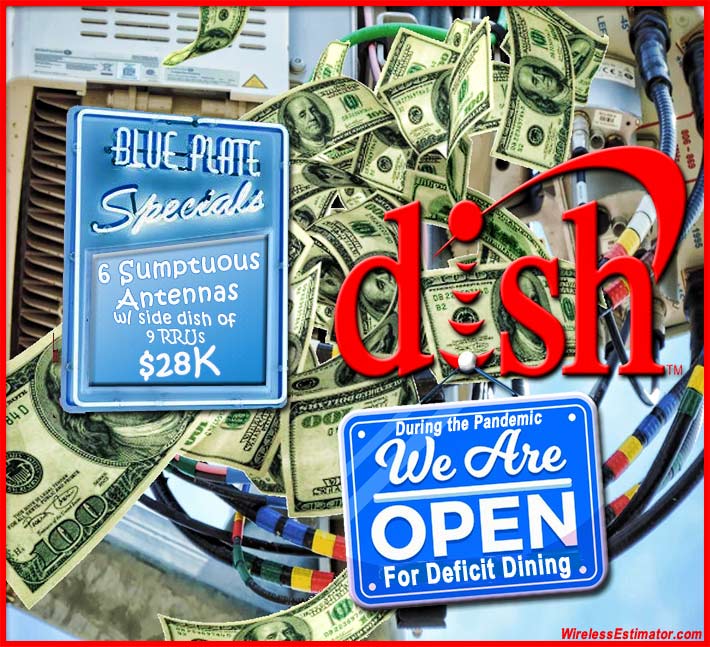 Dish Wireless's urgency to build out their 5G mobile network has been long-seen by many wireless contractors as their sought after savior that would allow them to move a segment of their workforce to more profitable work than the depressed market pricing they are being offered by many carriers or their turfing vendors.
However, the expected supply and demand shift to profitability hasn't occurred. In fact, Dish is offering pricing that, according to one contractor, "is barely enough to keep payroll flowing."
Multiple contractors who have contacted Wireless Estimator have registered similar concerns.
As an example, a Northeast contractor said that a vertical realtor managing Dish colocations on their structures is asking companies to accept or reject an agreement by tomorrow that has colo pricing at price points that are "unacceptable".
He said that they are offering $28,000 for a colo that requires the installation of 6 antennas and 9 RRUs as well as the installation of an ice bridge, platform, grounding, electrical, civil work, and other requirements.
The estimated time to build the site, as acknowledged by the towerco, is 9-12 days, he said, explaining that "the math doesn't add up."
As an example, the contractor with over 20 years of experience detailed that even if his four-man crew could complete the project in 11 days, a quick estimate he provided was $5,500 in per diem, fuel, and other crew expenses as well as $1,200 or more in contractor-provided materials.
"Deduct that from the $28K and you're left with about $48 an hour that is available for your 440 hours of work. That's if everything went without a hitch."
"Subtract from that your cost for insurance, warehousing, administration, and you're working for nothing, and most likely losing money as you wait for payment for 90 days or more."
Another contractor informed Wireless Estimator they were doing work directly for Dish and said that their pricing was higher, but it was still difficult to ensure profitability. He would not identify what pricing Dish was providing.
"You get two bad sites, and all you're doing on the next three is trying to catch up," he said.
Last month,  NATE: The Communications Infrastructure Contractors Association sounded the alarm that downward pricing pressure and costly vetting demands from carriers and other top-tier clients over the years have undermined the ability of many wireless contractors to remain profitable.
NATE President and CEO Todd Schlekeway surprised many attendees at the South Wireless Summit when he explained the pricing pressure that the industry was under during his keynote session.
"When we go to these conferences, sometimes it's sunshine and lollypops, but I'm here to tell you, based upon the feedback I get from our members every day, that there are some challenges when it comes to the contracting space," explained Schlekeway.
"Maybe we need to talk about more funding going to the contractor pool in this country and getting creative with some of the funding mechanisms available through government agencies, through congressional actions."