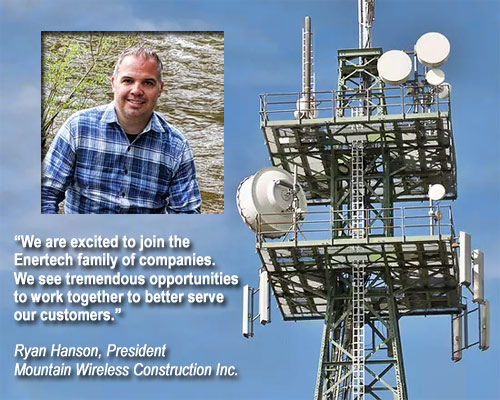 Enertech Holdings LLC, a regional turnkey wireless infrastructures services company, announced the acquisition of Colorado-based Mountain Wireless Construction Inc.
Founded in 1997, Mountain Wireless is a full-service provider to the wireless industry and has developed specialized expertise in small cell and DAS installations, a high growth area of wireless telecom expenditures amidst the nationwide 5G rollout.
Terms of the transaction were not disclosed.
"We are excited to join the Enertech family of companies. We see tremendous opportunities to work together to better serve our customers," said Ryan Hanson, President of Mountain Wireless.
"Our dedication and commitment to our customers aligned perfectly with that of Enertech. We share the same core values, culture and 'gold standard' mentality that will keep us at the forefront of the wireless industry."
"Mountain Wireless is a great company that we have long admired," stated Enertech CEO, Eric Chase. "We think very highly of the great team Ryan has developed and the strong reputation of Mountain Wireless. We are very proud to now be able to say they are our partners."
Mountain Wireless joins Enertech Resources, EasTex Towers, CMS Wireless, and Legacy Telecom in the Enertech Holdings family of companies. Mountain Wireless is Enertech's second acquisition since partnering with ONCAP in November 2019.