Washington's federal buildings are still on lock down after a communications tower collapsed on the south lawn of the White House at about 8:12 a.m., according to Reuters White House correspondent Jeff Mason who witnessed the guyed tower "teeter for about a minute, buckle and then twist like a drunken dreidel before it smashed to the ground."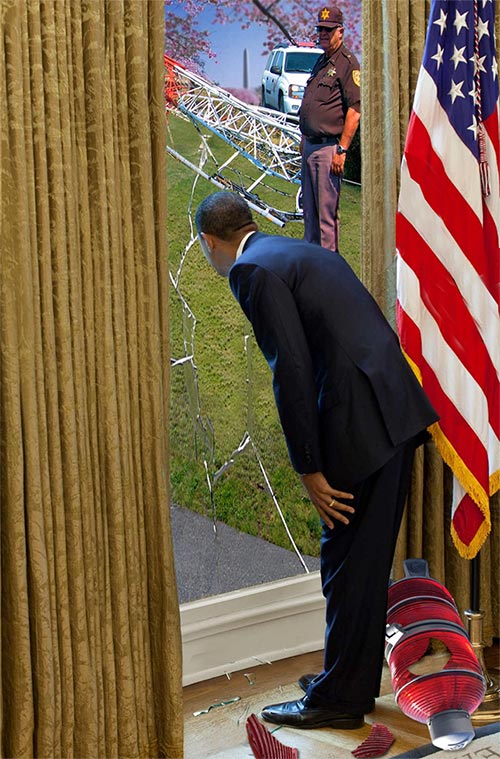 Capitol Police and Secret Service agents immediately surrounded the White House, their greatest concentration outside of President Obama's office which had its window shattered by flying debris.
Associated Press has reported that the FCC's Office of Engineering and Technology has personnel at the site to investigate whether the tower's failure was sabotage, if it was due to a structural failure or if it collapsed in its own pool of embarrassment because it had no tenants.
When Scott Bartlett of AnchorGuard appeared on CNBC this morning and said that the White House's cathodic protection concern for its anchors wasn't enough, he was immediately castigated by host Rachel Maddow who said that he had no anchor knowledge and if he did, "Why aren't you a top rated TV personality program anchor like I am?"
An industry email news bulletin quickly questioned this morning whether American Tower CEO James Taiclet would be investigated since, "After all, the tower's lighting beacon that went through Obama's office window appeared to be manufactured by Honeywell, and wasn't Mr. Taiclet  previously an executive of Honeywell? Do we need to say any more?"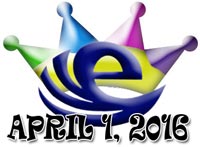 In a briefing this morning, White House Press Secretary Josh Earnest said that although the President was shaken when he thought about what damage it could have done to the Easter egg hunt if it happened last week, "scalloping all of the good hiding places," he felt a lot safer with thousands of pounds of steel falling in his backyard than his former Chicago constituents do "who must dodge and rake tons of spent lead daily."
"The President said this morning that he believes the collapse of the tower wasn't caused by Islamic terrorists, faulty engineering, low bidders on the initial installation or post-erectile dysfunction," Earnest said.
---
Additional April 1 exclusive and investigative articles can be found here:
Anritsu's global success tagged to God and one misspelled word in 1844
American Tower takes AT&T to court and wins a $132 million judgment
From broadband to a blues harp, PCIA Chief splits his time with Broadway