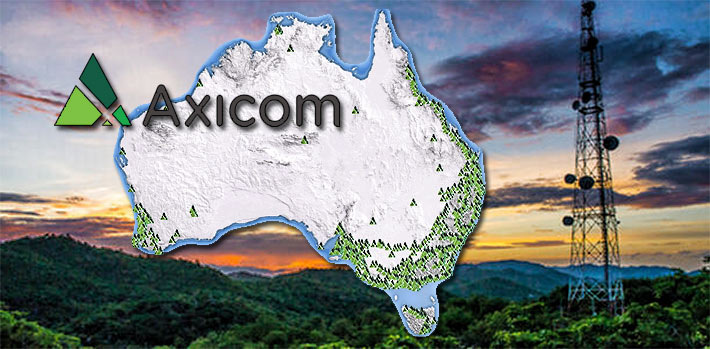 UPDATE – April 1, 2022: Macquarie Asset Management today announced that, alongside its coinvestors, it has entered into binding agreements with Australia Tower Network (ATN), owned by AustralianSuper and Singtel, for the sale of 100% of Axicom for $2.7 billion (US).
Earlier reports said that the assets, formerly Crown Castle's towers, were expected to fetch approximately $2.1 billion US.
American Tower (ATC), according to the Australian was making a joint bid with Canada's OMERS and Brookfield to purchase the portfolio. However, the Australian Financial Review later reported that ATC had pulled out.
Digital Bridge was also reported to be interested in the portfolio. Bids were due March 22. Macquarie paid $1.6 billion for most of the towers when the company acquired them from Crown Castle International in 2015.
Singtel group chief corporate officer, Lim Cheng Cheng, said, "This acquisition is a unique opportunity to scale up ATN's operations and expand its customer base. It also reinforces Singtel's commitment as a long-term investor in the Australian telecoms space where our goal has always been to provide more options and build better communications for Australian consumers and businesses."
---
March 18, 2022 – American Tower Corp. (ATC) has reportedly dropped out of the race for Australia's Axicom's tower assets, formerly Crown Castle's towers, which is expected to fetch approximately (US) $2.1 billion.
A news report yesterday from The Australian that was picked up by national and industry media said that ATC was making a joint bid with Canada's OMERS and Brookfield to purchase Axicom's national tower portfolio with more than 2,000 sites, most of them towers, with 54 percent in metro areas and 27 percent in outer metro locations.
However, according to reporters from the Australian Financial Review, OMERS is still participating in the auction, but ATC has pulled out.
Axicom's owners, headed by Macquarie Group's investment arm MIRA, have called for binding bids on Tuesday, March 22. Macquarie Capital is running the auction.
Macquarie has identified that the towers have a 2.4-times tenancy ratio.
The firm informed bidders that MIRA's largest customer accounted for only about 40 percent of revenue – unlike the Telstra and Optus tower companies, who rely heavily on their former carrier owner.
Axicom is expected to have $235 million in revenue and $150 million EBITDA for the 2022 financial year, Macquarie said.
Macquarie paid $1.6 billion for most of the towers when it acquired them from Crown Castle International in 2015.
Other bidders are reportedly AustralianSuper and Singtel's Australian Tower Network, which jointly owns a rival towers portfolio, and OMERS, which has been in talks with fellow Canadian Brookfield, according to news reports.
DigitalBridge could be a strong contender
Boca Raton, Florida-based DigitalBridge is also expected to be a key bidder for the portfolio.
Digital Bridge President & CEO Marc Ganzi has a successful history of transactions with Macquarie.
In 2007, when Ganzi was CEO of Global Tower Partners, Macquarie Infrastructure Partners acquired 56.2% of Global Tower, and Macquarie Communications Infrastructure Group acquired 28.7%. The $1.4 billion deal was for approximately 2,500 towers.
At the time, Ganzi said, "We are very excited about the prospects of our new partnership with Macquarie as their demonstrated track record of successful wireless infrastructure investments around the globe will assist GTP in the execution of our long term business plan."
American Tower is reportedly a potential bidder for Deutsche Telekom's 41,000 towers, a far bigger deal valued at approximately $20 billion.