With a possible eye towards T-Mobile, Macquarie acquires Global Tower Partners' 2,500 towers
July 2, 2007 - Global Tower Partners, with approximately 2,500 communications towers and 4,600 rooftop sites in its portfolio, will be acquired by Macquarie,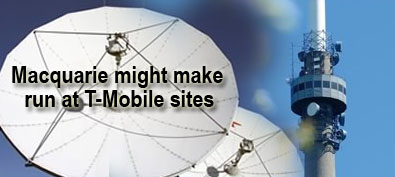 Australia's largest investment bank for $1.43 billion from Blackstone Group.
Rumors of an impending sale had been circulating for months with Crown Castle International being seen as a favorite suitor of the Boca Raton, Florida-based tower company. In early June, Macquarie turned serious about making a deal, performing post securitization inspections on Global's sites throughout the country.
T-Moble, Verizon, Sprint Nextel and at&t will account for more than 60% of Global's revenue following the completion of at&t's acquisition of Dobson Communications, a major Global client.

Industry insiders say that Macquarie may not be satisfied with just acquiring Global and is considering a close to $2 million due diligence effort next month to investigate purchasing T-Mobile's tower assets. T-Mobile announced in February that it was interested in selling up to 5,500 of its United States towers.

Macquarie's UK group has exclusivity with T-Mobile
Macquarie's subisidiary, Arqiva, already has a strong presence in the UK with T-Mobile's towers, announcing in April that it had acquired exclusive rights to market 1,275 of their sites to complement its own base of towers.

As in the UK, many of T-Mobile's towers were not built with additional capacity for co-locations and will require a considerable amount of retrofitting to allow for additional tenants.

It was speculated prior to Macquarie's announcement that Blackstone, with its considerable funding capabilities, might provide a competitive offer for T-Mobile.

Blackstone obtained a 4.5% stake in Deutsche Telekom, T-Mobile's parent company when it made its $2 billion investment in April of 2006 and was required to keep its shares for two years.

Scott Davies, CEO of Macquarie Communications, said that his group "has gained a timely position in a familiar industry in the attractive U.S. market."

Macquarie Infrastructure Partners will hold 56.2% of Global Tower and Macquarie Communications Infrastructure Group will take 28.7%.

Davies added that Global Tower would complement its existing North American assets bases of satellite dish facilities in Los Angeles and Washington operated by its subsidiary Arqiva, a British wireless telecom services provider of broadcast towers, teleports, and wireless infrastructure.

"We are very excited about the prospects of our new partnership with Macquarie", said Marc C. Ganzi, Chief Executive Officer of Global Tower Partners, "as their demonstrated track record of successful wireless infrastructure investments around the globe will assist GTP in the execution of our long term business plan."

"We also want to thank the Blackstone Group for their support and stewardship over the last two years in helping the Company successfully evolve from a middle market tower company to a recognized leader within our sector," said Ganzi.

Ben Jenkins, Senior Managing Director with The Blackstone Group, said, "It has been a privilege to be partnered with Marc Ganzi and the GTP management team as they built a world class tower company, more than quintupling revenues, increasing earnings sixfold and adding new employees and offices during our investment period. This transaction demonstrates the significant value that has been created."

In April Macquarie Bank paid $4.9 billion for the UK wireless telecommunications business of National Grid. National Grid Wireless US was sold in May to M/C Venture Partners and Wachovia Capital Partners for $290 million.

The acquisition, when completed, would account for a small 3% share of Macquarie Communications' EBITDA and would not affect its existing dividend distribution guidance of about 10% growth for fiscal years of 2008 and 2009 and between 5% and 10% for 2010.