An organized work stoppage action by U.S. wireless contractors that could have exceeded the breadth of economic damage caused by the steel workers strike of 1919, that shut down the nation's steel industry, was averted yesterday after carriers and tower owners offered concessions to offset untenable matrix pricing being offered for 5G installations.
The call to action for a national strike to begin on Monday, had been orchestrated by the over 2,063 member companies of NATE: The National Association of Tortured Entrepreneurs, a trade group that has been talking with Tier 1 clients to adjust 'take it or leave it' pricing that is resulting in contractors closing their doors.
A spokesperson for AT&T, who requested that his name should not be used because he was already drowning in his own pool of embarrassment, said that the carrier's CAPEX trumps contractor OPEX, but AT&T has offered contractors, "a positive, albeit giddily weak" alternative to assist with their withering income by allowing them to reduce per diem expenses by permitting tower techs to bivouac overnight at their base station locations throughout the nation.
Additional national carriers are also championing AT&T's contractor enhancement because towercos have agreed to allow workers to spend the night in their compound since they believe they can benefit from an increased tenancy rate per structure, a move that is being  hailed by financial analysts.
Verizon said that accommodating contractors for higher meal and lodging costs wasn't an acceptable concession, but on-site hammock housing was an appropriate action.
In a statement, a spokesperson said, "Begrudgingly, we're in agreement with overnight stays to allow tower technicians to enjoy low-cost, back-to-nature immune-boosting, and stress-relieving sleep that has proven to increase circadian rhythms while decreasing per diem."
"Where else in America are you able to wake up to the caw of ravens and be ready to work within literally minutes, and even possibly right at your previous day's work station elevation?" the press statement added.
T-Mobile announced today that it has provided an alternative approach, stating that in lieu of providing contractor increases for matrix pricing during inflationary times, the carrier will be allowing their tower techs installing and maintaining their network, to stay overnight in the nearest T-Mobile retail location on every other promotional T-Mobile Tuesday.
Dish's new base station equipment will shave hours off antenna installations

"Although Charlie [Ergen, Dish Network Chairman] asked me to study this supply and demand thing that we've just heard about, we're introducing today a new product that will make our cell site installations for our aggressive deployment a lot easier for contractors, saving them money," said Dish Network Development EVP Dave Mayo during a tower panel discussion on Tuesday at the Nashville South Wireless Summit.
"Wham! Bam! Thank you open RAN!" Mayo crooned in a worthy imitation of a tipsy Dean Martin, alluding to a contractor 5G hookup innovation that will cut installation hours to a minimum due to revolutionary base station equipment by Panduit that automatically re-routs signals from incorrectly installed transmission lines to the right antenna port even if a sub of a sub of a sub of a sub installed it on a different sector.
"We've always dreamed of a plug and play environment, no return visits, and the ability to reinvent a lower cost structure through contractor financing and support, and it has arrived today," said Mayo.
**CORRECTIONS: An earlier publication of this article incorrectly stated that T-Mobile was opening up its retail locations to tower techs for overnight lodging on T-Mobile Tuesdays. It has been corrected to read "every other promotional T-Mobile Tuesday." Also, it was reported that Dish was having diversity balance issues on ports with the new Panduit equipment. That is not correct and we have removed that statement, which is good because other than it allowing the article to appear to be highly technical, none of our staff had any earthly idea what it meant or how phones can talk to each other. In addition, Airbnb's statement that it had an agreement with Vertical Bridge to represent their towers was premature, according to a DigitalBridge representative. Wireless Estimator regrets the errors and will vigorously provide the information and documents from sources that were previously provided anonymity in any lawsuit that might be lodged against the website.
---
Editor's Note:
In a world still turned upside down by the  uncertainties of COVID-19, the war in Ukraine, high fuel prices, inflation and other issues, it's not known if Google will forgo its annual ritual of sharing April Fools' Day jokes across the company's pious platforms today for the third year in a row. Most brands gave 2020 a pass but many were back in 2021. Like them, we're not tone-deaf and insensitive but believe that laughter can be a helpful remedy. Humor can be a great safety valve during these trying times that are showing some signs of improvement. Wireless Estimator hopes that we've provided you with a mild smile with our eighth year of celebrating April Fools' Day. I'm personally appreciative that we have a dedicated audience that is online, offering protection against the unlikely possibility of an inadequately justified life-threatening moral man-slap from Christopher Shelton, Mike Sievert and Dave Mayo. 
Craig Lekutis
---
Additional April 1 exclusive and investigative Wireless Estimator articles can be found here: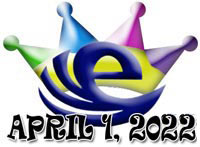 From monopoles to barber poles, NWSA adds a new certification to buoy lack of broadband funding
American Tower shocks industry analysts with its planned acquisition of China Tower for $17.4 billion
Shocking 5G study: Tower techs and nearby residents are a minimum of 8.7% smarter than general public
FCC to unveil breakthrough technology to replace billion-dollar spectrum bids

Huawei CFO's release requires her to show how she swapped out cell site circuit boards
Giant step back for mankind: Supreme Court scrubs Nokia's 4G Moon network launch

Ivanka puts in a hostile bid for 3M, wants crown jewel DBI-Sala
Guyed tower collapses on White House lawn hurling lighting debris into President's office
Anritsu's global success tagged to God and one misspelled word in 1844
American Tower takes AT&T to court and wins a $132 million judgment
From broadband to a blues harp, PCIA Chief splits his time with Broadway