American Tower Corporation and DISH Network Corporation announced today that they have entered into a master lease agreement through which DISH may lease space on up to 20,000 American Tower communications sites.
Through the agreement, DISH will secure access to American Tower's extensive U.S. portfolio of communications sites as it deploys its new nationwide 5G network, and American Tower will enhance its long-term U.S. organic growth trajectory, DISH said in a press statement.
American Tower was the last major player to sign an agreement with DISH.
Although each site agreement announcement by DISH created a PR fanfare, little is known as to what monthly lease rates were agreed to by the towercos, or the actual number of sites that they will be receiving.
Charlie Ergen, a former professional blackjack and poker-playing billionaire who co-founded DISH is known as a hard negotiator and its conceivable that he played vertical realtors against each other to gain favorable rates, putting the industry on notice last November that Crown Castle was the first agreement that they made.
After four additional months of negotiations, DISH now says it has agreements in place to support its nationwide 5G network deployment.
One tower company executive informed Wireless Estimator that DISH was very aggressive in their negotiations to lower lease costs.
DISH's press releases identify "access to" but it is unknown what the actual number of colocations per towerco will be until the DISH build is well under way.
Crown Castle – November 16, 2020 – Access to 20,000 communications towers.
Vertical Bridge – February 1, 2021 – Access to all sites, but total not identified. Vertical Bridge has 300,000 available sites.
Seven Tower Companies – February 16, 2020 – Access to more than 4,000 towers and other sites
SBA Communications Corp. – February 22, 2021 – Access to all sites, but total not identified. SBA has 26,000 tower and managed sites.
American Tower Corp. – March 15, 2021 – Access to 20,000 sites.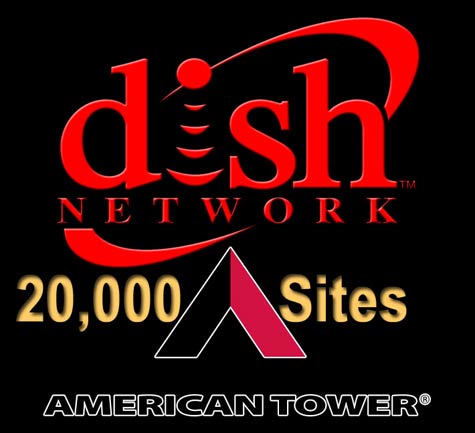 Regarding the American Tower agreement, Dave Mayo, DISH's Executive Vice President of Network Development said, "Our team has already developed colocation plans for American Tower sites across the country to bring a new generation of connectivity to Americans."
Steve Vondran, American Tower's Executive Vice President and President, U.S. Tower Division stated, "We look forward to this agreement evolving into a long-term, mutually beneficial strategic partnership. We believe that our nationwide portfolio of communications sites is optimally positioned to continue to serve as the backbone of today's critical mobile broadband networks while assuring a meaningful share of new leasing activity in the marketplace."
Under the agreement, cash lease payments from DISH to American Tower will commence in 2022 and grow over time as DISH's network deployment progresses. In addition, DISH may lease shared generators from American Tower on select sites and will have the ability to utilize American Tower's zoning, permitting and other pre-construction services.
During a February earnings call Ergen emphasized his intention to bring 5G online in its first major cities by the end of Q3 2021.
Minimum 15K tower buildout by June of '23
"This isn't our first rodeo," Ergen said, restating his belief in the company's ability to execute, despite the considerable risks.
He said he was focused on a 70% buildout by June of '23. "The requirement is for 15,000 towers, minimum. And as I said on the last quarterly call, I think it will be north of 15,000 by that time frame."