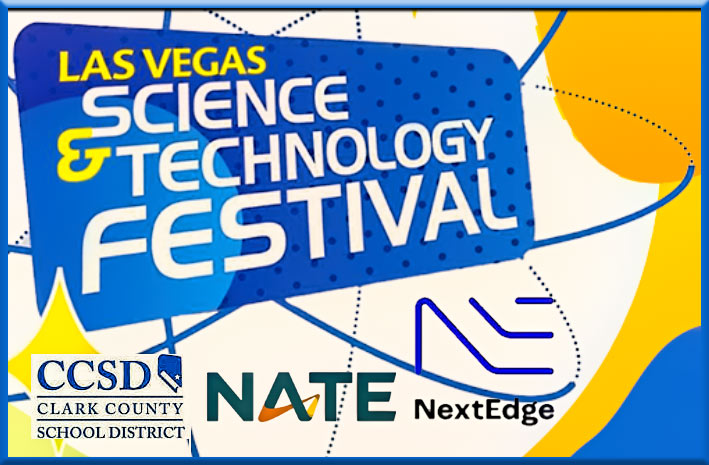 Clark County School District's Career and Technical Education (CTE) Department, in partnership with NextEdge and NATE: The Communications Infrastructure Contractors Association, is thrilled to announce a new program aimed at introducing Las Vegas teens and their families to exciting careers in wireless telecommunications.
The STEM Saturday event, part of the Las Vegas Science & Technology Festival, will take place on Saturday, April 29, 2023 from 11am-1pm at the Galaxy Theatres in the Boulevard Mall, located at 3680 S Maryland Pkwy, Las Vegas, NV 89169. The program will include a Q&A session with working professionals from Spectrum Services, a NextEdge company, and a showing of the documentary film "Vertical Freedom" by NATE.
"Vertical Freedom" is a feature-length documentary that showcases the lives of six communications infrastructure workers in the United States, highlighting their diverse backgrounds and compelling stories both on and off the job. The film provides an inside look at the lives of these professionals and the rewarding career opportunities available in wireless telecommunications.
NextEdge CEO, Chris Maguire, expressed his excitement for the program and the opportunity to connect with the Las Vegas community, stating, "Our people are our greatest strength – we build great infrastructure because we have a strong team. And, in return, wireless telecommunications can provide a terrific, lifelong career path. We are excited to share this with young men and women who may be the future of wireless."
Todd Schlekeway, President & CEO of NATE, shared similar sentiments, stating, "We're inspired every day by the work that communications tower technicians do in this country. By sharing 'Vertical Freedom' with the young people of Las Vegas, we hope to inspire the next generation of tower technicians to go to new heights."
Snehal Bhakta, CTE Administrator for Clark County School District, explained the importance of introducing students to diverse STEM careers, stating, "When you think of STEM, most people think of the sciences, like engineering or even robotics. But, there are other STEM careers out there, and not all of them require advanced degrees or the need to sit behind a desk. We wanted to make students aware of these other options. This program with NATE and NextEdge will open opportunities in high demand, high wage careers they may not have considered."
This program is an incredible opportunity for Las Vegas teens, families, and the local community to learn about exciting career opportunities in the wireless telecommunications industry. We encourage everyone to join us on April 29 from 11am-1pm at the Galaxy Theatres in the Boulevard Mall for this exciting event.