Florida contractor dies following troubling
events and distressing news
May 26, 2010 - A distraught tower contracting company owner passed away Monday around noon after suffering a number of stressful events during the past month.
Donald R. (Donnie) Suhl, Sr., President of North Florida Tower Service of Lake
City, Fla. was pronounced dead by authorities at his S.E. Press Ruth Dr. home.

After working in the tower construction industry for a number of years, Suhl, 58, founded North Florida Tower over 25 years ago.

He thrived during the early cellular days and migrated along with others into more challenging and competitive PCS projects.

Dedicated customers were a mainstay of his business and Suhl successfully managed his company from the office located in his home.
Please See: Company was citation free

Man arrested for climbing cell phone tower twice
May 25, 2010 - A 19 year old Batavia, Ohio man was arrested for climbing a cell
phone tower in Clermont County twice in a span of four hours.

Police say James Smith was caught on the Verizon Wireless tower on Baas Road in Stonelick Township around 9:15 p.m. Sunday night. A witness reported seeing him climbing the tower and screaming. Deputies say Smith had climbed down from the tower and was running from the scene when they arrived.

At 1 a.m. on Monday, they received another call that Smith had returned to the tower and when they got there to investigate, they were able to arrest Smith. He was charged with Criminal Trespassing and Disorderly Conduct.

Authorities did not say why Smith elected to climb the tower, but his desire might have been fueled by firewater since he was also charged with Underage Consumption. He was taken to the Clermont County Jail.

Tower technicians will oftentimes climb a tower and start screaming or issue muffled self deprecating expletives. However, that's typically because they have climbed to the top, only to realize that they've arrived with incorrect connectors or other equipment in their bolt bag.

NAB Signs on to lighting proposal designed to protect birds from towers
May 19, 2010 - After extensive negotiations, the National Association of Broadcasters and six other organizations submitted to the Federal Communications Commission a Memorandum of Understanding (MOU) that contained recommendations designed to help the FCC protect migratory birds as part of its Antenna Structure
Registration (ASR) process.

Two years ago, the federal appeals court in Washington, D.C. ordered the FCC to expeditiously change its ASR program and to give public notice prior to granting tower applications.

At the request of the FCC, NAB, along with other industry Infrastructure Coalition Members (CTIA – The Wireless Association, PCIA and the National Association of Tower Erectors) and the conservation groups (comprised of the American Bird Conservancy, the Defenders of Wildlife and the National Audubon Society) entered negotiations to develop interim standards that would be used for the ASR program.

The conservation groups were pressing the FCC to adopt an aggressive set of policies and procedures, including Environment Assessments (EA) for all towers, which would have slowed ASR grants from overnight to over a year. In addition, many of their suggestions would have seriously impeded the approval of taller towers.
The agreement covers towers for which an ASR is required to be filed. Depending upon the height of the proposed tower or the specifications of a replacement tower, some would require an EA to be performed to access the tower's impact on migratory birds and would be placed on public notice (per court order), others (e.g., shorter towers, replacement towers, repaired towers) could be exempted from the process. Among other things, the MOU proposes three ASR categories:
Category #1 - New Towers taller than 450 feet above ground level (AGL).
ASRs always require inclusion of an EA upon filing.
ASRs will always be placed on Public Notice by the FCC.
Category #2 - New Towers of a height of 351 to 450 feet AGL.
ASRs do not initially require an EA based on avian concerns.
ASRs will always be placed on Public Notice by the FCC.
The FCC will determine whether an EA is necessary for Category #2 ASRs after reviewing the ASR application and any filings made in response to the Public Notice.
Category #3 - New Towers of a height no greater than 350 feet AGL,
Replacement Towers and Minor ASRs.
ASRs do not require an EA upon filing based on avian concerns.
The parties could not agree on whether Public Notice is required for Category #3 ASRs; see Section III.B, of the MOU for a discussion of this point.
In addition, the MOU calls on the FCC to adopt and utilize a preferred lighting scheme (Lighting Preference Chart) for changes to existing towers that might minimize potential adverse consequences. The Conservation Groups rank FAA Lighting Styles in the following order, with the most preferred lighting system listed first and the least preferred light system listed last:
FAA Style B (L-856)
FAA Style D (L-865)
FAA Style E (L864/L-865/L-810s)
FAA Style C (L-856/L-865)
FAA Style F (White Strobe Day/Red Beacon Night and L-810s)
FAA Style A (L-864/L-810)

(A complete description of each FAA Lighting Styles and the manner in which it is to be deployed is found at FAA, U.S. Dept. of Transportation, Advisory Circular: Obstruction Marking and Lighting, AC 70/7460-1K, (Feb. 1, 2007).)

Therefore, if the owner of an existing tower plans to change from one FAA Lighting scheme to another, the Lighting Preference Chart would be used to determine whether the change would require a Category #2 or Category #3 ASR to be filed:
A change of lighting system from a less preferred FAA Lighting Style to a more preferred FAA Lighting Style would require the filing of a Category #3 ASR, and
A change of lighting system from a more preferred FAA Lighting Style to a less preferred FAA Lighting Style would require the filing of a Category #2 ASR.
A copy of the MOU is available here. NAB is optimistic that the Commission will endorse the agreement and avoid a significant percentage of broadcast towers ASRs from having to submit an Environmental Assessment at the time of application/public notice.

Insurgents kill Dagestan tower crew
May 13, 2010 - Officials in Russia's violent Dagestan area say that all five technicians of a tower crew were killed today as they were making their way to a communications
compound near the village of Venashimakhi.
The men were responding to an emergency call to repair a mobile phone tower and TV station that were blown up by militants the night before.
The five workers were killed and four police were injured when one of their convoy vehicles was blown up and in the ensuing gunfire.

Dagestan is plagued by near-daily violence attributed both to criminal gangs and to separatists apparently inspired by the insurgency in neighboring Chechnya.

"At around 10:30, an explosive device went off as repair workers drove by in a vehicle," the investigative committee of Russian prosecutors said in a statement.
The first reports regarding the incident said that eight people had died. The police wounded included the commander of the republic's riot police.
Authorities believe the militants blew up the towers to lure the tower crew to the site where a bomb was placed along the roadway.
Towers are becoming attractive negotiating tools for terrorists, but this is the first time that a tower crew has been specifically targeted.
In Afghanistan the Taliban are using the cell phone system as an instrument of war against the Afghan government and the U.S.-led coalition. They could easily destroy the network altogether in many districts.
However, the Taliban, too, depend on cell phones for communication. Plus, they know that shutting down phone service entirely would cause a backlash among ordinary Afghans. Instead, they're dictating the terms on which phone companies work, for propaganda reasons and sometimes for financial benefits as well.
Although a number of cell sites have been blown up over the years by the Taliban to identify that they are capable of shutting down a system, tower site technicians are allowed to freely travel throughout the country to construct and repair them.

India's carriers threaten a national strike if registration fees see a five-fold hike
May 13, 2010 - Indian carriers received a temporary reprieve today after the Delhi High Court said the Municipal Corporation of Delhi (MCD) should stop turning off cell sites that were not registered.

The MCD said it sealed 24 towers yesterday that were constructed illegally.
The court issued notice to the MCD asking it to explain by May 19 the reasons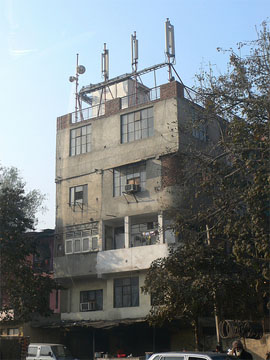 behind bringing in a new policy on the issue of regulating mobile towers.

Under the revised MCD guidelines unveiled Feb. 9, the amount to be paid by a telecom operator to the civic agency for installing a tower has been increased from the present Rs.1 lakh (U.S. $2,250) to Rs.5 lakh (U.S. $11,250).

Directing the MCD and the Cellular Operators Association (COA) to resolve their differences, the court said: "It is a pubic interest matter and should be resolved immediately."

The COA moved the court alleging that the sealing drive launched by the MCD was illegal.

The civic agency had no power to act against the operators as the Indian Telegraph Act vested the power to do so with the central government, the COA said.

"We are quite willing to cooperate with the municipal authorities to resolve regularisation issues, but we feel the hiked installation charge is too much," COA Director General Rajan S Mathews said.

The cell phone tower operators' association has refused to budge on the licensing fees and have threatened to go on a nationwide strike, disrupting connectivity across the country.

The MCD informed the court that as part of its routine checks before the special drive launched Wednesday, it sealed about 300 towers in the past few months. Of these, 41 towers were made operational after the telecom companies completed the licensing documents.

Under the special drive, the MCD reportedly decided to seal at least 60 towers within a week, five each in all the 12 municipal zones in the city.

There are 5,364 cell phone towers in MCD's jurisdiction. Of these, as many as 2,952 have been declared illegal.

Tech dies following fall from 400-foot guyed tower
UPDATE: May 7, 2010 - Services have been announced for tower technician Joseph L. White "Kojak", of Hawthorne, Fla. who passed away May 4. He was born in Gainesville.

He is survived by his mother, Mary F. White; daughter, Jasmine R. White; son, Jacob C. White, all of Hawthorne; brother, Stephen L. Bryan of Interlachen; aunts, Sylvia Lambert and Sandra Cassels and uncle, Pastor Russell McDaniel; one nephew and four nieces. He was preceded in death by his brother, Ronald D. White, Jr.
The family will receive friends on Saturday, May 8, 2010 from 3:00 to 4:30 p.m. at Williams-Thomas Funeral Home, US 301 South at Lake Ave., Hawthorne.

Graveside Service will be held Monday, May 10, 2010 at 11:00 a.m. at Antioch Cemetery in Lochloosa with Pastor Richard Cicio officiating.

May 4, 2010 - An Alachua County, Fla. man died this morning when he fell from a guyed tower in Dixie County.

The 36-year-old tower technician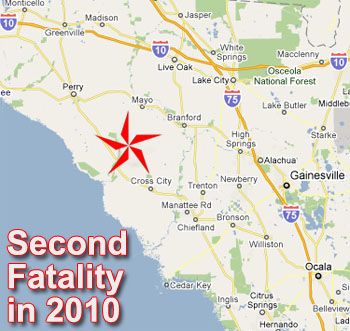 and a co-worker, employed by North Florida Tower Service out of Lake City, were about 240 feet up the 400-foot tower when the accident occurred, the Dixie County Sheriff's Office reported.

Officers have not released the man's name pending notification of his family.

The man had been with the business for about two years and had several years of experience in this line of work, according to the Sheriff's Office.

The tower, located near County Road 357N, is owned by Tri-County Electric of Madison. The accident occurred about 9 a.m.

Employees were at the tower to perform work for the Foley Timber Co. of Perry and the State of Florida Division of Forestry, the Sheriff's Office reported.

An autopsy will be performed, and an investigation into the accident was ongoing, according to deputies.

North Florida Tower Service has been in business for over 20 years and is owned by Don Suhl.

This was the industry's second fatality in 2010.

Comments sought prior to FCC updating tower marking and lighting rules
May 4, 2010 - The Federal Communications Commission has released a Notice of Proposed Rulemaking (NPRM) that seeks comment on revisions to the Commission's Part 17 rules governing the construction, marking and lighting of antenna structures.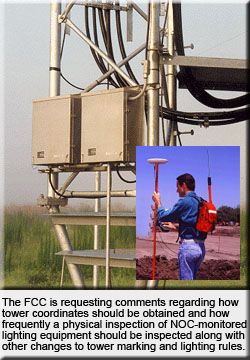 The proposed revisions are intended to improve compliance with FCC rules and allow the agency to enforce them more effectively. These proposed revisions would also remove outdated and burdensome requirements without compromising the FCC's responsibility to prevent antenna structures from being hazards to air navigation.

A petition filed by trade groups, carriers and tower owners requested several changes in the rules, which are reflected in the NPRM. Some of the areas they are seeking comments on are:

• To explore the benefits and drawbacks of eliminating quarterly inspection requirements for NOC-based systems utilizing advanced self-monitoring technology, and whether required regular inspections that are less frequent, such as annually, should be retained.

• Consistent with the above standard, the NPRM seeks comment on whether to amend the rules to require that the height information provided on FCC Form 854 must be accurate within one foot and the location coordinates provided must be accurate within one second of longitude and latitude.

• Whether their rules should include time frames for replacing or repairing extinguished lights notwithstanding the issuance of a NOTAM, and if so, what those time frames should be. Current requirements require owners to replace or repair lights "as soon as practicable" or "as soon as possible".

• Amending Section 17.4 to require any change in height of one foot or greater or any change in coordinates of one second or greater would require prior approval from the FAA and the Commission.

• Whether a particular surveying method should be used to identify site coordinates and tower heights.

• Requiring owners to maintain a record of observed or otherwise known extinguishments or improper functioning of structure lights for two years and provide the records to the Commission upon request.

• What procedures should be used along with the In Service Aviation Orange Tolerance Chart to identify if a structure is not properly painted.

Click here for the: tower lighting and marking NPRM. Comments will be due 60 days after the NPRM is published in the Federal Register.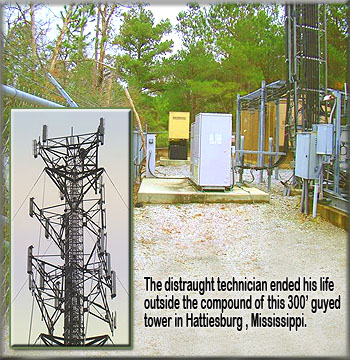 Technician's death
said to be a suicide
April 29, 2010 - A tower technician employed by Betacom Inc., a Florida-based tower construction company, reportedly took his life yesterday outside the compound of an American Tower Corporation 300-foot guyed tower located off of U.S. Highway 49 in Hattiesburg, Miss.

"Two employees from a cellular service company were working out there and one suffered an apparent gunshot wound to the head," Forrest County Sheriff's Investigator Trey Rudder said.

Workers informed of the incident said it happened around 3:45 p.m. Central in the Paul B. Johnson State Park where the structure is located.

Industry gears up for higher tower
and component prices as steel costs surge
April 28, 2010 - Manufacturers and distributors are reluctant to publically announce a price increase, many of them believing that some competitors will hold their pricing
to capture new clients.
However, ever-rising steel prices, driven by climbing raw material costs and other factors, are forcing even the most stalwart suppliers to let their customers know that higher pricing is quickly approaching.
National Strand Products, Inc. in early January led the way with a notice that they were going to increase the cost of their galvanized steel strand products by $80 per ton.
Other companies followed and earlier this month Valmont Structures said their investment in innovation had helped them to stave off price increases on certain products, but they can no longer absorb the higher costs.
"While our investments are paying off and we have been able to pass along savings through lower costs, we are entering another period of escalating raw material costs. As a result, Valmont will be increasing quoted prices on many of the items we manufacture in the near future," the company said on its website.
"I doubt that we will take the route of announcing it on the net," said another tower manufacturer's sales manager, "but you can be assured that we'll be raising our prices as well. I'm not advocating a collusive effort by the industry, but if you don't you're not going to survive."
"Carriers are going to have to revisit their model pricing because we're not going to be able to continue holding prices on most accessories," said a components manufacturer executive.
"With the volatility of steel pricing, estimators are going to have to stay on their toes. The days of using a standing number for a product are over," he said.
Tower manufacturers are also shortening their quotation acceptance terms.
Since January, some companies have seen multiple price increases for steel and other metals. Some of their costs have more than doubled from unusually low levels last summer estimated to be at $400 per ton for hot rolled steel. Today's pricing is around $650 per ton.
Some analysts believe that the price of steel will continue to go up on a continuing basis.
One of the country's largest tower accessories manufacturers said it is able to provide a degree of stability to its customers by securing hedge contracts with steel suppliers for fixed price allocations through the end of the year, but was unsure of what their hedge positions will look like in 2011.

Lakshmi Mittal, chief executive officer of ArcelorMittal, the world's biggest steelmaker, said last week that raw-material costs may push steel rates up 21 percent.

Foreign steelmakers are passing on costs after Vale SA, the largest iron-ore producer, scrapped a four-decade system of annual price-setting and boosted prices more than 90%.

A number of mills in China said Monday they have accepted a 96.4% hike in the benchmark iron ore price settled between Vale SA and Japan, a move that will weigh heavily on the profitability of China's domestic steel industry.

U.S. steel producers aren't held hostage to Vale's pricing since America is a net exporter of all three key raw materials, iron ore, metallurgical coal and steel scrap, but prices are steadily increasing to reflect demands of the global commodity.

China's labor cost, less than one third that of U.S. workers, according to the U.S. Bureau of Labor Statistics, helps to offset the country's higher steel-producing raw material and energy costs. However, Chinese manufacturers are still able to be competitive since their selling price can be at a breakeven point and they will still be compensated by their government with an export incentive of 17% on top of the product's cost.
Profitably made in America
Due to the high cost of shipping steel from foreign suppliers, American tower manufacturers purchase most of their steel from U.S. steelmakers, occasionally
using Canadian steel producers.
Although America's up against state funded competitors in China and other companies throughout the world, components products such as mounts, waveguide bridges and other accessories are primarily designed and built in the U.S. using domestic steel.
According to available industry resources, approximately 75% or more of tower-related accessories are manufactured here using domestic steel.
Even before the recession, U.S. plants were hemorrhaging work to foreign competitors with cheap labor.
But U.S. manufacturing isn't dead or even dying in the tower and components business. It's becoming more efficient, just like Henry Ford did when he created the assembly line to make the Model T; but now it's sector T-frames and other telecommunications infrastructure products.
One U.S. company employs advanced technology capable of having one machine produce 2,000 hangers every hour - enough in two shifts to secure 96,000 feet of transmission line every day.
A sampling of eight tower and components manufacturers identified that they would all be increasing product pricing, but none of them would indicate what the percentage would be.
"We've retained stable pricing over the past few years," said one accessories manufacturer, "even though there have been fluctuations in our steel costs, both up and down. But the recent increases require us to raise our prices."
"I believe you're going to see all manufacturers and distributors having to resort to higher pricing as well. You might find one or two holdouts, but they can't stay alive by giving their products away. Something will go belly up; either quality or their company," he said.
One tower manufacturer stated, "It's been twelve months of basically break even for the industry, and that's not sustainable. I think we're not only going to have to raise our prices to account for higher steel costs, but start increasing our margins as well."
He said that it's ironic that all of the major tower consolidators and carriers will state that "they realize that you have to make a profit in order to be successful, but they don't want to see it being made on their tower orders."

A tower manufacturing manager said, "I think the only way this business will survive and see an increase in prices is if it's distilled down to three or four major companies."

Another executive disagrees. "There will always be upstart companies that will be successful by going for the soft underbelly of an established company and take the low hanging fruit. We're no different than any other industry. If you're financed and have good management and talented employees, and most importantly a good business plan, you will be successful," he said.

Allied Tower Company, headquartered in Alvin, TX, was a casualty of the industry's aggressive tower pricing and was forced to close its doors in January.
Founded by Max Bowen in 1958, the tower manufacturer used to maintain a prized customer list of companies such as American Tower Corporation, Cellullar One and Motorola, Inc.
When they closed their Alvin office and their fabrication plant in Vinita, OK, the company employed approximately 26 employees, according to operations manager Robert Morrison.
However, the American entrepreneurial spirit is still alive. An industry related firm is currently questioning potential clients to see if their planned tower structures and components would be competitive.
American telecommunications steel infrastructure manufacturers are welcoming the expected move by China to let its currency rise against the dollar.
For the U.S., that shift could boost exports and potentially raise the prices of imported Chinese goods as an increasingly stronger yuan, combined with rising raw material and labor costs, would challenge Chinese exporters.
In the U.S., steel prices are expected to be affected by the explosion that killed 29 coal miners in West Virginia this month and shut a key mine that sent steel-making coal prices soaring 24 percent.
Alaska's tallest tower near collapse is taken down

April 28, 2010 -- The Coast Guard's Civil Engineering Unit from Juneau, Alaska and Controlled Demolition, Inc., brought down Alaska's tallest structure at 1:30 p.m. today in Port Clarence using controlled explosives.
The Long Range Aids to Navigation tower at the Coast Guard LORAN Station was the tallest of its kind in the country at 1,350 feet, but the condition of the tower was deteriorating and with no funding for repairs the tower was at ever-increasing risk of an uncontrolled collapse.
Alaska Public TeleCommunications tower in Knik 30 miles north of Anchorage will become the state's tallest structure at 808 feet.
See View One. See View Two.

The first concrete for the base of the tower was poured September 1961. Due to the water table, the loose gravel, and sand-type soil, thousands of gallons of water had to be pumped from the area around the base before final excavation could be completed and the concrete pour made.

To learn of some of the problems the erection crew had during a blizzard with surface winds up to 60 mph, click here.

Safety is first of many site revisions, additions
April 20, 2010 - With safety being a top priority for construction companies and tower
owners, it was a natural first choice for WirelessEstimator.com's plans for expansion and easier site navigation.
Based upon the enormous success and industry-wide usage of the Jobsite Emergency Action Plan, the web site will be adding additional free safety modules and viewer conveniences this year to assist in promoting worker safety.
Since its founding in 2004, each year WirelessEstimator.com has increased its focus upon safety. However, many of the available resources were not prominently displayed and visitors occasionally overlooked them since they were oftentimes tucked away between many hundreds of other articles and the site's wealth of information.
A new treed menu system above, beginning today with Safety, will allow easier navigation and exposure to safety areas within the web site.
Added to this information is a section to easily identify safety training courses available throughout the country. You'll no longer have to search through multiple web sites to see where there is a specific training course that suits your needs and will assist in lowering your employee travel and lodging expenses.
Companies that can provide onsite training and consulting are also linked to the page.
To add your company's training classes or let our thousands of viewers know about your safety equipment offerings, send them to: info@wirelessestimator.com.
Also, if you would like to see any additional safety content on the site, please let us know what areas, links and web-based projects you believe will help to further a safer work environment in the tower construction industry.

Climbers' perspectives on tower safety to be explored at free NY safety conference
April 20, 2010 - Asking the worker who knows firsthand about climber safety is a unique approach to exploring industry injuries and fatalities, and at risk tower technicians will have that opportunity this Saturday, April 24 in Syracuse, NY during
a statewide spring safety conference.
Sponsored by the Occupational Health Clinical Center of Upstate University Hospital, the half day event will begin at 10:00 a.m. at the OHCC located at 6712 Brooklawn Parkway, Suite 204 in Syracuse.
Preregistration is required and can be made by emailing project coordinator Wally Reardon at wallyj16@gmail.com or phoning him at 315-298-2312.
The free conference and luncheon is the first gathering of its kind in the nation and will bring tower climbers together with publicly funded health and safety experts to explore the ever-continuing injuries and deaths in the profession.
According to Reardon, some of the issues addressed will be: Work speed-up; tower design, T-booms and overloading; greater transparency after accidents and fatalities; and climbing "junk" and tower maintenance issues.
Although the OHCC said it is keenly aware of industry-focused groups such as the National Association of Tower Erectors, they said, "Our experience with patients has led us to believe that there may be a missing perspective on health and safety issues in this field - and that is the voice of the climbers themselves."
In addition to Reardon, an experienced climber and the conference's organizer, speakers will include former climber Dale Remington whose son lost his life while working on a tower last year as well as Mark Fernandez, the brother of a deceased climber.
A working lunch will include comments from Michael Lax, MD, MPH, Medical Director; and Pat Rector, Director of Outreach and Education.
Reactions from regulators and worker advocates will come from OSHA Area Director Chris Adams and Anne Marie Gibson, Principal Investigator, NYS Census of Fatal Occupational Injuries.
Reardon, who climbed towers for ten years before a shoulder injury forced him to retire, was recently interviewed on North Country Public Radio. Click here to listen.

Court disagrees with tower contractor's arguments to void winch operator's compensation
April 12, 2010 - An appeal by an Oklahoma tower manufacturer and erector that it should not have to pay attorney fees after losing a workers' compensation suit was denied by the Third Circuit Court of Appeal of Louisiana last week and the court ruled
that the company would have to pay additional fees to the plaintiff's counsel for its representation of the Louisiana winch operator.
The decision also affirmed that a Louisiana workers compensation judge had authority to issue the original ruling since the man was hired via a telephone conversation and authorized agent in Louisiana and not in the state where the erection project for a 1,600-foot guyed tower was performed.
In addition, it acknowledged that the original request for medical payments and penalties must be compensated to the plaintiff.
Bell Tower Corporation and Dallas National Insurance Company had appealed the judgment of the Workers' Compensation Judge in favor of Robert LeJeune, finding that LeJeune suffered a work-related injury to his hand while employed by Bell Tower.
The judge had previously awarded LeJeune indemnity benefits, ordered that he be allowed treatment by the physician of his choice, and awarded him $6,000 in penalties and $13,500 in attorney fees.
The appeals court amended the judgment and awarded him an additional $5,000 in attorney fees for representation during the appeal process.
Court records indicate that On September 15, 2007 LeJeune suffered a work-related injury to his left hand while operating a winch on site.
He reported the accident to his supervisor, David Traxler, who relayed the information to Richard Bell, the company's owner.
The winch operator testified that Bell's response to Traxler was that "if his finger was not cut off, he should continue working as they were in a hurry." LeJeune stated that he remained on the job for another four to five days, but had to leave due to the pain.
LeJeune sought no medical treatment until he returned to Louisiana approximately four days after the incident. He was treated by two physicians, but was unable to seek further treatment due to his inability to pay for the medical services and Bell Tower's refusal to pay.
In awarding the penalties and attorney fees the Workers Compensation Judge stated that Bell Tower "did virtually nothing to investigate this claim. That behavior is as much a violation of the statute as it is of conscience, and that worker here was severely injured."
A review of the record by the Third Circuit revealed that this finding was reasonable. "Mr. Bell admitted that he performed no investigation at all into this matter. Rather, he relied on second-hand accounts that Mr. LeJeune had not suffered a serious injury to his hand. Then, when asked by Mr. LeJeune's wife directly about his injury, he told her that it was too late for Mr. LeJeune to file a claim regarding his injury," the ruling stated.
Case law states that the failure to authorize a medical procedure for an employee otherwise eligible to receive workers' compensation is deemed to be the failure to furnish compensation benefits, thereby subjecting the employer to an assessment of attorney fees and penalties.
The defendants argued that LeJeune's continuing inability to properly use his hand was a result of a previous accident where he had accidentally gashed the same arm with a five-inch cut from a box cutter.
The court stated that medical records could not validate Bell's claim.
LeJeune, who lives in Sulphur, Louisiana, testified that in July of 2007, he was contacted by Traxler about the job in Mississippi. He stated that he went to Traxler's home, also in Sulphur, and while there, spoke to Bell by telephone. LeJeune testified that Bell offered him employment at $20.00 per hour and $75.00 per diem, and he accepted that offer.

LeJeune and Traxler traveled from Sulphur to Wiggins, Mississippi, and were immediately reimbursed for their travel expenses. However, it was not until a few days later that LeJeune completed the employment paperwork. That paperwork was channeled through Harbor America Texas, Inc., a company which handled the payroll for all of Bell's employees and pays workers' compensation insurance.

Traxler's testimony supported LeJeune's version of the circumstances surrounding the hiring process.

Bell denied giving Traxler the authority to hire LeJeune for the job. When questioned about whether he asked Traxler to put together a crew, Bell stated, "Somewhat."

He said that Bell Tower has a work crew, but explained that it experiences a large turnover of employees.

Prior to the Wiggins' job, Bell testified that Traxler suggested a couple of men for the crew. As he was familiar with these men, he said that he gave Traxler the authority to hire them.

He stated that the men, who he thought were in Texas, called him, and they reached an agreement as to their pay and per diem. Bell specifically denied the telephone conversation with LeJeune whereby LeJeune suggested he had been hired by Bell.

Bell testified that LeJeune was not hired until he arrived in Wiggins. He stated that the first time he either met or spoke to LeJeune was at a cafe in Wiggins on July 19, 2007.
He admitted that he reimbursed LeJeune's travel from Sulphur to Wiggins, in part because the amount was insignificant, but also because Traxler informed him that they needed LeJeune because he could operate any piece of equipment at the site and because their current operator was unreliable.
In finding that LeJeune was hired in Louisiana, the Workers Compensation Judge stated in his oral reasons:

"All of the evidence, and not just the live testimony, forces the conclusion that Mr. LeJeune certainly behaved as if he had a reasonable and legitimate expectation that he was hired in Louisiana before he, in the company of his supervisor, embarked to Mississippi, as did his employer. There was not a word of testimony even suggesting that Mr. LeJeune felt that his employment hinged on the face-to-face meeting with the owner of the company in the cafe. Rather, he relied, and reasonably so, on the company's designated representative that he was hired."

Third Circuit Court Chief Judge Ulysses Gene Thibodeaux and Judges Jimmie C. Peters and J. David Painter agreed.

LeJeune said that he injured his left hand while respooling wire onto the winch. He stated that the wire had gone off the spool and that he grabbed it with his left hand to guide it back onto the spool. According to LeJeune, while he was guiding the wire back onto the spool, a finger on his left hand became stuck in the winch.

The friction winch, which weighed approximately 4,000 to 7,000 pounds, according to Traxler, was older equipment and did not contain a leveler to ensure that the cable being wound onto the drum spooled correctly.

To view the court's ruling, click here.

Ohio climber's death was not industry related
April 9, 2010 - A 21-year-old Ohio man jumped to his death from approximately 100 feet from a self supporting tower in Ravenna Township, Ohio yesterday as law
enforcement officers tried to talk him down.

The structure at 6848 State Rt. 14, registered to Sprint, is 265-foot tall.
Portage County Ohio Sheriff David Doak said in a press release that Linderek Dorman of Streetsboro had been involved in an altercation at Coleman Professional Services - a mental health care facility - and left the building, walking north on S.R. 14.

He climbed over the cell site compound's fence and, wearing only basketball shorts, climbed about 100 feet up the self supporting tower using the tower's climbing ladder.

"We told him we're not going to arrest him. We were just going to get him some help," said Sheriff Doak.

Dorman kept telling law enforcement personnel to keep back, and officials complied. However, he jumped to his death shortly before 11:00 a.m.

Tower industry hiring is highest in years
April 1, 2010 - Bechtel Communications is hiring, Goodman Networks is seeking qualified workers, and wireless companies large and small in the wireless
infrastructure business are also hanging out their help wanted shingle as the country races to complete, WiMAX, LTE and other carrier projects.

Staff augmentation companies are also seeking personnel to fill positions for current and planned projects by their clients.

The ambitious schedule for Clearwire launches has taxed available construction personnel and the B word - bonus - is making a comeback, but not as often and not as near what companies were offering in the heady cellular and early PCS days.

The Stowe Group, a Boston-based contractor, is offering a $1,000 sign on bonus for foremen, and Allstates Technical Services, a national staffing firm, is offering bonus incentives and compensation for referrals.

However, in most cases, companies are looking for local professionals to reduce relocation and per diem expenses.

Although WirelessEstimator.com's help wanted ads have seen a steady increase over the years, last month's postings were up more than 70% from the previous March.

Offerings ranged from a tower technician and an inside counter salesperson to an environmental compliance manager.

While contractors state that it is too early to identify what impact the titanic Harbinger/Skyterra 4G project announced earlier this week will have on resources, it will require additional crews throughout the nation to complete its scheduled third quarter 2011 partial launch.

"When we go through these curves companies are tempted to bring in warm bodies at any cost, but I'm hoping that we've matured enough to realize it's no good for the industry and the safety of our people," said a Midwest erection and maintenance contractor that employees over 50 field personnel.

A recent internet ad seeking a tower hand in Texas, in part, stated: "Can send you a plane ticket. Need to have you on site by tomorrow."

The nation's economy posted its largest job gain in three years in March. According to the Labor Department, employers added 162,000 jobs, the most since May 2007.

Former turnkey developer chief runs from feds and creditors
After soaring for decades, Prince & Associates crashes owing companies millions of dollars
April 1, 2010 - Clovis Prince, CEO of Prince & Associates, commanded attention when he strolled the corridors every year at CTIA's Tower Summit.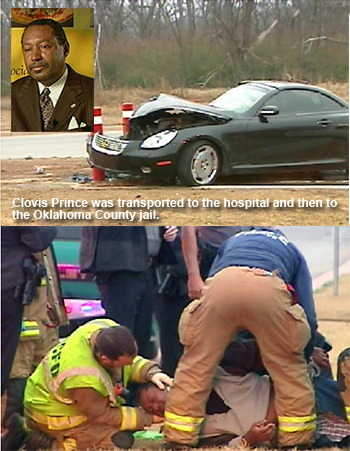 Trim and dressed to the nines as if he entered the exhibit hall directly from Savile Row, the charismatic Prince was sought out by suppliers and contractors alike as they strived to be one of the niche vendors for his growing cell site acquisition and management company that was landing carrier contracts throughout the country.
In 2006, according to Prince, AT&T inked a $325 million deal for turnkey tower services that assisted his company the following year to exceed $780 million in revenue.
But Prince didn't attend this year's CTIA show and the last time he was seen publically it was not in his usual sartorial splendor, but in a mud-stained shirt as paramedics treated him after he crashed his Lexus while trying to elude IRS agents.
If Assistant U.S. Attorney Randall Blake is successful and Prince is found guilty of numerous federal allegations he could be wearing a prison-issued orange jumpsuit for the next five years.
Prince of Oklahoma City, Okla. was indicted in September by a federal grand jury in Texas on one count of bank fraud and 14 counts of engaging in monetary transactions in property derived from bank fraud. Earlier this month, Prince also was indicted on 10 counts of perjury and five counts of bankruptcy fraud, court documents show.

The indictments from the Eastern District of Texas Sherman Division indicate a money judgment against Prince was issued for at least $10.7 million, which resulted from one count of bank fraud and 14 counts of engaging in monetary transactions in property derived from the bank fraud.
On March 18 Oklahoma City police became involved about 7:20 a.m. when a patrol officer near Remington Park saw Prince's Lexus come "around a corner at a high rate of speed, nearly hitting the police car," according to Sgt. Jennifer Wardlow.
The officer then noticed an unmarked vehicle with police lights turned on following the Lexus, she said.

The chase continued until both cars headed north on Grand Boulevard, and Prince crashed his car into two large concrete bollards near NE 58 and Grand, she said.
Prince was apparently stunned from the accident, Wardlow said. "He staggered out and tried to run, but they caught him about 50 feet away."

While at the scene, Wardlow said, officers learned the unmarked car belonged to IRS agents who were trying to arrest Prince on the federal warrants.
Police said after Prince was treated at a local hospital, he was booked into the Oklahoma County Jail.

Prince founded the company in 1986 providing real estate development services in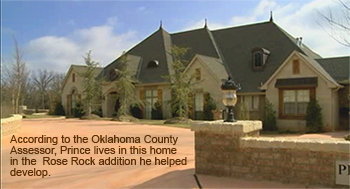 residential and commercial properties. He entered the blossoming cell site development business in 1991 and landed their first major contact with Omnipoint Communications and the Florida Department of Transportation.
The company provided special project services for Nextel Communications in New Orleans to allow the carrier to have extensive coverage during the CTIA 2000 convention.
Then they signed a major contract with Ericsson in 2003 and United States Cellular two years later.
Their stellar growth came from a relationship with AT&T that had the firm's 15 national offices providing turnkey construction services and UMTS upgrades.
Prince established a golf charity outing and for the past seven years it resulted in a who's who list of sponsors from American Tower Corporation and Global Tower Partners to Mastec, Baran Telecom and a host of other contractors and suppliers eager to network with Prince's executive team.
The weekend event brought out A-list industry executives eager to speak to attendees - from Bobby Adams, AT&T Mobility's Director of Network Operations to Nick Shanker, Ericsson Inc.'s Vice President of the company's fixed broadband program.
In thanking Prince for inviting him "to speak at your prestigious event," Bechtel Communications Principal VP, CTO and Bechtel Fellow Jake MacLeod said, "It is very rare that I encounter a man of your stature that has such a generous heart. Every individual with whom I spoke related their admiration for you and your involvement in their lives."

Other industry leaders and motivational speakers echoed MacLeod's comments along with giving Prince awards such as the Frasernet Entrepreneur of The Year.
Buoyed by his funding capabilities and telecommunications industry growth, in 2007, Prince & Associates began its new venture: Prince & Associates Restaurants, which included Prince Bistro and Papa John's Pizza franchises.
They also started building upscale homes. But the subprime credit debacle caught the company off guard and they scrambled to keep their various enterprises afloat, but have since closed the doors on their telecom business.
They removed their website from the internet and their telephone number is disconnected. Contractors and suppliers say they are owed millions of dollars and a number of them have placed hundreds of liens on AT&T and other telco sites.
Prince, 59, was convicted of grand larceny in 1983 and embezzlement in 1991.
Prince & Associates is a privately held, minority owned business.
"You are only as good as the last service you performed on the day before," Prince said while accepting the Frasernet award.

U.S. to counter Afghanistan cell site shutdowns with new builds and COWs
March 28, 2010 - The U.S. military plans to build at least 50 new towers on Afghan and international bases and mobilize dozens of cell on wheels to counteract the loss of
communications after major carriers acquiesced to Taliban demands to shut down overnight a number of cell sites in isolated provinces.
According to Army Maj. Eric Johnson, in a New York Times article, the Taliban use towers as "a weapons system".
"If you control the communications of a population, you can control their thoughts," said Johnson.
In 2008, MTN Afghanistan, a unit of South Africa's MTN Group; Roshan, part-owned by Great Britain's Cable & Wireless and the Swedish-Finnish TeliaSonera group; AWCC; and Etisalat Afghanistan, said they would not bow to Taliban demands.
However, after the Taliban destroyed dozens of cell towers and removed power to a number of sites, the carriers now switch off their base stations at 5:00 p.m. in multiple provinces and keep them idle until 6:30 a.m.
The phone companies shut down their cell towers at night, preventing local residents from discreetly calling coalition military tip lines. In exchange, Taliban militants said
they won't target the cell towers with explosives.
Afghan officials say they don't have the manpower to secure every cell site in remote areas. The carriers defend their actions by saying their joint decision to turn off the towers means fewer Afghans are at risk of dying in a Taliban attack.
Although they don't address the possibility that people could easily die because they are unable to call for emergency services during the 13-1/2-hour shutdown, the carriers say safety is their primary concern.

Altruism versus balance sheets questioned
A number of military observers believe that their altruistic concerns are solely generated by their desire to protect their assets and not Afghans, citing that they are
not aware of any fatalities that resulted from the Taliban destroying a cell site.
The chief operating officer of Roshan, which serves 3.5 million Afghan customers, told the Wall Street Journal this week that it powers down at least 60 of its 800 Afghan towers every night.

"We play by their rules; we don't like to play around when people's lives are at stake," he said.

The Taliban are trying to show who's really in charge in extremist led areas of the country by intimidating the cellphone industry, one of the rare Afghan economic success stories.

It is well known that in Afghanistan, a country rife with corruption, carriers or their contractors provide protection money to Taliban commanders in dangerous districts, in addition to cash that is openly passed to local tribal elders to protect a cell tower.

Although the Taliban routinely attacks vehicles supplying supplies to U.S.-led coalition and Afghan troops, it's a safe passage for tower contractors and tower maintenance personnel.

Afghanistan, with 29 million people, had as many as 12 million cellular-service subscribers in December, according to the Afghan government. Fifty-two percent of the population has access to a mobile phone at home.

The cell phone industry in Afghanistan employs more than 100,000 people and generates, according to government estimates, as much as $1 billion in annual revenue for the carriers. In the past year almost 40 towers and their base stations were destroyed by insurgents, costing the carriers over $16 million.


But in targeting mobile networks the Taliban may be losing one of their most precious assets – the tacit support of the local population.

While citizens may turn a blind eye to public executions and grudgingly let their beards grow as the fundamentalists demand, they are extremely unhappy at the prospect of losing their phone service, for many their one quick link with their relatives and the outside world.

Inasmuch as the Taliban believes that its movements within the country at night will go largely unreported if cell phone tips are curtailed, the loss of service also affects their ability to communicate with fellow insurgents.

President Obama took a surprise trip to Afghanistan on Sunday night, and he was on his way back to Washington before most Afghans woke up Monday morning. But in many provinces, they couldn't call to let anyone know about his meeting with President Karzai until the carriers turned service back on at 6:30 a.m.

The U.S. State Department has budgeted $113 million to spend this year for civilian communications in Afghanistan. The money will pay for new towers and developing community media outlets.

Dick Kleine, industry's first prominent
tower marketing exec passes away
March 22, 2010 - Services were held on Saturday for Richard "Dick" Kleine, a tower manufacturer sales executive, who helped shape many of the industry's marketing tools and processes, most notably the Rohn catalog. He passed away on March 13 at
age 79.

Kleine, was hired by Rohn Towers' owner, Dwight Rohn, in 1956 when the company had approximately 40 employees dedicated to meeting the growing demand for residential towers to support TV antennas.

Elvis Presley's appearance on TV that year and the many offerings presented in color resulted in a steady surge of business for the Peoria, Illinois tower manufacturer.

Direct salespeople were then hired by Kleine to supplement sales representatives in the home radio and TV industry, and Rohn moved forward to serve the two-way radio market with lightweight guyed towers.

In 1965, Kleine sold the company's largest tower order ever, a major contract for towers for Nashua, New Hampshire-based Sanders Associates.

Rohn's President, Don Rohn, who retired in 1998, said the deal provided the opportunity for the company to consider other manufacturing options in the telecommunications industry and Kleine moved quickly to capture the opening.

He also noted that Kleine's introduction of the Rohn catalog was a catalyst for the company's rapid growth as it became the largest tower manufacturer in the world for a number of decades.

The Rohn catalog was iconic in the industry and was known as the "tower bible". Its wealth of products and industry information served as the basis for buyer and design decisions for many years.

A number of early catalog editions are treasured memorabilia by industry professionals.

Kleine was active with the EIA 222 standard committee and arrived at Rohn when Revision A was being considered for the 11-page standard.

Along with Rohn engineer David Brinker, Kleine took an active role in 1987 in educating contractors and engineers throughout the country about the sweeping changes that were being introduced in EIA 222-D when wind pressures were replaced by basic wind speeds.

"We always said he worked hard and played hard. He wanted to get all of the orders, but he was profit oriented. If he saw an idea, he'd be sketching something up in his motel room and have that product on the street in three or four days," said Don Rohn.

Kleine retired in 1994 after 37 years of guiding the company's sales efforts. Rohn had then grown to more than 300 employees.

His memorial card capsuled his innovative and aggressive marketing style, stating: "I did it my way...".

Born Oct. 22, 1930, in Madison, Wisc.; the son of Alvin and Wilma (Meier) Kleine, Dick married Norma A. Briley Jan. 19, 1985, in Minocqua, Wisc. He was a lifetime member of the N.R.A. and an avid hunter and fisherman, and enjoyed watching old western movies.

He is survived by his wife, Norma; children, David Kleine, Susan (Jerry) Flynt, and Beverly Ames; step-daughters, Patti Sprinkle and Vicki Olson; four grandchildren; three step-grandchildren; four step-great-grandchildren; and his beloved yellow Laborador, Ches.

Mentoring many, Bill Ellis passes away at age 83
March 22, 2010 - A memorial was held recently in Ft. Lauderdale, Fl. to celebrate the life of a tower contractor who mentored many successful company owners over the years. William "Bill" Ellis passed away on February 23 at age 83.


Ellis, who co-founded American Tower Company in Shelby, Ohio in 1953, moved to Ft. Lauderdale, Fla. in the late 1950s and continued as one of the country's most successful tower erection contractors as Ellis Tower Co., Inc.
He sold the company to Specialty Teleconstructors in 1997; Specialty was later acquired by OmniAmerica, and shortly thereafter the tower consolidator was purchased by American Tower Corporation.
After graduating from the University of Michigan, Ellis was working as an accountant when he purchased a client's company that was fabricating and installing tower sections for home TV and radio antennas.
His company performed installations throughout the country, from an FM tower installation on top of Mt. Washington, N.H. to providing a turnkey installation project for South Carolina Educational TV that required over 400 towers to provide one on almost every middle and high school campus within the state.
Ellis Tower was the primary contractor for one of the nation's first cellular MSA projects in Miami.

Sons Richard and Bill, Jr. worked for him for many years and were instrumental in helping to build the company's excellent reputation. Bill, Jr. predeceased him in 2004.

"Bill Ellis helped to teach me the business," said Clement Rolle who now heads the Bahamas Telephone Company's tower construction and maintenance group.
A successful restaurateur, competitive backgammon player and an avid tennis player, he was an honorary founding member of the Ft. Lauderdale Tennis Club. He is survived by his loving wife, Carol; brother, Robert; children, Dottie, Richard, Donna, Rod and Debbie; and nine grandchildren.
.

35 - The number of dollars a day tower erectors made while installing an antenna for Texas TV station KEYL in 1952. According to the San Antonio Light, the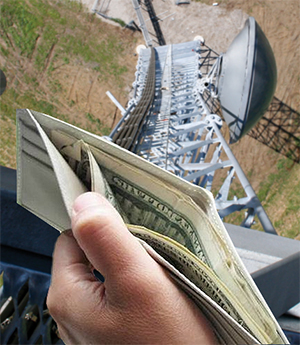 crew members were also given free room and board. If they worked six days their weekly gross would have been $210, dwarfing the national weekly salary average of $57.

18 - The number of dollars per hour a contractor is offering on March 15, 2010 in an ad for tower techs. Instead of free room and board, they're providing $100 per day. The preliminary national average hourly wage of all employees for February, as identified by the Bureau of Labor Statistics, is $22.46.

20.2 - In millions of dollars, AT&T CEO Randall Stephenson's compensation total for being the telco's chief executive. His 2009 pay package included a bonus of $5.85 million.

16.1 - American Tower Corporation's CEO James Taiclet's compensation in millions of dollars for 2009, according to Forbes.com. Stock gains of $14.43 million accounted for the majority of it. W. Benjamin Moreland, Crown Castle International's CEO had no stock gains, but received compensation of $1.79 million, Forbes said.


118,000 - According to the GSM Association, by 2012 there will be around 118,000 cell sites that will be using renewable energy. The majority will be in the developing world. Billions of dollars are expected to be saved by avoiding diesel power for off-grid sites. In 2008 the group estimated that there were only 1,800 renewable energy sites.

30 - The percentage estimated by Infonetics Research of a wireless carrier's total operations costs that is required to implement backhaul solutions. Cisco Systems estimates that by 2013, 1.6 exabytes of data will be transferred per month. Clearwire's mobile WiMAX subscribers are burning through around 7 GB of data per month, according to a statement made by the company's chief commercial officer today.


75 - The number of new cell sites that AT&T will be building in Alabama during 2010. The carrier also unveiled the number of new builds in a number of other states: Pennsylvania, 60; Delaware, 6; New York City, 40; Nebraska, 20; Ohio, 30; Iowa, 10; Wisconsin, 30; Louisiana, 60; West Virginia, 30; New Jersey, 10; Florida, 65; Minnesota, 55; Michigan, 20; Kentucky, 40; Mississippi, 60; Missouri, 30; Georgia, 60; and Hawaii, 10.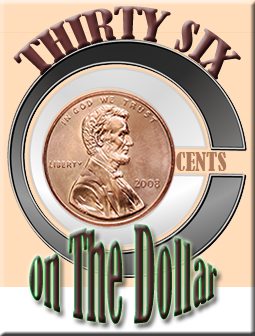 36 - The new percentage that unsecured creditors will get from Citadel Broadcasting Corp. if their Chapter 11 bankruptcy plan is approved. A number of unsecured creditors in the tower and antenna manufacturing industry as well as tower maintenance contractors lost money when the third largest U.S. radio-station filed. However, this was welcomed news since the previous plan only provided them with 15 cents on the dollar for their claims.

550,000 - The eBay asking price in dollars for TV broadcast station WMKG-LB, Channel 38 in Muskegon, Michigan. The equipment is included, but not the 200-foot tower that the station broadcasts from. Owner Bud Kelley, says he will go even lower.

Stiff fine levied against Canadian company that allowed climber to wear an incorrect harness
March 16, 2010 - An Owen Sound, Ontario, Canada company was fined $20,000 after it pleaded guilty to two charges they were cited with after a worker was injured in a fall from a TV tower he was taking down.

Grey Bruce Telecom Inc. pleaded guilty Friday in Provincial Offences Court to charges under the Canada Labour Code after the June 4, 2008, incident.

The company provides rural broadband internet to Grey and Bruce Counties.

Prosecutor Clayton Conlan said pleas were taken on charges of failing to ensure the safety of the worker and to failing to provide a CSA-approved harness.

Conlan said the worker was wearing some sort of harness but it wasn't approved. The worker fell from the tower, about 45-feet tall, at Gould Lake.

An employee said last November that the worker broke his arm and had "fully recuperated."

The fine could have been more, but Conlan said Grey Bruce Telecom was co-operative, pleaded guilty and agreed to undergo safety training.

Canada, which appears to have a better safety record regarding climber fatalities than the U.S., based upon a comparative analysis by WirelessEstimator.com, is known for issuing stiffer fines for workplace safety violations.

Last year, another Owen Sound business was fined $75,000 after a Ministry of Labour investigation concluded the employer had not provided adequate information and instructions to the worker on how to operate a utility vehicle. The employee suffered a fractured leg in the accident.

A review of OSHA penalties during the past two years found that the average charge levied against a tower construction company cited after a climber died following a fall from an elevated structure was $6,100.

NATE show heralded as one of the
tower erector association's best ever
March 8, 2010 - By all accounts, last month's NATE exhibition and conference was one of the organization's best attended and well-received shows in its 15-year history.
Although normally balmy Orlando temperatures hovered near freezing on a few nights, it was a welcomed relief by attendees who were happy to
get away from this winter's pummeling storms.
Educational sessions, from RF safety to an overview of structural standards for installation, alteration and maintenance of antenna supporting structures, were well-attended.
The NATE show has long been the best networking opportunity for managers, technicians and exhibitors in the ever-growing tower construction and maintenance industry.
Sponsors recognized at the show included: Gold: Andrew Solutions, Zurich/Crump; Silver: Hutton Communications, Inc., TESSCO Technologies; Bronze: Installation Services, Inc., Sabre Industries, Inc., TriVis Inc., Valmont/Site Pro 1; Patron: Cipov Enterprises, Inc., EasTex Tower, Inc. Great Plains Towers, Inc., Hayden Tower Service, Inc., Midwest Underground Technology, Inc., PRIMUS Electronics, Shenandoah Tower Service, Ltd., Tower Systems, Inc., TWR Lighting, Inc., WANHO Manufacturing, LLC.; Friends of NATE: GolinHarris, Helical Anchors Inc., Trylon TSF Inc.; and the event's coffee sponsor, Granger Telecom Corp.
The 2010 exposition again included the recognition of the "Best of Show" booths in three divisions.
Judging was conducted by the trade show committee, and criteria was based on a variety of items, with emphasis placed on how the booth designs incorporated the NATE 2010 safety theme - - Tower Safety…It's Up To You!!
Winners selected on February 17 were: Class A (10x10), Gravitec Systems, Inc.; Class AA (10x20), Hutton Communications, Inc.; and Class AAA (10x30 or larger), TESSCO Technologies.
The grand prize, a round trip airfare for two to the NATE 2011 conference as well as hotel accommodations and conference and exhibition passes to next year's Oklahoma City event was won by Dwight Siman of VBine Energy.
As in past shows, attendees were impressed by the conference's highly organized and professional educational session offerings.
The welcome reception, luncheons and exhibit hall receptions were also enjoyed.
"I'm from the Bahamas and we're known for our seafood," said NATE member Clement Rolle, "but I'm telling you, NATE sure knows how to put out a great stone crab feast."
The trade show committee chairman is Ken Meador. Members include Patrick Shea, Connie Aasen, Jeff Hall, Rob Menees, Scott Bartlett, Dave Anthony, and Eric Larson.
Subcommittee members are Jerry Bezner, Tom Foster and Scott Krouse.
The board oversight director is Ron Romano. Paula Nurnberg is the show's operations manager.
Under the direction of NATE Executive Director Patrick Howey, NATE staffers at the event included Carol Coughlin, Shelly Trego, Jodi Messerli and Jamie Brandriet.
For a photo tour of the 2010 conference and exhibition, click here. (Photos Courtesy of NATE) .

Industry's anticipated Q1 success linked to thousands of Clearwire builds
March 1, 2010 - First quarter revenues are expected to be up sharply for many suppliers and contractors as they reap revenues from Clearwire as the fully-funded WiMAX service provider charges ahead with its ambitious national build-
out plan.
According to a report by RBC Capital Markets, new cell site additions by the country's major carriers will total between 16,700 and 26,000 for 2010; last year's high estimate was 20,200.
RBC says that Clearwire will be the lead player and provide 7,000 to 10,000 industry adds.
A number of component manufacturers and suppliers at last week's NATE conference in Orlando said that Clearwire was providing a much needed boost in an otherwise flat quarter.
One manufacturer said that Clearwire's business during the past two months helped his company to exceed its record 2009 first and second quarter revenues.
Contractors said they were also benefitting in many markets from Clearwire's network expansion that is expected to triple its 4G subscriber levels over the next year.

Clearwire plans to cover 120 million people by the end of 2010, up from 44.7 million by the end of 2009.
Clearwire said yesterday that its subscriber totals increased 45% in the fourth quarter from a year earlier, to 688,000 as the WiMAX service provider added a record 87,000 customers.
Revenue increased 34% and slightly exceeded Wall Street estimates although losses widened as the company spent heavily to build out its national wireless network.
Clearwire CEO Bill Morrow was optimistic about the company's wholesale services, whose customers include investors Sprint, Comcast and Time Warner Cable. The company expects to spend between $2.8 billion and $3.2 billion to build out its mobile WiMAX over the next year.
In other carrier builds, RBC's Jonathan Atkin and David Coleman's report indicated that AT&T's UTMS overlays and capacity enhancements for 2010 would displace some new site capex to keep up with the iPhone demand. They believe AT&T will also initiate its LTE buildout, with several thousand overlays.
Their research indicates that Verizon anticipates a relatively modest level of new site additions as the company focuses on LTE. They state that new antennas and lines at LTE sites should trigger meaningful amendment revenues for tower owners and additional work for contractors.

Leap Wireless is expected to only infill sites and have no new market construction during 2010.

It is anticipated that Metro PCS Communications will have limited fill-in and incremental expansion. Their focus is to be on their LTE overlay.
Two weeks ago, rumors were rampant that Metro PCS and Leap Wireless were evaluating a possible merger. Instead, Leap said yesterday it would take a controlling stake in a joint venture with privately held Pocket Communications Inc. to strengthen its position in the South Texas area.
Sprint/Nextel is expected to have slightly higher site-level spending in 2010, mostly weighted to CDMA. The carrier has budgeted for 600 additional cell sites.


Contractors not liable for deductible in KETV Omaha TV tower collapse
February 19, 2010 - An Omaha television station lost its tower in 2003, lost a lawsuit
in 2008 and recently lost another lawsuit in a decision by the Nebraska Supreme Court that ruled that the erectors were not responsible for a $250,000 deductible.
Hearst-Argyle Properties, Inc., owners of the KETV broadcast tower at 72nd Street and Crown Point Ave., had sued three tower-erection companies, claiming negligence for the collapse of its 1,200-foot guyed tower on July 7, 2003.
The initial lawsuit ended with the Supreme Court stating that a clause in the contract between the tower owners and the contractors required that Hearst-Argyle obtain insurance for the project.
The company's insurance should pay for the $6 million in damages, the court ruled, regardless of who was negligent in the collapse.
In the second decision issued today, the court ruled that another clause in the contract required the owners of the tower to pay the $250,000 deductible on the insurance claim.
The contractors were Entrex Communication Services, Communication Structures & Services, and Dudutis Erection & Maintenance.

Waivers of subrogation provision challenged
The contract required Hearst to purchase and maintain builder's "allrisk" insurance "without optional deductibles." Hearst was to notify Entrex Communication Services if it did not intend to purchase the required insurance, permitting Entrex to obtain such insurance and charge the cost to Hearst.
But instead, Hearst obtained insurance with a $250,000 deductible. And the contract stated that if Hearst obtained property insurance with deductibles, Hearst "shall pay costs not covered because of such deductibles."

Hearst argued that the contract does not preclude it from seeking indemnification for the deductible from the defendants, pointing to the waivers of subrogation provision.
Hearst argued that because this provision operates only as a waiver of liability "to the extent covered by property insurance," the recovery of any amount not covered by insurance such as the deductible is not waived by that provision.

The court agreed that it did not preclude Hearst from recovering the deductible amount.

However, the court said that a paragraph in the contract does require Hearst to pay the costs not covered because of the deductible.

The court ruled that the contract must be viewed as a whole in order to construe it. "Whatever the construction of a particular clause of a contract, standing alone, may be, it must be read in connection with other clauses," the court said.

The court concluded that the contract required Hearst to bear the costs of its insurance deductible and that the contract's waiver of liability was not void as against public policy.

No one was present, or injured, when the tower collapsed at about 11:00 p.m.
The tower was rigged for replacing the existing analog antenna for upgrading to HDTV. There was also some damage to the adjacent WOWT tower.

For a copy of the court's ruling, click here.

NATE rolls out a hazard recognition module during its 15th annual confab in Orlando
February 18, 2010 - The National Association of Tower Erectors launched a tower-site hazard recognition guide to continue to improve safety on broadcast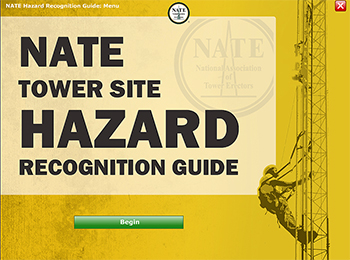 and communications tower sites.
The announcement was made yesterday during NATE's 15th annual show in Orlando, Fla.
The program provides guidance to project managers, site superintendents and any other responsible personnel on a tower site, to recognize hazardous situations.
NATE teamed with tower site owner SBA Communications and carrier Cellular South, to develop the content for the guide.
The association also leveraged its repository of tower safety standards and safety resources to ensure the Hazard Recognition Guide provides personnel with the information required to empower everyone on a broadcast or communications tower site with the knowledge of safe operating procedures.
NATE says this will help them recognize hazards on broadcast and communications tower sites and take steps to alleviate those situations quickly and effectively.
The guide also provides personnel with additional resources such as OSHA guidelines where further information about specific topics can be gathered.
NATE is offering the guide free to anyone interested in furthering jobsite safety. To test drive the guide, click here.

"Every responsible person on a tower site should have a working knowledge of safe operating procedures and be able to recognize hazardous situations, said Jim Coleman, NATE Chairman of the Board of Directors."The employees of cellular, broadcast and other contractors have a role to play in the safety of tower technicians working on and around the tower. The hazard recognition guide provides them a resource to help them play that important role."

"Improving safety in the tower industry should be paramount for tower companies, wireless companies, broadcasters, owners and operators," said David Sams, Director of Risk Management for SBA Communications. "This guide is another way we are developing a culture of safety and ensuring that everyone goes home safely each night."
WirelessEstimator.com will be providing a photographic overview of the many capacity-full educational sessions and events that took place during the convention that ends today.
Initial attendance reports indicate that it was one of the organization's most widely attended shows.

Anti-tower-siting activists' victory is short lived following Liechtenstein's RF law reversal
February 14, 2010 - Liechtensteiners cling to their country's tradition of banking secrecy to keep their economy humming, even during times of global tax evasion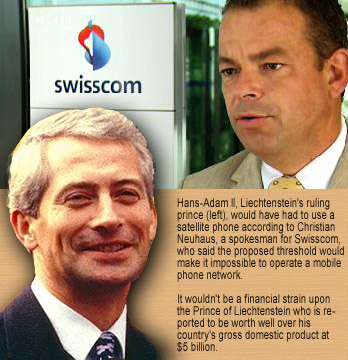 probes.

They clutch even tighter to their cell phones and recently informed their parliament through a referendum that they want mobile carriers to be able to invest in Liechtenstein and not just their financial institutions.

They also said they felt safe with their country's RF safety guidelines for base stations.
In 2008, the Liechtenstein Parliament adopted thresholds for non-ionizing radiation beginning in 2013 that were 10 times lower than Swiss thresholds, which are currently the lowest in the world. Instead of 6.0 V/m, a maximum of 0.6 V/m would be required.
During a 2009 session, Liechtenstein's four mobile carriers, Mobilkom Liechtenstein, Orange Liechtenstein, Swisscom, and Allcommunications unanimously stated that the reduction of the threshold would require them to abandon nationwide, qualitatively sufficient access to mobile communications on technical and economic grounds.
With approximately 35,000 inhabitants, the country is only 61.7 square miles, about the size of Washington, D.C, but the world's mobile carriers have been scrutinizing its parliament's actions.
Christian Neuhaus, a spokesman for Swisscom, said, "In these conditions, it will no longer be possible to operate a mobile phone network."
However, parliament was not persuaded to reverse the path it adopted and they reaffirmed the 0.6 V/m requirements in October.
The members of parliament also called upon its government to undertake additional research to challenge the arguments made by the mobile communications industry.
"The goal of parliament is to achieve a Liechtenstein mobile communications solution that ensures high-quality basic service with reduced radiation, without detriment to profitability or health," they said.
Anti-tower-siting activists applauded Liechtenstein's resolve and hoped that their actions would encourage anti-tower campaigners across Europe to renew their efforts.
Similar groups in the U.S. also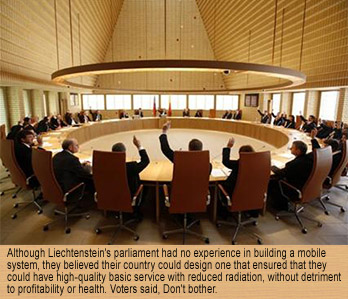 cited Liechtenstein's RF threshold lowering as a victory in their efforts to convince others that cell phone carriers have capabilities of lowering emission levels, but do not want to because of the financial implications.
But Liechtenstein's residents had the final say in December when they exercised their opportunity to vote on whether to overturn the environmental protection law introduced in May 2008 that required base station sites to reduce their electromagnetic fields.
Fifty-seven-percent of voters agreed to return to the RF requirement of 6V/m.
Part of their reasoning was because their country's requirements are already lower than most of the world.
Many European countries including the UK, France, Spain and Germany set a limit of 41 V/m. Only Switzerland - where operators find it difficult to effectively roll out their networks - and Liechtenstein set their limit at 6 V/m.

The 41 V/m limit is based on the recommendations of the World Health Organization . WHO has adopted ICNIRP guidelines.
Activists believed that if Liechtenstein's ruling held up to voter scrutiny, the next domino to fall might be France. A government-led group is reconsidering existing emissions limits and has called for city administrations to take part in a trial of 0.6 V/m limits.
The ICNIRP guidelines have been widely adopted in Africa, Asia, Europe and the Middle East. A similar standard developed by the IEEE International Committee on Electromagnetic Safety (ICES) has been used in the Americas. China and Russia currently use standards that are fundamentally different to ICNIRP or ICES.
Numerous requests by WirelessEstimator.com to interview Liechtenstein's government officials and additional inquiries through their U.S. embassy were not returned.

Official interviews are only granted if the journalist agrees to provide a copy of the article for approval before it is published.

ATC expected to ink $425 million India tower deal
February 12, 2010 - The Essar group, which has interests in mobile-phone services, energy, steel and real estate businesses in India, may sell its mobile-phone tower business, Essar Telecom Infrastructure, to American Tower Corporation. The contract is expected to be announced next week, media reports said.


The deal is expected to raise $425 million for Essar to bid for third-generation wireless licenses.

Essar Telecom Infrastructure is India's second-biggest independent operator of mobile-phone towers with about 4,000 towers.

The group has been in talks with ATC for the past few months regarding the sale of its unit, but the deal didn't take place because of valuation differences.
With the some of the cheapest pricing plans in the world, India is an attractive market for tower firms as low prices mean thin operator margins, which puts pressure on their network capex and requires co-location wherever possible.
ATC, which is expanding operations in India, is also eyeing the Chinese market as third-generation services drive demand for sharing of masts, president of Asian operations at ATC, Amit Sharma, had told a news agency last month.

Essar had ambitious plans in 2008 and said that by March of this year they were going to build about 20,000 sites. The company reassessed its business model and decided to use its resources to capture 3G licenses instead.

FCC says you can't blame the contractor
Six-foot lightning rod ends up costing Verizon $13,000 after the FCC finds Georgia violations
February 8, 2010 - Verizon Wireless has until February 13 to pay the FCC $13,000 for willful and repeated violations of failing to register an antenna structure with the
commission and failure to paint and light the structure.
On August 18, 2009, in response to a complaint of an unlit tower, agents from the commission's Atlanta field office inspected a tower located at 2128 Reed Creek Road in Hartwell, GA.
Prior to inspecting the tower, the agents confirmed that no antenna structure located at that address was registered in the commission's database. The agents determined that the antenna structure exceeded 200 feet in height. They also noted that the structure did not have any obstruction marking or lighting and that there was no ASR number posted at the base of the tower.
They contacted the land owner, who identified the tower owner as Verizon.
Verizon was contacted by the FCC on August 19 and was apprised of the problem. The carrier had a tower technician measure the structure and confirmed that the overall height of the antenna structure was 205 feet above ground level.

That same day Verizon reduced the tower's height to 199 feet by removing the lightning rod secured to a tower leg.

Verizon confirmed that the antenna structure was constructed on or about March 2004 and that it had owned the tower since its construction. Verizon also stated that it filed for a determination of no hazard from the Federal Aviation Administration for a planned addition of a lightning rod to the tower, which would increase its height to 206 feet above ground level.
A month later the FCC issued a Notice of Apparent Liability for Forfeiture to Verizon in the amount of $13,000.
Verizon submitted a response, requesting reduction of the proposed forfeiture because they believed the violation was minor and they corrected it the same day they were notified.
They said the tower was not registered or lit because its construction contractor did not note the lightning rod on the final plans for the antenna structure. They said the construction contractor only noted the lightning rod in the equipment list in the close out package.
Verizon said because the construction engineer responsible for the project only consulted the final plans for the structure, the carrier mistakenly thought that its antenna structure was less than 200 feet and did not require registration or lighting.
The commission didn't agree, stating the FCC has "consistently refused to excuse licensees from forfeiture penalties where actions of employees or independent contractors have resulted in violations."
The commission also stated that it has been long held that corrective action taken to come into compliance with the rules after an inspection is expected, and such corrective action does not nullify or mitigate any prior forfeitures or violations.

Verizon has since instituted a comprehensive review of all of its antenna structures which are not registered or lit and which are between 190 and 200 feet in height to ensure that it does not repeat this mistake.

Church cited $10,000 for not allowing pilots to see the light
The FCC also recently cited International Church of the Foursquare Gospel last month for failing to monitor and repair their red obstruction lighting system on their 222-foot tower in Los Angeles.

On August 28, 2009, the FCC's enforcement bureau's Los Angeles office received complaints concerning an antenna tower light outage in regard to an antenna structure located at 1050 Montecito Dr. The complaint stated that the antenna tower had been unlit for approximately two months.

The FCC spoke with a Foursquare Gospel facilities manager who stated that the antenna tower in question was owned by Spanish Broadcasting System, not
Foursquare Gospel. He stated that the antenna tower had been sold years earlier.

However, further checking by the FCC found that to be incorrect and Foursquare Gospel was issued a notice of apparent liability for forfeiture in the amount of $10,000.

The NAL was issued on January 28, 2010 and can be viewed here.

Tech's parents suing following tower collapse
February 5, 2010 - The parents of a 34-year-old technician who died when the 230-foot wind-turbine tower he was in collapsed to the ground in a Sherman County,
Oregon wheat field is suing for $7 million.
In their lawsuit, Gail Eikanas and Jerry Mitchell fault the Danish turbine maker Siemens Wind Power A/S, the Klondike Wind Farms III and owners PPM Energy, among others. Their son, Chadd Mitchell, died in August 2007. He was the father of two.
The suit was filed Thursday in Multnomah County Circuit Court. According to the suit, the wind turbine's rotor went into "overspeed," causing the structure to crash to the ground and crush Mitchell.
In early 2008, the Oregon Occupational Safety and Health Division fined Siemens Power Generation $10,500 for safety violations, after a six-month investigation.
The agency found that Siemens didn't properly train or supervise the employees on the job, and that Mitchell and another worker had less than two months of experience and were working without a supervisor.
Litigation seen as uncivilized
Similar to the tower construction and maintenance industry, as the wind energy business steadily grows, it is seeing a rise in deaths, injuries and lawsuits.
Attorneys will wait until such time as an OSHA investigation is completed to see if violations were issued to the deceased's employer.
Oftentimes, even if the plaintiff's suit has little merit, insurance companies will settle prior to the suit going to a jury trial. Settlement agreements typically prevent tower companies from disclosing payments or discussing the proceedings.
A tower contractor and safety advocate who has been through a wrongful death suit said, "Civil litigation is barbaric, tortuous and gut-wrenching, and for the most part, very uncivilized. The lawyers are ringleaders in a well choreographed circus of events. Truth is touted, but perception rules and huge settlements are the goal, not the truth. What really happened is usually buried in a mountain of puffery and minute details that are used to provide the appearance of patterns."
.
Mississippi man succumbs after 100-foot fall while dismantling
February 3, 2010 - A veteran tower climber died today after falling 100 feet from a cell tower he was working on along Arkansas 88 in Saline County, Ark., a sheriff's office spokesman said.

Terry Thompson, 51, of Lucedale was pronounced dead at the scene, Lt. Mike Frost, with the sheriff's department said.

He stated that the tower was owned by American Tower Corporation.

Thompson was a sub-contractor with Dynamic Wireless of Little Rock, a company hired to remove the 250-foot self supporting tower.

Frost said the sheriff's office is investigating the death and OSHA has been contacted.

The 10:30 a.m. accident was this year's first tower climber fatality

Authorities say Thompson had 37 years of experience working on towers.

Initial reports indicate that Thomson may have been attached with only a positioning lanyard.


Just prior to Thomson falling, the gin pole reportedly lurched about two-to-three feet.

OSHA will be looking to identify if it was the gate or other equipment that failed.

Thomson reportedly fell inside the tower and hit some bracing on his way down.

Dynamic Wireless, LLC, an affiliate of TransportWave, was founded in 2004.

The tower erection and maintenance company is managed by Todd Lewellen.

Dynamic Wireless is licensed as a general contractor in several states.

Vandalism suspected in Georgia tower collapse
February 1, 2010 - Georgia-Carolina Radiocasting's WLHR/Lavonia, Georgia's 284-foot guyed tower collapsed on Saturday, and station co-owner Art Sutton suspects it
was the work of vandals.

"We believe one of the guyed wire sections was deliberately cut which resulted in the tower falling completely over away from the guyed wires cut," Sutton said.

"There was no ice on the tower. The winds were not very strong. This was a deliberate case of sabotage based on the experience I've gained about radio station towers over the 33 years I've been in the business. If a tower collapses due to wind or the weight of excessive ice, it will collapse upon itself near the base of the tower. It will not fall over in one piece. We have no idea why anyone would do this to our tower, but we will use all the resources of the company to find out why this happened and who caused it," he said.

Sutton and CFO Terry Carter spent most of the day Saturday at the tower site with Franklin County Sheriff's investigators, and the Georgia Bureau of Investigation and the FBI have been called in to investigate the matter.

Sutton said the station is looking at putting a temporary antenna on another tower, noting that there is a unused TV tower in the area that would allow a "quality signal to about 75 percent of our licensed coverage area."

Texas translator tower destroyed by storm
February 1, 2010 - Many residents in the Childress, Tx. area are without over the air
television after heavy ice caused a tower to collapse.
The 300-foot translator tower that re-broadcasts all of the Amarillo T. V. station's signals to residents in the Childress area collapsed Saturday morning.
The tower is independently owned by a translator association made up of residents in the community.
People in the area can still watch television over satellite or cable.
A decision has not yet been made on whether or not the tower valued at a-quarter million dollars will be re-built.
.

Emergency Action Plan seen as an industry tool that will cut hours and advance jobsite safety
January 27, 2010 - A new Jobsite Emergency Action Plan form released today will shave many hours of research and administrative time required to complete the OSHA required document,
according to over forty company safety and project management representatives that beta tested it for over two months. It could also help to save a life.
Federal and state OSHA officials, who reviewed the program and gave it high marks for its capability to advance safety, noted that their inspectors appreciate seeing emergency response information, in addition to the required telephone numbers on a work site.
The lightning-quick Emergency Services Locator easily populates the nearest acute care hospital along with a travel route with a map and contact information for local fire, police and sheriffs' departments.
Optional entry fields are available for company personnel and their training certifications as well as other frequently included information appearing on company JEAPs.

Beta testers welcome its release
"Our PMs and administrators in our eight offices tested it and were amazed at its ease of use and accuracy," said Bruce Budagher, Executive VP/Owner of Data Cell Systems, one of the country's larger wireless contractors with over 80 field personnel.
"Although this will surely cut down the thousands of hours a week the industry spends to roll jobs, I believe the biggest advantage this program provides is its ability to possibly save a life."
"I can assure you. There are many companies that do not provide this emergency information for every job their employees are on. This now takes only minutes so there should not be any excuse for not having it readily available," Budagher said.

Don Espach, Manager - Safety and Health for Andrew, A CommScope Company, also gave high marks to the program.

"Great job! This is a remarkable program which will be a great asset to the tower industry. It makes it easy for any company to collect and make available crucial, and potentially life-saving information to crews on job sites," Espach said.

In a beta test questionnaire, respondents said that it typically took an average of 17 minutes to accurately identify the jobsite location in addition to the emergency contact information and transfer it to their company form. Once they were familiar with the WirelessEstimator.com program the average reported time was less than five minutes.
When the form is completed it can be easily mailed as a PDF to employees requiring the document.

Identifying an accurate address is made even easier
A random sampling of over 8,000 database addresses from tower companies identified an address error rate of almost 31%.
However, at times the towerco's address contained no errors and Google was unable to identify it, but Yahoo Maps located and accurately plotted the address. There were times where Google's ability to locate an address outperformed Yahoo.
To greatly reduce the error rate, WirelessEstimator.com's advanced mapping system uses both Google and Yahoo resources to identify a correct address. Bing's digital mapping data partner is the same firm used by Yahoo Maps, NAVTEQ.

Here are the friendly alternatives if address requests just say no!
If on occasion you're not successful with your client's address, and you know where the site is located on a map, all you have to do is move the navigator's tower icon to that location and you will receive the closest available address that can used for your JEAP.
Or, simply enter the latitude and longitude of the site.
Although a latitude and longitude search will provide the most accurate visual sighting of the jobsite, don't be confident that the returned street address is correct since reverse geocoding is not an exact science and the addresses provided by Yahoo, Google and Bing, can sometimes be up to a mile apart and even in a different zip code or community.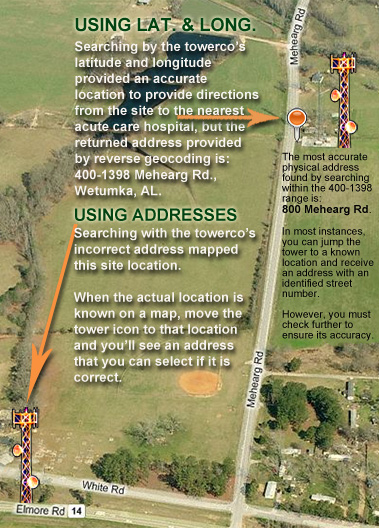 As identified in the picture at right, a towerco is providing its contractors and tenants with an incorrect address for an Alabama tower. However, the latitude and longitude provided by the towerco correctly places the locator's tower icon almost directly on top of their self supporting tower, and directions to the nearest acute care hospital will be mapped from this site.
Nevertheless, the reverse geocode can only provide an address from 400 to 1398 and a more accurate street number will be required.
When jumping the tower to where the worksite is located, place it at a known road entrance. Otherwise, locating the tower icon directly on top of the jobsite will provide a latitude and longitude - although correct for the project location - that might return a street address that is closer to an adjoining road where there is no vehicular access.

A violent mother nature claims three towers
January 23, 2010 -Heavy rain, sleet, snow and wind teamed up yesterday to collapse two towers in New Mexico and one in South Dakota.
The 712-foot KELO television tower near Reliance, S.D., fell due to severe icing conditions, according to a station engineer.
He said the guy wires snapped under the weight of icy conditions. The tower then crumpled before the top 300 feet tipped over, striking a power pole. The structure was built in 1957.
The ice also brought down a Pierre police radio tower.
Three television and several radio stations were knocked out of commission in N. Mex. at about 6 a.m. yesterday as a 100-foot broadcasting tower on Long Ridge was blown over by high winds. Stations affected are the Alamogordo television station KVBA, which broadcasts on Channels 19 and translator 63, and two Albuquerque stations, KWBQ and My50TV.
Several radio stations also rely on the tower, including KUPR, Alamogordo's Christian station, and KVCC, a Christian station based in Stockton, Calif.
KVBA station manager Bill Eisner said he doesn't know when the tower will be repaired. He said it could take 30 to 60 days, depending on the weather.

In iBurst cell tower battle, both residents' and CEO's comments need to be reexamined
January 18, 2010 - Homeowners can be misguided about their fervent belief that a cell tower is causing them to suffer from a number of illnesses. And business officials can oftentimes be too passionate when stating their company's strict adherence
to allowable RF emission standards.
And then there's the perfect storm such as the one that recently occurred in South Africa.
The battle began last August when Craigavon residents demanded that iBurst move a tower that was erected in Fourways Memorial Park after illnesses surfaced following its installation.
The sicknesses: headaches, nausea, tinnitus, dry burning itchy skins, gastric imbalances and totally disrupted sleep patterns, especially with some of the children.
One neighbor said she and her son were spending alternate nights at her mother's house to get some relief. "When I'm off the property, the symptoms subside," she said.

Another resident said his wife and nine-year-old son suffer bouts of nausea and retching, and have developed skin rashes since the erection of the tower.
"We've told our son that the tower is only switched on one day a week, so it's not psychosomatic," he said.
A number of other homeowners said that after they left the area their symptoms were cured quickly, sometimes within hours.
CEO goes on a Big Mac attack
iBurst CEO Jannie van Zyl said that no medical proof regarding the ailments has been presented by any resident to iBurst, but notwithstanding this absence of medical proof, van Zyl agreed to meet with the Craigavon residents to address their concerns in November.
RF levels in the park were considerably less than those allowed by international safety
standards set for cell towers, van Zyl said.
But then he proceeded to make comments that would have made Kanye West, Tom Cruise and Pat Robertson blush with envy.
Perhaps the only thing more damaging he could have done - public relations-wise - was to announce that he was having O.J. Simpson ghostwrite a book entitled, "If iBurst did it."
One resident said van Zyl became confrontational and she claims that he suggested that the reason they might be suffering from ill health had to do with them "eating too much McDonald's food," among other things.

Van Zyl later said he was simply making the point that there are many factors that affect people's health. "Where you find the highest density of cell phone towers, you also find the highest concentration of fast-food outlets," he said
However, this week van Zyl didn't rely upon the golden arches or his golden tongue to try and placate concerned residents, but broadsided them with the statement that the tower could not have caused the illnesses, as it had actually been switched off for two months.
"During the period between September and December, while residents were reporting symptoms, correlating them to being in the vicinity of the tower, the iBurst antennas were switched off for more than two months," says van Zyl.
As a result, he says, the tower cannot have been the cause of the illnesses. "This proves conclusively that any health issues experienced by the residents were not, and never could have been, caused by the iBurst tower."
Van Zyl also said the microwave backhaul components of the tower were deactivated, too.
Despite van Zyl's claims, residents are still following the legal route, says lawyer Bismarck Olivier. "No matter what he says, residents will proceed with legal remedies."
Van Zyl has repeatedly denied the tower causes the illnesses, and that it was improperly constructed, which is another of the residents' complaints.

Penalties said to be low when companies are cited following fatal tower climber accidents
January 12, 2010 - A review of OSHA penalties during the past two years found that the average charge levied against a tower construction company cited after a climber died following a fall from an elevated structure was $6,100.
A number of industry professionals believe it's too low. See: 2009 and 20008 Fatality Violation Fines.
Former OSHA chief Jordan
Barab agrees. In his Confined Space web blog prior to being appointed to head the agency, Barab said, "...you'll never learn from the evening news that we have more fish and wildlife inspectors than OSHA inspectors, or that the penalties from a chemical release that kills fish is higher than a chemical release that kills a worker."
Dr. David Michaels, confirmed by the Senate as Assistant Secretary of Labor for Occupational Safety and Health last month, shares similar views.
Michaels testified to Congress in 2007 that the agency should be more aggressive in its efforts to issue and enforce additional regulations in the workplace.
Although a number of companies were not cited following a fatality, primarily because it appeared to be climber error and they had an adequate safety program in place, such as Diamond K Tower Company, Inc., Wallen Communications Llc and Overland Contracting, OSHA fined as little as $600 to Emerald Wireless Communication and on the top end, $16,800 to Andrew Systems, Inc.
Andrew Systems' case, the first fatality in 2009, is still open and can receive a negotiated reduction from OSHA.
Please see: Fine of $20,000 reduced to $2,500 in Indiana fatality

Arctic blast kayos wireless construction in dozens of states as projects are forced to close down
January 7, 2010 - Many hundreds of projects have been put on hold this week as a result of an Arctic air mass that has shut down construction throughout many states
in the nation.
The National Weather Service had winter weather warnings, watches or advisories out today for 32 states, stretching from the Dakotas to Florida, and four of those states had blizzard watches.
In Canada's plains there are temperatures of 30 below zero, and the high-pressure system carrying them south will not warm as much as usual as it crosses the U.S. border over the next couple of days.

Residents in Crane Lake, Minn. had to brace yesterday's lowest temperature in the nation, -20 degrees Fahrenheit, a welcomed relief from their -36 degree low on Sunday.

Many tower crews are sitting idle in motels as they wait out a storm. A number of companies have had to lay off their workers until conditions improve.
"I would love to keep all of my guys working if I could," said a Midwest tower erector employing 14 tower climbers. "But there is just so much organizing you can do in the warehouse and quite frankly, even when we didn't have this crippling freeze, we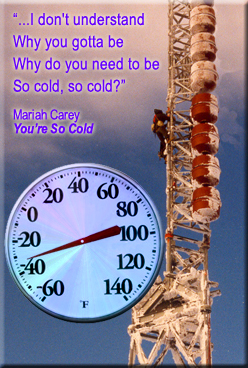 weren't as busy as we should have been."
"Starting the year out like this really hurts. I've got four projects we were doing, but they're all under snow."
Even in areas that are not covered with snow, the freezing conditions have caused companies to reduce their working hours or cancel projects until weather conditions improve.
Many erectors question what is the unsafe temperature for a climber or civil worker to continue to work in extreme cold weather conditions? While OSHA does not have any regulations specific to working outside in extreme weather, it does publish tips to protect workers in a cold environment.
It also states that the contractor must take precautions to protect their workers from life-threatening injuries and ailments.
For additional information about erecting or working on towers in cold weather conditions, see: Tower industry personnel become nature's target of choice.
.
North Carolina climber arrested for copper thefts
January 7, 2010 - Contractors will oftentimes help their valued employees out with a payday advance when there are extenuating circumstances.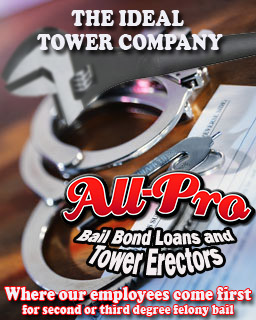 "Hey boss, I got caught cutting your customers' copper and need five large," is low on the list.
Bondsmen say that is what Christopher Ashley Masters will need to raise to meet the $50,000 bail set for him yesterday after he was arrested for allegedly stealing copper from cell towers in Craven County, N.C.
Craven County Sheriff Capt. Joe Heckman said Masters, 32, of Kinston, is charged with five counts of breaking and entering and five counts of larceny after breaking and entering.
According to authorities, Masters was an employee with a Florida cell tower contractor and had access to the site compounds.

Heckman said his office worked with investigators in Lenoir and Pitt counties for a number of months to find and arrest someone suspected of stealing from cell phone towers in the three counties.
Heckman said a metal business in Lenoir County put up a surveillance camera and Masters was caught on camera Tuesday night bringing copper to the business.
Sheriff's officers found additional copper inside Masters' home.

Copper thefts from tower sites is an ongoing national problem. A recent string of copper thefts in Cabell County, W.V. saw ten communications towers vandalized since Dec. 28.

Concerned about the thefts, the Cabell County Commission passed a resolution today to appeal to the state's congressional delegation to push for federal legislation that would make theft or damage to communication infrastructure a felony crime.

The commission also said it would look into installing electric fences and razor wire to deter criminals from their sites which have also been hit by thieves.

Dubai's goodbye: Singing Auld Lang Syne to North Dakota and the world's tallest tower
UPDATE: January 4, 2010 - Dubai opened the world's tallest skyscraper Monday, and in a surprise move renamed the gleaming glass-and-metal tower Burj Khalifa in a nod to the leader of neighboring Abu Dhabi - the oil-rich sheikdom which came to its rescue during the financial meltdown.
The official height of the iconic tower was also revealed: 2,716 feet. It was kept secret until today. It had been widely reported that the height was 2,625 feet.

* * * * * * * * * * * *
January 3, 2010 - Height one-upmanship seems to erupt every 30 to 40 years. In the 1930s New York's Chrysler Building battled with the Empire State Building for the world title. In the early '70s, the World Trade Center and Sears Tower duked it out. Malaysia took the fight overseas in 1998, when its 1,483-ft. Petronas Towers overtook the Sears Tower as the world's tallest building, only to be bested six years later by Taiwan's 1,671-ft. Taipei 101.
On the eve of the opening of the world's tallest building, Burj Dubai -- Arabic for Dubai Tower -- the structure is reported to be more than 2,625 feet, but it still remains a closely guarded secret of its actual height. The tower's structure that can be expanded upward to defeat any late-breaking challenges is reportedly capable of a final height that could be as much as 3,084 feet.
What is not confidential is the developer's pleasure in overtaking North Dakota's claim to hosting the world's tallest structure, a 2,063-ft. guyed tower in Blanchard.
"The significance of Burj Dubai surpassing the height of the KVLY-TV mast is that it demonstrates the pioneering achievement of mankind in creating urban environments that defy conventions. With over 5,000 professionals and skilled workers from around
the world working on site, Burj Dubai's new feat is another celebration of teamwork," said Mohamed Ali Alabbar, Chairman of Emaar Properties.
Although America can no longer bask in the pride of having the tallest man-made structure, it can take pleasure in knowing that the developers had to rely upon U.S. structural engineers to provide them with the design, Chicago-based architecture and engineering firm Skidmore, Owings & Merrill.
The 656-ft. spire housing broadcast antennas was not built with conventional cranes. Instead, the telescoping spire, comprised of more than 4,000 tons of structural steel, was constructed inside the building and hydraulically jacked.
The top four floors just below the spire have been reserved for communications and broadcasting facilities.
The cost of the Burj Dubai is pegged at over $1.5 billion. Built in 1963, the KVLY structure cost less than $500,000.
The finished product contains more than 160 floors. That is over 50 stories more than Chicago's Willis Tower, the tallest record-holder in the U.S. formerly known as the Sears Tower.
At the peak of construction, over 12,000 workers were employed.

Strict safety rules enforcement resulted in only one death
"We had to be strict, almost military like, when enforcing the health and safety rules," said Mohammad Moiz Al Deen, health and safety manager at Burj Dubai.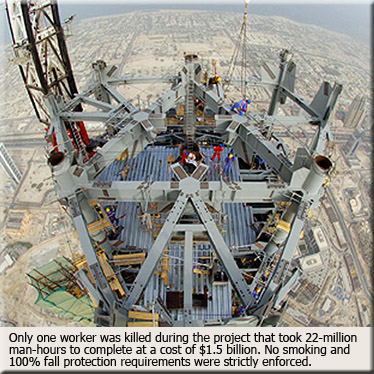 "There was a zero tolerance policy for smoking — people were fired immediately if they were caught, no matter what the situation or circumstance. More than 100 people were fired including those working in higher management."

It was mandatory for all workers to wear PPE equipment at all times, in addition to wearing a safety harness when working at a height.

"We followed a zero incident policy so all workers had to wear a full body harness at all times when moving within the structure," said Deen.

Throughout the whole construction period of the Burj Dubai tower, only one construction-related death was reported in June, 2007 when a worker fell to his death.

It took a staggering 22-million man-hours of labor to complete the project. If you booked a co-location at 165 man-hours it would be an equivalent of over 133,000 cell site projects.

The Burj's opening comes at a tough time for Dubai's economy. Property prices in newer parts of the sheikdom have collapsed by nearly half over the past year. The price of office space at Burj Dubai had reached $9,000 per sq. ft. when the structure broke ground in 2004, but is currently estimated at $4,000 per sq. ft.
-