AFL Network Services technician shot to death by police inside Sprint equipment shelter

July 21, 2006 - Forty-one-year old Anthony Wayne Furr of Oakboro, North Carolina was sent early Thursday morning to work at a Sprint cell site in a rough section of Charlotte. The experienced and professionally dressed AFL Network Services' technician parked his vehicle in front of the wood fenced compound and was performing routine maintenance in the equipment shelter with the lights on and with the door open.
It was to be a normal late night and early morning project. But Furr was unable to complete it after he was gunned down by a police officer who believed that he was about to be shot.

The tragedy occurred after a resident saw Furr's vehicle, thought his actions looked suspicious and called police at 1:00 a.m. Three officers responded and Charlotte-Mecklenburg police officer Anthony Payne looked through the open door into the equipment shelter and saw a man, later identified as Furr, inside.

Police say he wouldn't drop weapon
Police said Payne, who was in uniform, identified himself as a police officer and asked Furr not to move. According to police, Furr reached behind his back and pulled out a handgun. Police say Furr refused to obey repeated commands from the police officer to put down the gun.
Police say Furr raised the gun in the direction of the officer and started walking toward him.

At that point, police say, Payne, fearing for his life, fired his service revolver three times, striking and killing Furr at approximately 1:30 a.m.

A WSOC-TV report said the 911 caller told them he remembers clearly what he heard the police say when they arrived: "'He has a gun' and then it wasn't but a few seconds later that I heard five shots…at least four, I know," the caller said.
The unidentified 911 caller's accuracy of his recollection will be called into question by police. In part of his recorded 911 phone conversation the caller provided details 
that conflict with police reports and their initial findings:
Caller:  It's backed up to a building behind the Walgreen or aside it.  Where the tire is.
Police:  What kind of vehicle is it?
Caller:  The one…a Chevrolet truck.
Police:  Did you happen to see how many were in it?
Caller:  At least two.  I don't know if they're trying to dump trash or what they're doing, but I've asked them to leave and they're just still sitting there. 

A police spokesman said separate criminal and internal affairs investigations are under way. He would not give additional information.

Officer Payne is a 10 year veteran, assigned to the Independence Division.  He has been placed on temporary administrative duty, which is standard procedure during an officer involved shooting investigation.
The shooting follows a rash of copper thefts from cell phone towers around the state because of the high price of copper. It's uncertain whether that's what police suspected Furr was doing at the tower Thursday morning.
Friends and coworkers were shocked by Furr's reported actions. Known as Wayne, he was described as being a level headed, caring and giving person that did not have the temperament to be aggressive to a police officer or anybody else.
Furr's next door neighbor, a Union County Sheriff's deputy, said he knew that Furr had a couple of guns in his home, but he didn't believe that he would normally carry one.
However, Furr's son, Ryan, told a local TV station reporter that his father had a pistol because he often worked overnight in dangerous neighborhoods.
Police say that Furr, who had no police record, dropped his 32 caliber handgun after he was shot by Payne.
Most tower maintenance companies have a company policy against workers carrying weapons onto a job site. However, technicians are required to work alone in high crime urban areas late at night and some feel that having a gun readily available is necessary to protect their lives.  Oftentimes industry bulletin board posters will discuss the need to carry a weapon.
Techs question officer's statement
Technicians who work in equipment shelters said that it is difficult to hear somebody entering from the outside since large air conditioning units that are required to keep the transceiver equipment cool create considerable noise in addition to the equipment itself.

The shelter is enclosed on two sides by a wooden fence approximately five feet away that will reverberate the industrial cooling units' noise. It appeared that the officer would have approached the open door from the side due to the fence's location almost directly in front of the door.

They questioned whether Furr may not have heard the officer and pulled out his handgun when he saw somebody entering the shelter, causing the officer to react prematurely and shoot Furr.

"The cop could have just overreacted and might not have actually asked him to drop the gun," said one tower technician.
It is not known whether the other two officers on site witnessed the shooting or heard Payne's order for Furr to drop his weapon.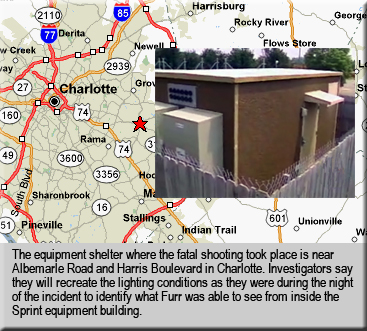 Huff's killing has raised the ire of many fellow tower workers. One veteran professional said, "This was a scared cop that had no business with a gun. Here's what (I think) happened: I have been in shelters with the light on and door open; you can not see anything outside unless there is a lit compound. Other than that it is just a black hole outside the door. The cell worker heard something outside, pulled his gun and got shot by the cop standing a few feet outside the door."

AFL Network Services' human services director, Michael Hackett, said that there is a company policy against employees carrying weapons.
Hackett said that their employees wear white golf shirts and khaki pants as a uniform and the company vehicles are clearly marked with the company's logo. He said that no employees have ever seen Furr as anything other than a professional worker. He had been employed by AFL Network Services as a turnkey installation coordinator.
Dozens of friends who knew Furr gathered Thursday evening at his home in Oakboro. They tried to reconcile the caring person that they knew and the news reports provided by the police. Furr's longtime pastor, Terrell Watts, said Furr was an active member of the church and community.
A single parent of two children, Emily, 18 and Ryan, 20, Furr leaves behind many friends, relatives and neighbors who are hoping to discover what really happened inside the Sprint equipment shelter.