SEC and US Attorney investigating American Tower's executives' stock option grants
May 23, 2006 - American Tower Corporation is facing scrutiny by the United States Attorney for the Eastern District of New York and the Securities and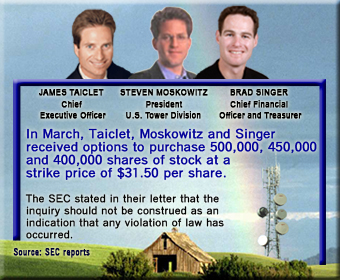 Exchange Commission to identify whether the nation's largest tower site owner backdated stock option grants to its executives.
On Friday, American Tower said that it had received a letter of informal inquiry from the SEC requesting documents relating to its stock option grants and practices. They also announced today that they have received a subpoena from the U.S. State Attorney. The Boston-based business was one of 12 companies that had been contacted by the SEC or by a U.S. attorney's office. Three more companies were contacted yesterday in the SEC's widening investigation.

Illegal backdating investigated
Federal regulators and prosecutors are probing to find out if the effective dates on some options were improperly changed, or backdated to provide an illegal benefit to senior executives.
Stock options are widely awarded to executives as an incentive to boost the company's share price each year. Typically the option allows the owner to buy a share of company stock at a certain price at a future date with no financial risk. In example, American Tower provided its executives with options on March 1 at $31.50, the closing price of the stock on that date. If the stock is trading at $41.50 when they exercise the option, they will receive a profit of $10.00 per share.
However, if the day the option was awarded was backdated, the benefit could add millions of dollars to the executives' compensation over each of the four years when the options become vested.

Financial forensics believed to have sparked probe
American Tower believes the SEC inquiry may have been prompted by an academic study released earlier last week by the Center for Financial Research & Analysis, an independent research firm that identified the tower owner among a group of companies most likely to have backdated options.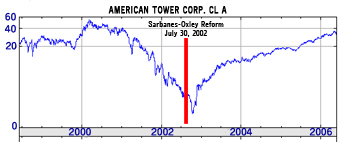 The Maryland firm analyzed 100 companies with the highest ratio of total stock compensation as a percentage of their average revenue for the six years ending in December 2002, shortly after new accounting rules became effective. Before the Sarbanes-Oxley corporate reform became law on July 30, 2002, companies didn't need to disclose option grants until several months after they were awarded.
American Tower was one of 17 companies that had three or more option grants that appeared unusual compared to stock prices just before or after the grant date, according to the center's research director Marc Siegel, noting that his research firm is not stating that American Tower had backdated options, but was a company that had a higher risk profile for options backdating.

Company suspends its stock repurchase program
American Tower announced this morning that, in light of the uncertainty surrounding these requests and its pending internal review, the company has decided to temporarily suspend repurchases under its stock repurchase program. As previously announced, the company's board of directors approved the repurchase of up to $750 million of the company's Class A common stock during the period November 2005 through December 2006. American Tower said it expects that, once its internal review is completed and this matter is resolved, it will resume repurchases of its Class A common stock.

Probe not to be construed that there has been any violation of law
The SEC said in their letter that the inquiry should not be construed as an indication that any violation of law has occurred. Last Thursday, Chelmsford, MA software maker Brooks Automation Inc. said two of its directors resigned following questions about its options practices from the federal regulators.
American Tower chief executive James Taiclet said that the company's directors created a special committee to review its historic option practices shortly after hearing of the research company's report, and before it was contacted by the SEC. He noted that the company's previous financial statements had been audited. He said American Tower intends to cooperate fully with the United States Attorney and the SEC with respect to their requests.
OPTIONS
AWARDED
James
Bradley
J. Michael
Steven
William
 
 
Taiclet, Jr.
Singer
Gearon, Jr.
Moskowitz
Hess
Strike
Price
Date
Awarded
Chairman of the Board, President and CEO
Chief Financial Officer and Treasurer
Vice Chairman, President AT International
Executive VP, President U.S. Tower Division
Executive VP, General Counsel and Secretary
$31.50
3/1/2006
500,000
450,000
125,000
400,000
175,000
$22.20
8/8/2005
 
 
 
100,000
 
$18.15
4/1/2005
450,000
400,000
125,000
350,000
170,000
$12.11
3/4/2004
175,000
275,000
290,000
157,000*
100,000
$12.11
3/4/2004
 
 
 
28,000**
 
$10.50
11/17/2003
375,000
275,000
250,000
275,000
100,000
$5.91
1/18/2002
 
200,000
 
200,000
 
$3.15
6/14/2002
 
60,000
 
50,000
 
*Executable after 1 year
 
 
 
 
 
**Executable after 2 years
 
 
 
 
 
All others executable over 4-year-period
 
 
 
Source: Available SEC filings
 
 
 
 

Taiclet received $3.9 million in total compensation last year, the majority of it being realized on stock options. His bonus matched his salary of $726,000. He is scheduled to earn a salary of $835,000 this year.

The company's chief financial officer, Brad Singer, received $4.2 million. The board of directors' compensation committee granted Singer $805,000 in bonus money, more than double his bonus last year, including a $300,000 "special bonus" following the SpectraSite merger. He also saw his annual salary hiked by $100,000 to $600,000.

Earning a total of $1.4 million last year, Steven Moskowitz, who leads U.S. tower operations, had his own bonus nearly triple to $900,000. He also received an additional 100,000 options for common stock. Four months earlier he received 350,000 options.

Gearon reports an $11.5 million gain
American Tower vice chairman Michael Gearon was the company's largest earner last year after realizing an $11.5 million gain by exercising stock options in a Brazilian cell phone tower subsidiary, according to a recent SEC filing. Executive Vice President and General Counsel William Hess realized a $2.7 million gain from exercising his options in the South American subsidiary.

Hess also received a $300,000 bonus last year in addition to his $400,000 salary. Gearon's salary was $475,00; his bonus totaled $360,000.

On March 1, Taiclet, Singer, Gearon, Moskowitz and Hess received 500,000, 450,000, 125,000, 400,000 and 175,000 options at $31.50, a price that was just short of January through February's highest closing price of $31.83. On January 3 the stock closed at $27.30.

By comparison, SBA Communications Corporation CEO Jeffrey Stoops received 142,500 options on January 19.  Crown Castle International provides restrictive shares instead of options. CEO John Kelly will only be vested in 254,197 shares awarded to him on February 23 if the company's common stock closes at or above set share prices for any 20 consecutive trading days within the next seven years.

American Tower said it may have to restate certain financial results if it needs to correct past accounting for stock option expenses. The company also said it does not expect the potential restatement to affect its previously reported revenue or cash flow.