Big is back again as better
AT&T's tower crew program could shape up
as an industry game changer
March 25, 2014 – AT&T's Tower Crew Augmentation Program (TCAP), a plan designed to provide the carrier with a quicker and more

quality-driven build-out, could adversely affect the contracting landscape of smaller tower construction companies if its rollout proves to be successful. It might also cut into Verizon's 4G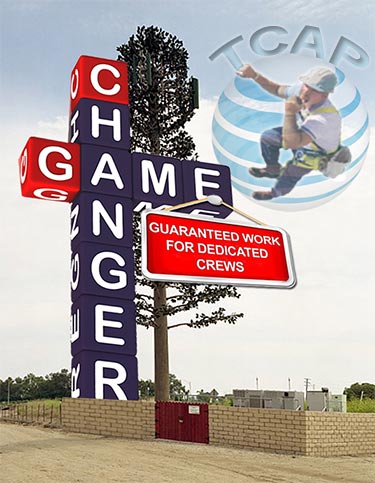 construction lead.
TCAP, according to knowledgeable executives, who spoke on the condition of anonymity, is a program that will assist the carrier in capturing additional dedicated tower crews it needs to build out its network.
"It began towards the end of last year and is an agreement to provide services directly to AT&T or to supplement their current turfing vendors who cannot support their ambitious build-out program with available crews," said a person familiar with the strategy.
Details about the program are limited since AT&T has not responded to multiple requests for information about TCAP, and has made it clear to contractors that they are bound by their non-disclosure agreement.
However, it is has been stated by a number of industry insiders that AT&T has a contract in place with MasTec Network Solutions to provide crews for the Eastern part of the country, Ericsson for the West and BlueStream Professional Services for the Midwest, Southwest and Great Plains, in addition to markets the companies are already providing services in under other agreements.
Dedicating tower crews is not a novel approach and has been used by carriers for a number of years, but the TCAP program appears to provide added benefits with the primary advantage being assured work for each dedicated crew. In addition, pricing appears to be more equitable than in previous years.
In the past, AT&T's and its vendors' inducement to obtain contractors was to award multiple projects, but when there were equipment delivery issues, market adjustments or permitting problems, contractors would oftentimes go for weeks without any work.
TCAP's benefit to AT&T will be continued access to installation resources to build out their system to lessen Verizon's lead in their LTE coverage.
An ancillary value, equally as important to AT&T, will be quality control.
A reduction in tiger teams
"AT&T wants all of the crews to be proficient with their installations," said an executive at the National Association of Tower Erectors' conference in San Diego, Calif. last month. "It makes sense. Since crews will be trained to perform AT&T work day-in and day-out, it would be apparent those return trips by tiger teams for installation issues will be dramatically reduced."
As a condition of their agreement, dedicated crews must be in-house resources, according to a TCAP contractor.
MasTec, along with other selected vendors officially declined to comment about TCAP, but the Coral Gables, Fla.-based company is one of the most visible management and service contractors actively acquiring companies to immediately increase its crew count.
Under its wireless umbrella led by group president Rick Suarez, the electrical transmission, oil and natural gas pipelines company owns Optima Network Services, Camcom, Dynamic Tower Services, and Data Cell Systems.
Last January, MasTec acquired Dynis for a reported $100 million to complement its network services capabilities and crew count. Dynis was the co-founder of Warriors 4 Wireless (W4W), an organization that is training tower climbers and installers through federal funding.
W4W should prove to be an excellent new employee pipeline for MasTec since they've taken an active role in ensuring its success and have stated that they are committed to hiring 1,500 of W4W's graduates in the first half of 2014 if the upstart non-profit with one training facility in Aiken, S.C. is capable of providing that many graduates.
Sitting on W4W's seven-member advisory board along with Suarez is Dynis CEO Earl Scott.
MasTec, according to information obtained by Wireless Estimator, has approximately 150 crews and appears to be committing this year up to 125 crews to AT&T. The TCAP agreement is in place for three years.
The financially solid company saw revenues grow to $4.3 billion in 2013 and began the year off with a $4.1 billion backlog.
Powerhouse Ericsson is also providing a large-scale, but an unknown crew commitment to AT&T. In early 2013, Ericsson Sourcing and Operations were reviewing options for "stimulating a sustainable and safe crew market development" for AT&T and dedicated a number of people to the effort.
Ericsson crews would be a first.
Ericsson has reportedly never employed its own installation crews or developed an in-house training facility for 4G installation technicians, and it is unknown why AT&T selected them.
"Sometimes deals are made strictly on a confidence level ," said a former carrier executive.

AT&T's wireless roots run deep with Ericsson and they've also enlisted the gear maker's assistance to rebuild their network with less expensive off-the-shelf equipment controlled by software, saving the carrier billions. Although the software shift will cut into Ericsson's as well as other vendors' business, Ericsson has maintained a tight relationship with the nation's second largest carrier.

"Ericsson seems to have a different set of rules," said a TCAP contractor. "I believe that AT&T is going to allow them to select four or five larger companies for their resources and manage them, instead of building crews as we're required to do."

BlueStream Professional Services, LLC, an affiliate of KGP Logistics, has been ramping up its crew count during the past year to commit to the TCAP program. The privately held company with revenues of approximately $1.5 billion is reportedly well-funded and has considerable experience in the supply-side business of the wireless and wireline industries. AT&T and Verizon are two of their primary customers.
They currently have approximately 200 crews with 150 of them dedicated to the TCAP program.

BlueStream was the first wireless contracting firm to successfully tap into the returning veterans market. Under the direction of former Sergeant Major Chuck West, BlueStream hired several hundred veterans in 2013 and is expected to increase that amount in 2014.
Smaller companies could possibly take a hit
An operations manager from Verizon said that they were aware of TCAP and were assessing the program, but he did not know if they would adopt AT&T's development model if it's successful. However, a T-Mobile construction manager said that they were already exploring a similar program and some initial inquiries have already been made.
Although a TCAP company executive told Wireless Estimator that he believed the consolidation of AT&T's build-out to companies capable of supplying a hundred or more crews would not impact smaller companies, he could not identify how lower tier contractors could continue to prosper if projects were being awarded to his and other firms as they continued to increased their employee base.
"It's not good news for the industry when you have a dozen companies or more doing the lion's share of the LTE work," said a mid-sized Florida contractor with 22 field personnel.
An established Northeast contractor executive said that he was in negotiations with an AT&T turfing vendor to provide services for assured projects for the carrier. "We haven't gotten to the pricing yet, but if it's fair, we're probably going to need another 30 of our own crews to commit to it," he said.

"I'd have to hire people to do that for me because they want to move forward immediately."

Staffing companies could see an increase in business as contractors see the need to backfill crew requirements for other carriers' projects. One placement firm said that they are already receiving requests from a company that is dedicating a greater portion of its resources to TCAP.

Training is a TCAP must
One of the contractor's requirements for TCAP participation is the obligation to show that all tower technicians are fully dedicated and trained on AT&T's installation requirements.
It is not known where Ericsson will train its technicians, but MasTec has a mammoth 350,000 sq. ft. training facility in Charlotte, N.C. where employees are taught the basics of fall protection, installation procedures, and fiber, PIM and sweep testing during the multi-week training program.
BlueStream's technically impressive 100,000-plus sq. ft. facility in Marietta, Ga. provides a four-week comprehensive training academy for employees, covering fall protection, OSHA 10, CPR/First Aid and RF awareness certification before they go into the field.
The upfront cost of this training, estimated by MasTec and BlueStream to range from $8,000 to $12,000 per employee, might be a burden for some contractors to absorb, considering that there are workers who will leave before or shortly after they complete the training, or be terminated because they don't meet the company's standards.
AT&T is frequently criticized for using its purchasing power to leverage lower installation pricing, and contractor carping is already being heard regarding how the TCAP could be harmful to smaller companies in the contracting chain.
Six contractors interviewed by Wireless Estimator voiced their concerns based upon limited information being provided to them about the program from AT&T, their turfing vendor or prime contractor.
"It could hurt me," said a five-crew Midwest contractor who currently performs AT&T installations for a TCAP contractor. "If they [AT&T] are going to guarantee work to as many crews as they can put together in their company, they might not want to use us."
One company owner identified what he believes is a clear benefit of the program.
"To my knowledge, this is the first time a carrier has seriously addressed the issue of the expertise levels of those workers on their site. Although a company is required to have fully trained techs on the job, many times what shows up is a sub of a sub of a sub, run by a 90-day wonder whose installation reflects his training," he said.
The contractor believes that TCAP will help to elevate the skill set levels of workers.
"Installations, especially LTE, have become highly technical and require a considerable amount of expertise that can only be achieved by adequate training. If companies can't meet that bar then they shouldn't be in business. I think you'll see some of the companies weeded out of the business as they should be."
Some of the dedicated crews will be two-member tiger teams, but it is unknown what percentage it will comprise. TCAP's crews will be performing a wide range of installation services from greenfield builds to overlays.

AT&T will have about a third of the big four's work
AT&T is expected to build between 3,500 to 4,500 new sites this year and they'll need approximately 4,200 LTE overlays, according to Jonathan Atkin of RBC Capital Markets.

Verizon is slightly under AT&T with 3,400 to 4,200 new sites and 3,600 overlays. T-Mobile will have approximately 1,000 new builds and 1,500 overlays. Sprint's overlays top all of them with 5,100, but their new site builds are only 800.

AT the high end, the industry will be asked to complete approximately 25,000 new projects just for the top four wireless carriers.

Big is back again as better
MasTec is reportedly investigating the acquisition of an additional company. In January, Jacobs Engineering Group Inc. acquired FMHC Corporation, a turnkey provider of wireless sites. And due diligence is currently being performed on one of the industry's largest installation contractors by another large firm as the wireless infrastructure industry consolidates as it did during the early build-out days of PCS.
But big then proved to be unmanageable and unprofitable years later and companies sold many of those acquisitions, oftentimes at a considerable loss. There were also a significant number of bankruptcy filings.
Business owners, especially those who are hitching their wagon to a three-year agreement, might be concerned about the industry's future and their ability to provide continued employment for the many hundreds of people they are bringing on board today.
"Development was cut back then for a number of economic reasons that aren't present today," said a TCAP company official.
"I believe that this is really going to be a robust growth industry for the next five to six years. Although that may not be consoling to someone who has made a career change of just started in this business, they really have to consider that there is no profession that can ensure its growth that far out. I believe we can."
A joint survey by Wireless Estimator and NATE is being conducted to capture the most up-to-date and relevant workforce data and trends in the tower industry.