Q3 seen as worst ever for some as AT&T and
T-Mobile national builds tank
July 29, 2009 - Companies that hitched their wagons to a star carrier or two found their earnings to be less than stellar this month and Q3 might prove to be their
worst third quarter ever.
Many other firms that did not allow one client to provide more than 25% of their income say that they're having an excellent quarter and are looking to hire additional workers to meet the demand.
The slowdown - and in some markets a standstill - of AT&T and T-Mobile projects has some contractors concerned about their viability to continue operations in an environment that is requiring them to bid many projects at cost.
Thinning margins, feast or famine carrier cycles, and staffing problems are causing many contractors to consider other business opportunities or search out alternative clients.
A number of smaller installation contractors closed their doors this month, according to accessory manufacturers who are chasing debts for co-location products.
However, being fully funded, politically entrenched and staffed with talent, doesn't ensure success as Becon Construction demonstrated recently as they announced next month's closing of their last telecommunications business unit in Baltimore, Md. They will be laying off approximately 80 land acquisition, management and field service employees.
In 2005, Becon's Industrial Relations Manager, De'Ann Eubanks, unabashedly flooded every available Yahoo tower group and other employment venues with worker solicitations, emphasizing above average salaries and company perks.
Her tenacity and benefit offerings were successful in quickly building one of the nation's largest telecom service organizations with of over 300 field service employees.

Becon be-gone
But Becon's rapid rise was followed by an equally swift decline as they began closing offices last year in Texas, California, Florida and other states.
Based upon above average salaries and its elevated overhead, it is not known if the Bechtel Corporation subsidiary was able to make a profit based upon the A&T model pricing that it accepted.
"It's doubtful that Becon was ever profitable in telecom," said an executive of a large telecom services firm with a national footprint.
"I had heard that in certain markets they were not given projects due to quality control issues. They seemed to be in a hurry to get sites operational and deal with the consequences later," he said.
The percentage of AT&T work Becon was awarded nationally is not available, but there were close to 1,400 sites built in the Baltimore/DC market during 2008 with Becon receiving approximately 900 of them, according to a Becon construction manager.
Estimates indicate that the comparative build total this year will be less than 800 sites for AT&T in that market.

"They definitely paid well and the benefits were tremendous. Becon took care of their people with top wages, top of the line vehicles, tooling and benefits," said a former site supervisor that was used to being paid $28.00 an hour and working 75 or more hours per week.
"With overtime, I made over $115,000 last year, plus $30,000 tax free in per diem, but I'm finding it difficult to even come close to what's being offered out there now. Our tower techs were making over $75,000 a year as well, and foremen were getting about $24.00 an hour," he said.

Turf changes take their toll
AT&T Wireless contractors have had to deal with two administrative changes that have curtailed planned builds.
In May, AT&T began a major reorganization, merging their wireless and wireline divisions. Whereas RF and construction management were previously decentralized, a more centralized approach is being taken by the nation's second largest mobile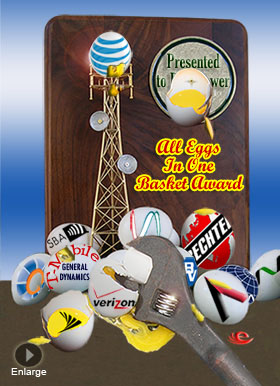 phone company in the U.S.
The carrier appears to be ready to move forward today, but the reorganization created confusion in their ranks as to what they were going to do and what projects were going to move forward.
Turf changes also delayed NTPs, and in some cases cancelled them, as AT&T reshuffled its Turf companies throughout the nation. Contractors that were not prequalified with AT&T's new project management firms scrambled to become approved.
Chasing major wireless deployment firms hired by mobile carriers can be an Olympian feat, say company managers tasked with keeping ahead of client collapses.
"You can wake up one morning and find out that your good contacts at Bechtel and Velocitel are out since they lost their contract," said an industry manager that is tasked with keeping abreast of the nation's other major players such as Baran Telecom, Black & Veatch, Ericsson, FMHC, General Dynamics, Nsoro and SAI Communications.
Having lined up $62 million in growth capital earlier this month, Goodman Networks Inc. is capturing a lot of the nation's wireless deployment projects. The family owned business is expected to reach $340 million in revenue this year, and plans to hire between 300 and 500 people in the next 12 months.
The Plano, Texas-based company, which also provides engineering and other technical services for wireless and wireline telecom operators, has already hired 270 people nationwide since July 2008, bringing its total head count to 914.

Lack of T-Mobile projects signaled trouble
Third quarter warnings started to appear in March when T-Mobile pulled the plug in a number of markets undergoing UMTS expansions.
The carrier recently increased its E-bids for late Q3 and Q4 site builds, but contractors aren't too enthusiastic.
"I can assure you that in order for us to stay working, some of the bids are going for a gross margin of about 12%. Last year it was around 22%," said a veteran Northeast estimator who echoed the disenchantment of other contractors contacted by WirelessEstimator.com.
"Now, take out your indirect and SG&A and you're looking at a break even net at best," he said.
Q4 might be unusually busy in some T-Mobile markets where projects that were being put off until Q1 of 2010 are finding their way into Q4 bids.
"Granted, it might be an excellent fourth quarter and they'll be pushing us hard to finish, but we're not going to add employees only to lay them off again in the first quarter which is typically slow," said a Midwest Ohio Valley contractor.
He said that he was considering looking into a staffing agency to supplement his in-house crews.
"It might make sense as long as you can mitigate the safety concerns that arise out of using staffing companies. It would allow us to bring in guys who want temporary employment. Some of them don't want to work months on end and this sometimes provides the perfect alternative," he said.

Tower manufacturers, others seeing less backlog
Four major tower manufacturers said that sales are down and margins are low, but they're somewhat enthusiastic about an up tick in quotation requests across numerous sectors.
One tower manufacturer is weathering the downturn by focusing upon the electrical utilities industry and is finding it to be a more robust and rewarding market.
A cable manufacturer recently laid off over 50 plant employees due to the slowdown in capital spending. Although they are seeing an increase in orders, the time lag before their products are available for contractor installation could be as much as sixty days.
An Alabama land surveyor bemoaned the lack of profitable business available while he was networking at a Florida Wireless Association social hour last Thursday.
"We're used to getting a dozen or more sites thrown at us, but we're now having to chase after a couple at a time just to keep alive," he said.

Broadcast sees downturn following analog sunset
Whereas AT&T and T-Mobile's slowdown has effected a number of companies' backlogs, the wireless carriers have the capital to be able to support planned builds.
The nation's recession, however, has some broadcasters looking for spare change under sofa cushions to finance new structures and upgrade their digital antennas.
With advertising revenues down from 15 to 30-percent in some markets, contractors are hoping that the stations do not put off projects for too long or reduce tower maintenance in overall cost cutting measures.
Two tall tower manufacturers were quick to offer a four letter word to describe Q3 and Q4 business: slow.
Nonetheless, following the June 12 digital switch, market forces will require over 300 TV broadcasters to change out their side-mounted, lightweight digital antennas and remove their analog systems - but at a slower pace.
A number of industry safety professionals believe that an extended window to complete the modifications will prove to be beneficial, stating that an ambitious schedule would have flooded the business with unqualified tower companies that view the broadcast market as a high margin enterprise.
"When work gets tight, unqualified contractors reach out to any endeavor to put food on the table, without regard to safety training or risk," said one company owner.
A digital upgraded antenna could cost as much as $500,000. There are too many variables to be able to frame an erector's installation charges.