New portfolio of towers: 22,000
American Tower to merge with SpectraSite in 3.1 billion deal
May 4, 2005 -- During an earnings conference call this morning, American Tower Corp. announced that they have agreed to merge with SpectraSite Inc. in a $3.1 billion stock-for-stock transaction. The combination would create the largest tower company in North America with a site portfolio that exceeds 22,000 towers, eclipsing Houston-based Crown Castle with 10,600.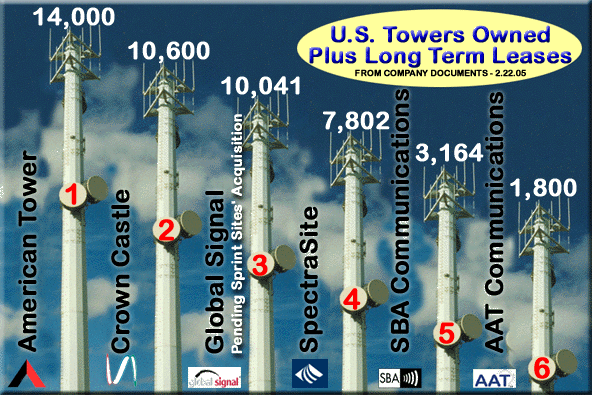 The merger agreement calls for SpectraSite shareholders to receive 3.575 shares of American Tower Class A common stock for each common share held. Both companies' boards of directors have already approved the deal. Further approval is needed from American Tower and SpectraSite shareholders. Based on American Tower's May 3 closing stock price, this exchange ratio equals $61.53 per share, a 9.5 percent premium over yesterday's closing price of SpectraSite.
American Tower brings more than 14,000 sites to the merger. SpectraSite has approximately 7,800 sites.

Merger could slow new site builds
During the conference call with analysts it was explained by American Tower executives that they viewed the merger as an opportunity to remain relevant with the consolidation of the carrier industry, citing the Cingular and AT&T Wireless, and Nextel and Sprint mergers.

However, tower manufacturers and erectors are questioning whether it will be beneficial to their companies. Some believe that the merger could slow new site builds since many of the existing structures of the two tower titans are in areas where neither one of them will have to construct another below capacity tower to serve the carriers if one of the companies maintains a tower in that search ring. PCIA's support base will also be challenged by the merger as they lose SpectraSite, one of their largest financial supporters and active members of the wireless infrastructure organization.

SpectraSite name to be dropped

The merged company will carry the American Tower name. Corporate headquarters will remain in Boston. SpectraSite's corporate structure is in Cary, NC. It is anticipated that some workers will be let go in order to generate the expected $400 million in savings from the combination of the two companies. American Tower currently has slightly more than 725 employees; SpectraSite's employees total 455. As mergers in the tower consolidation industry have shown in the past, the acquiring company typically maintains a greater portion of total employees within the combined companies. 

Although both tower companies have informed their employees that there are currently no plans to dismiss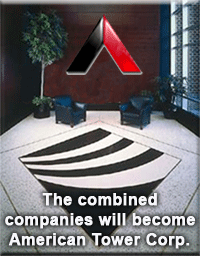 any workers at any level, some resumes have already hit the street in anticipation of the consolidation. Numerous contractors and suppliers are equally as concerned. Many of them have key contracts with only one of the tower companies.

SpectraSite CEO Steve Clark will no longer serve in that role following the merger of the companies. However, he will join the American Tower board along with three other members of his company. The size of the board will be increased from six to ten. American Tower's chairman and chief executive officer Jim Taiclet will maintain his position in the combined company that is expected to exceed $1 billion in annual revenue.

Industry consolidation surfaced earlier this year when Global Signal Inc. agreed to a $1.2 billion deal giving the company rights to operate or lease more than 6,700 Sprint towers for 32 years, with an option to buy, averaging $178,000 per site.

Same site ring towers to be assessed
Considerable due diligence was performed by both companies prior to the agreement to examine existing footprints. However, there will be multiple locations where there is duplicity of tower sites. In the past, American Tower has sold numerous sites to other consolidators when this occurred following other cattle car buys.

During noontime trades, SpectraSite stock leaped $4.51, or 8.1%, to $60.71, while American Tower dropped 31 cents, or 1.8%, at $16.90.

American Tower will issue 181 million shares to acquire SpectraSite in a transaction the firms expect to close in the second half of 2005, subject to shareholder and regulatory approvals. The merger will provide American Tower with ownership of between 20% and 25% of all US communications towers, an amount that should not raise antitrust concerns from federal regulators.

"This combination is a defining event in the tower industry, creating the clear industry leader," said Jim Taiclet. "We believe there is a compelling alignment between the strategies of American Tower and SpectraSite."

Following the closing, American Tower shareholders would own approximately 59% and SpectraSite shareholders would own approximately 41% of the combined company.

Overshadowed during the mega-merger announcement call was American Tower's improving financial condition. They reported a smaller first-quarter net loss compared to last year, elevated by an increase in rental and management revenue and slightly lower expenses. American Tower posted a net loss of $31.6 million, or 14 cents per share, compared with a year-earlier loss of $48.2 million, or 22 cents per share.



Copyright © Wireless Estimator, Inc. Please request reprint permission.