May 31, 2006 -- ADC and Andrew Corporation today announced that they have entered into a definitive merger agreement to create a global leader in wireline and wireless network infrastructure solutions. The transaction, which was approved by the boards of directors of both companies, will build upon the complementary strengths of each company to create significant growth opportunities and global economies of scale to expand earnings. For the most recent reported twelve months as of May 31, 2006, combined sales for the two companies on a pro forma basis totaled approximately $3.3 billion. The proposed business combination remains subject to shareholder and regulatory approvals.
Compelling Global Combination to Capture Strong Growth Opportunities
The wireline and wireless markets for next-generation broadband, video, data and voice services are rapidly expanding and have strong growth potential. Carriers in every part of the world are upgrading their networks to expand high-speed data and video offerings. These trends hold significant promise for the strategic combination of ADC and Andrew.
"Today we are announcing plans for a promising new growth stage for our two great companies. With this strategic combination, we will be a world leader in communications network infrastructure products and services. The strategic, operational and financial synergies of our two strong companies create a significant opportunity to grow value for our customers, shareholders and employees," said Robert E. Switz, president and chief executive officer of ADC. Mr. Switz will be president and CEO of the combined company after closing. "Together, we're better positioned to assist our customers worldwide and capture growth opportunities that result from the convergence of our customers' next-generation wireless, broadband, video, data and voice services. We are proud to join forces with Andrew's talented employees to achieve our shared mission of providing innovative wireline and wireless infrastructure solutions that improve our customers' business performance."
"With accelerating globalization and consolidation among telecommunications service providers and communications equipment suppliers, now is the right time for ADC and Andrew to join forces and grow value as a world leader in network infrastructure solutions," said Ralph E. Faison, president and CEO of Andrew. "As we join ADC's leadership position in wireline connectivity solutions and Andrew's leadership position in wireless infrastructure solutions, ADC and Andrew will have a substantially greater global presence, customer base, economies of scale, product breadth, innovation ability and financial strength. The synergies that we expect to create will enable us to better serve our converging customer base worldwide as their wireline and wireless networks deliver high-speed, any-content, anywhere communications services." Mr. Faison will serve as a consultant to the combined company to facilitate an efficient transition.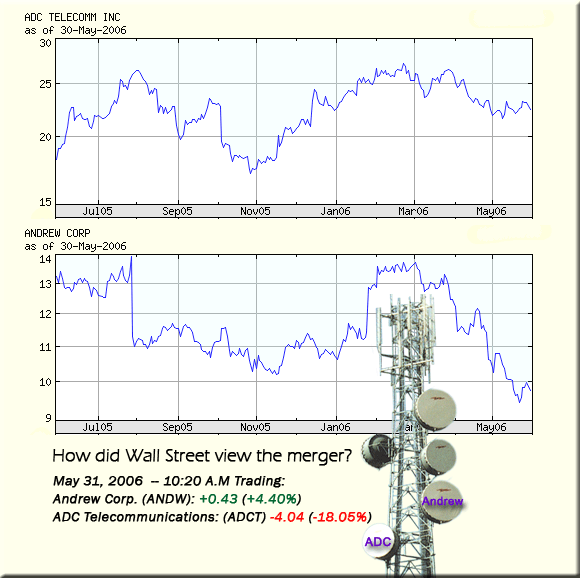 Merger Creates a Global Wireline and Wireless Network Infrastructure Leader
As a combined company, ADC and Andrew will be a leader in wireline and wireless infrastructure solutions with strong global market presence and customer relationships. The strengths of the combined company include: 
* Broad-based connectivity solutions for copper, coaxial, fiber, radio frequency, broadcast and enterprise networks, combined with broad-based wireless solutions for antennas, cable products, base station subsystems, in-building and distributed coverage, geolocation systems and satellite communications. 
* Approximately $3.3 billion in sales (on a pro forma basis for the trailing twelve months) into more than 140 countries comprised of approximately 23% to wireline customers, 44% to wireless customers, 6% to enterprise customers, 24% to original equipment manufacturers (OEM) and 3% to other customers. The combined customer base currently includes nearly all major wireline and wireless service providers in the world, as well as many of the world's largest communications OEMs, and large corporate, government and education enterprises. 
* Geographic sales distribution (on a pro forma basis for the trailing twelve months) of approximately 53% in the United States & Canada, 29% in Europe, Middle East and Africa, 11% in Asia-Pacific and 7% in Latin America. 
* Approximately 20,000 employees worldwide of which approximately 37% are in the United States & Canada, 22% are in Europe, Middle East and Africa, 25% are in Asia-Pacific and 16% in Latin America. 
* Facilities around the world including locations in 35 countries. 
* Strong research and development efforts and a significant portfolio of U.S. and foreign patents on wireline and wireless infrastructure solutions.

Transaction Overview
The strategic business combination is structured as a stock-for-stock merger with Andrew becoming a wholly owned subsidiary of ADC. The transaction is expected to qualify as a tax-free reorganization. Under the terms of the agreement, Andrew shareholders will receive 0.57 of an ADC common share for each common share of Andrew they hold. Upon completion of the transaction, ADC shareholders will own approximately 56 percent of the combined company and Andrew shareholders will own approximately 44 percent of the combined company. ADC will assume all debt of Andrew and Andrew's convertible notes will become convertible into ADC shares.
"We are committed to moving forward quickly and aggressively after closing to combine our operations and integrate our corporate cultures. We will be focused on capturing the full benefits of this combination for our customers, shareholders and employees," Switz said.
Post closing, the transaction is expected to be non-dilutive to earnings per share in the first year of the combined company and accretive thereafter, excluding purchase accounting adjustments and other acquisition-related expenses. ADC and Andrew have estimated that synergies will generate additional annual pre-tax earnings of $70 million to $80 million in the third year after closing the transaction.
The combined company will be based at ADC's world headquarters in Minnesota with ADC's John A. Blanchard continuing as non-executive chairman, and ADC's Robert E. Switz continuing as its president and CEO. The board of directors of the combined company will be composed of 12 members of which eight will be current ADC directors, including Blanchard and Switz, and four will be current Andrew directors. Key members of the management team from both companies will comprise the management team of the combined company after closing. The name of the combined company will be ADC Andrew.
"Ralph and I have a shared vision of the value that can be derived from combining these two great companies," added Switz. "Ralph has made significant contributions to Andrew and to making the proposed merger a possibility. ADC's employees and I look forward to working with Andrew's employees and Ralph to achieve success in this strategic combination."
The merger is subject to customary regulatory and governmental reviews in the United States and elsewhere, as well as the approval by shareholders of both companies and other customary conditions to closing. Assuming there is not a significant delay in obtaining the required approvals, the transaction is expected to be completed in four to six months. Until the merger is completed, both companies will continue to operate their businesses independently.
Presentation slides titled "Creating a Global Leader in Network Infrastructure" regarding this merger can be accessed at www.adc.com/investor and clicking on Presentations.