High angle rescue saves California man's life after illegal jump from 2,000-foot tower
November 2, 2005 - A Hayward, CA man was rescued last Thursday evening after he BASE jumped from a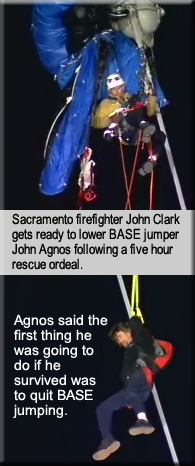 2,000-foot tower and was left hanging for hours when his parachute got tangled up in one of the structure's 2-1/2-inch guy wires at approximately 200 feet.
Forty-one-year-old John Agnos entered the razor wire fenced compound, climbed the Walnut Grove, CA guyed tower and was enjoying a solo birthday evening jump that came close to ending all future celebrations. After jumping from the top of the structure and deploying his chute, Agnos was slammed against a guy wire and was severely jolted when he came to an abrupt stop when his chute and risers tangled around the tower's bridge strand.
After climbing the tower for almost three hours, Agnos said he jumped and his canopy opened correctly, but then struck a guy wire. He said his risers slid down the guy wire 400 or 500 feet, abruptly stopping almost 200 feet above ground. From available photographs taken at the scene, it initially appeared that he might have been saved when an insulator or some other accessory on the guy wire ensnared his chute's canopy.
"I jumped. I did a couple front flips off the tower and I started tracking away from the tower, so I thought I had plenty of separation and it was getting dark and I couldn't see the ground, so I thought I'd pull [the parachute rip cord] a little bit high," Agnos said. "That was my mistake."
Frenetic 911 call made from cell phone
Agnos made a frantic 16 minute 911 call from his cell phone at 6:58 p.m., and although rescue crews responded to the cornfield tower site in approximately 20 minutes it would be more than five hours later before he was safely on the ground.
John Agnos' 16 minute 911 call is a chilling recording of a man hanging 200 feet above
ground as he contemplates his final BASE jump and possibly his final breath. It also serves as lesson learned for tower climbers who may accidentally find themselves in a similar situation where they are hanging from a tower and need high angle rescue. If their fellow worker doesn't have the required rescue skills, can they wait 20 minutes before emergency services arrive? More importantly, can a seriously injured person be saved if they have to wait five hours for rescue without dying from suspension trauma or other causes? Your comments are invited. Please post them in our Discussion Forum under General Safety Issues.

Fire crews from the Sacramento, Elk Grove and Walnut Grove fire departments responded to the scene and quickly assessed various strategies to save Agnos such as a top down or bottom up plan. In addition, a Sonoma County rescue helicopter was considered, but it was determined that the helicopter would not be able to maneuver close enough to the tower in the dark without endangering the pilot's safety.

"Chinese Finger" anchorage system used
John Clark, a rescue specialist with the Sacramento Fire Department, volunteered to climb the guy wire to extricate Agnos. An aerial truck ladder allowed Clark to start climbing at approximately 100 feet, but the remainder of the climb took an hour for the extremely fit six year veteran firefighter

Clark used a rope anchorage system that wraps around the wire. Designed like a Chinese finger puzzle, the harder you pull the tighter it gets as it wraps in separate directions. Clark had two of them connected to his harness. When he pushed them they would loosen up and when he weighted them they would be secured to the guy wire. Ascension was in one foot increments, Clark explained.

While he was climbing up, Clark said that Agnos was shouting that he was in a severe pain and said that his parachute was slipping. Clark had to set up a separate anchor, hauling up the systems he needed, dropping a line back down, and hauling up more rope to put Agnos in his system. Clark secured a line to the guy wire, cut the parachute free, and lowered Agnos to the ground.

Agnos was transported by ambulance from his intended drop zone to a landing zone where he was airlifted by helicopter to U.C. Davis Medical Center where he was treated overnight for minor injuries and released.

Third time wasn't a charm
This is the third time Agnos has had to be rescued for a failed jump. On October 17 he required medical help after falling while climbing to make a parachute jump off a ledge near Colorado Springs. Before that, a jump off of a Las Vegas casino resulted in a crushed foot. The mishaps have left him with titanium rods in his legs and back, a back that is ablaze with BASE jumping tattoos.

This jump may also prove to be a very expensive birthday bash for Agnos. A bill for rescue services is expected to be issued to the BASE parachutist. In addition, engineers for the shared transmitting structure say they will be hiring equipment and a tower company to remove the parachute and will send the bill to Agnos.

"He really taxed the taxpayers," said Sacramento County Undersheriff John McGinness. "For what? A thrill?"

The enormous cost involving multiple fire departments, helicopters from the California Highway Patrol and Sonoma County and a rescue agency is one issue, McGinness stated. How the rescue tapped resources that might have been needed elsewhere is another concern, he said.

McGinness regrets that a misdemeanor charge for trespassing on private property is the heaviest charge available that Agnos can receive. However, BASE jumping is illegal in California and an additional misdemeanor charge may be filed by the district attorney.

Agnos says he's unpacking his chute
While speaking to the 911 operator, Agnos said if he survived he was never going to BASE jump again. Following his release from the hospital he reaffirmed his promise, but said that he was going to expend his energies by educating people about BASE jumping and lobbying to make it legal.

BASE jumping is the extreme sport of using a parachute to jump from fixed objects. The acronym stands for the four categories of: Building, Antenna (tower), Span (bridge, arch or dome), and Earth (a cliff or other natural formation).

Although it is widely stated that BASE jumping is illegal throughout the U.S., it's not. Some communities actively invite BASE jumping such as Moab, Utah. In the rural town of Twin Falls, Idaho, officials also welcome BASE jumpers. This year's annual Bridge Day event in West Virginia on October 15 saw more than 200,000 people converge to watch BASE jumpers dive 876 feet from a bridge into the New River Gorge below. The event began in 1980.

However, it's illegal in some states. If you're caught jumping from San Francisco's famed Golden Gate Bridge you can be fined $10,000. National Parks will fine BASE jumpers $2,000. They'll also confiscate the jumper's gear.

In most communities the stiffest fine is a trespassing charge, but the jumper can be held accountable for compensating police and rescue services for their response expenses. Some cities have laws that make BASE jumping a felony with heavy penalties.

First recorded BASE jumping death in Virginia
The majority of BASE jumping fatalities occurs from jumping off of cliffs. However, the first recorded death in the modern age of BASE jumping history was on April 11, 1981 when William Hampton jumped from a 1,000-foot guyed tower in Suffolk, VA. His chute successfully deployed, but strong gusts blew him into a guy wire at the 300-feet level and his canopy collapsed, hurling him to his death. Since then there have been fatalities from jumping off of towers in Texas, Mississippi, Florida, Arizona and Wisconsin. There have also been numerous accidents throughout the country resulting in serious injuries to BASE jumpers.

It is not known how many BASE jumps are made each year, but estimates range upwards of 15,000. Neighbors near the Walnut Grove tower report that they have seen parachutists jump from the structure that is shared by television stations News10, CBS13 and KVIE. In 1991 a BASE jumper received serious injuries and nearly died when his canopy didn't fully deploy at the Walnut Grove transmitter site.

The tiny town of Walnut Grove sits halfway between the major cities of Sacramento and Stockton, in the California Delta. Over the decades many television stations have sited towers near the town, so much so that the Walnut Grove Rotary club put up a roadway sign to commemorate and explain them to visitors.