• • • • • • • • • • • •
For whom the bells toll?...coffee bar and lounge visitors
October 21, 2008

EAGAN, MN - The Eagan City Council has given approval to a 90-foot bell tower to be located on the property of Christ Lutheran Church.
The T-Mobile cell site will help to improve mobile coverage in the area and provide the church with $1,000 per month.
Congregation President Mike DeRosier says the money will be used to bring in new faces and he wants to create a lounge area in the church and even a coffee bar.
But if you're attending services, you'll be politely reminded to turn off those objects that will help to fund approximately 3% of the church's budget.
The tower is expected to be in place by December.

Cell tower siting appears to be guided by location, location, position

October 15, 2008
SEDONA, AZ - Cindy McCain didn't have adequate coverage on her remote 15-acre ranch near Sedona, AZ, so she contacted Verizon Wireless to install a permanent cell site.

However, Verizon found that it might be too pricy and problematic and instead installed a temporary cell phone tower at the Arizona ranch owned by Republican presidential candidate John McCain and his wife Cindy McCain.

Then AT&T followed suit, the Washington Post has reported. Both companies deny any ethical wrongdoing, stating that cell coverage is essential wherever there's a presidential candidate.
• • • more

Northway travel expected to be safer this year with new sites

October 10, 2008
ESSEX COUNTY, N.Y. - A new cell site was activated in the Adirondack Park yesterday that not only connects the world to the northern parts of the Northway, but could also save lives there as well.

Verizon Wireless announced they would install four cell towers along the Northway by the end of this year.

A Brooklyn, NY man froze to death last year after not having cell service to call for help when the car he was riding in with his wife left the roadway.

Senator Betty Little says the cell site is great news.

Flagpole is not stealthy enough for Germantown area residents

October 3, 2009
GERMANTOWN, TN - Tower Ventures is seeking approval to erect a 150-foot cell tower disguised as a flagpole on a plot leased from Grace Evangelical Church, but some residents think the flagpole would look out of place, says a local homeowners association spokesperson.

Brent Wilkins, church administrator for Grace Evangelical, said the tower site development company approached the church almost a year ago and said a cell tower would not look out of place.

"We're a church that has on our property a huge utility corridor that runs the entire 40 acres," Wilkins said.

In addition to transmission lines, Memphis Light, Gas and Water Division leases a cell phone site in the area.
• • • more

Bowling alley tower constructed, but strikes out on city property

September 24, 2008
FAIRBANKS, AK - A cell tower that was supposed to be built on the property of Artic Bowl was built accidentally on city property and Fairbanks officials aren't currying up to having it or the lease payments.
Mayor Terry Strle said she isn't going to budge on her stance about the DigiTel cell tower.
The tower was constructed with approval by the city. However, a physical survey of the land suggested that the site of the tower be moved northward to allow enough room for emergency vehicles to get in and out between the Arctic Bowl building and the actual tower.
The relocation was therefore done, staked and the owner as well as DigiTel presumed that it remained Artic Bowl's property. It didn't.
"I think it should be removed, seeing as the neighborhood doesn't want it and cell towers are becoming an issue with the Fairbanks community," Strle told the council on Monday night.

APA says cell tower applications have been coming in "hot and heavy"
September 17, 2008
RAY BROOK, NY - The Adirondack Park Agency has given approval for another cell tower for the Northway. The APA has been under pressure to approve cell-phone towers since a fatal January 2007 crash in which a 63-year-old Brooklyn man died of hypothermia
APA Deputy Director for Regulatory Programs Mark Sengenberger told the APA Board of Commissioners at the recent meeting that cell-towers applications have been coming in "hot and heavy," with several new applications that could improve coverage in the Adirondack Park.
The latest project approved is a 69-foot tower designed to mimic a pine tree.
The Verizon Wireless array will add service south of Exit 33 along a three-to-four-mile stretch of highway below Poke-o-moonshine Mountain.

Cities say CTIA's approach to siting is an attack on local control
September 14, 2008
Frazer, MI - Michigan cities are marshalling together to fight the CTIA-The Wireless Association's request to the Federal Communications Commission to enact new federal rules that would force municipalities to grant or deny requests for new towers and antennae within 45 to 75 days or let the companies automatically build.
Several communities in Michigan have complained in city council resolutions and in letters from city attorneys that the permitting process often naturally takes longer than the wireless providers would like.
"We classify this as an attack on local control," Fraser City Manager Jeffrey Bremer said. "We want to protect residential neighborhoods, our city."
• • • more

New York town's fees to double to $5,000 for new applications

August 7, 2008
CLIFTON PARK, NY - This town has some of the toughest laws on the books where wireless communication towers are concerned. Now they are about to get even tougher, and more expensive.

Fees for new tower applications will increase from $2,500 to $5,000. The fee to co-locate antennas on an existing structure will be reduced to $2,000 from the old law's $2,500.

As with the present law, all applications must be accompanied with a $7,500 deposit. The money will be put in an escrow account and will be used by the town to pay consultants and experts needed to review the applications.

Any funds left over when the application process is completed will be returned.
• • • more

West Virginia looking towards options to increase cell site builds
July 29, 2008
CHARLESTON, WV - The state of West Virginia is using $1 million a year in cell phone fees and has partnered with businesses and local governments to build 11 cell phone towers in the past year, but that may not be enough to reach all of the areas without service soon.
The state's $3-a-month fee for cell phone users caps the new cell tower fund at $1 million annually, but members of the Legislature's joint committee on broadband can change that allocation.
There are several other options available to raise funds, including making telecommunications services subject to the state sales tax and restoring the 4 percent gross receipts tax on telecommunications services.
• • • more

New Jersey school board gets cold feet and seeks to cancel Verizon lease

July 21, 2008
MIDDLETOWN, NJ - Verizon Wireless inked a five year contract with the Board of Education last October that would allow them to construct a cell site on the property of the township's high school.
However, the Board is undergoing signer's remorse and wants to cancel it. After numerous residents said they acted too hastily and did not let the community know about the lease, the Board's attorney sent a letter to Verizon asking the carrier to consider releasing them from the contract.
A variance is needed by Verizon due to the size of the structure and because it would be located in a residential area, but city planners cannot base their decision upon the school board's change of mind.

The school board and most people that are not involved in the siting process do not realize that preliminary upfront costs can be $50,000 or more to find a needed site within a required coverage area due to engineering, site acquisition, environmental research, legal fees and other miscellaneous expenses.
It is not known what Verizon will request as a cancellation penalty, if they're willing to consider it. Changing the school's football team to the Verizon Eagles may not be an option.

Developer's and chairman's press comments should enliven tower hearing
July 10, 2008
GARY, IN - A tower developer told a Post-Tribune reporter that, "I don't want a publication in the Gary paper to let people come there and let people complain about a proposed tower," when he was contacted by staff writer Jon Seidel to discuss his tower application.
Seidel says, Dan Mondrella of Indianapolis-based Future Wireless, Inc. told him that he was trying to "trigger some trouble," and refused to answer questions.
The City Council's planning committee is scheduled to hear a request from Mondrella at 5 p.m. today in City Hall for a special-use permit that would allow him to build a 120-foot-tall tower at 5201 Washington St.
It's difficult enough for developers to get new sites approved, and Mondrella's comments have already rankled City Council member Ragen Hatcher, who chairs the committee, calling Mondrella's statements "outrageous."
But then Hatcher compounds the problem by informing Seidel that he was not going to vote for it because too little has been determined about the level of radiation created by cell phone towers.
His comments could be grounds for appeal if the committee denies Future Wireless' request based upon RF concerns.
The Telecommunications Act of 1996 states that communities are not allowed to decide whether a tower is approved based upon the environmental effects of radio frequency emissions to the extent that such facilities comply with FCC regulations.
• • • more

Tony Palm Beach historic hotel gets its own cell site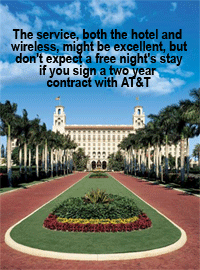 July 7, 2008
PALM BEACH, FL - AT&T has built a stealth cell site on one of the rooftop domes of a landmark Florida hotel, The Breakers, as part of the wireless provider's 3G network rollout, according to AT&T spokeswoman Kelly Starling.

However, in order to truly enjoy the excellent wireless coverage at The Breakers, it will cost you an average of $700 per night.

AT&T began to construct its 3G network in 2006 and plans to spend $225 million this year to improve coverage and expand it. In South Florida, it runs from the Florida Keys through Miami-Dade and Broward counties to the Treasure Coast, including Martin, St. Lucie and Indian River counties.

The Breakers is a historic national monument and features stunning architecture and spectacular decor. The hotel has enjoyed an international acclaim since 1896.

"We put a cell site where there's a need for coverage, and they get a lot of visitors there," said Starling.

It is not known if the AT&T installation contractor required its crew to stay at The Breakers to reduce its employees' travel time a half an hour each day.

Applicant admonished for wasting an appeals board and residents' time

July 1, 2008
STONEHAM, MA - Dozens of Stonehamites showed up at the Board of Appeals meeting last week ready to scuffle with T-Mobile over their plans to build a cell tower at St. Patrick's cemetery.

The issue died, temporarily, as T-Mobile's attorney withdrew Omnipoint's proposal to build a flagpole cell tower site.

Although the attorney had been reminded, according to Chairman Jim Juliano, that the board had sent him a letter on June 5 to come prepared with a picture of the proposed tower and a signed contract between the Archdiocese of Boston and Omnipoint, he said he was unsure whether Omnipoint had a signed a contract to build on 175 Broadway.

In addition he had no drawings of what the site would look like in the proposed location.

The board made it clear to that the attorney was wasting everyone's time by allowing this meeting to occur, when he didn't have the requested documentation.

Omnipoint said they were withdrawing their application, but said they would re-file when they could provide the requested information.
• • • more

New California county radio system will add 45 new tower sites
June 25, 2008
RIVERSIDE COUNTY, CA - The public may weigh in on plans by Riverside County to pursue a $148 million project that would place radio communications towers on about 70 locations throughout the county and beyond.

The Public Safety Enterprise Communication Project would expand Riverside County's radio tower network from 25 sites and increase emergency telecommunications coverage to about 95 percent of the county's area.

A draft environmental impact report for the project has been released, and the public can comment on the project through July 23. The complete report can be accessed online at http://psec.co.riverside.ca.us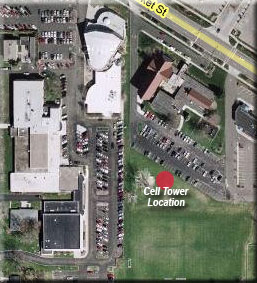 Ohio Churches split over T-mobile spire
June 21, 2008
FAIRLAWN, OH - The Vatican and the Lutheran World Federation signed a historic joint declaration in October 1999 regarding the Reformation showing that differences can be resolved after 482 years.

T-Mobile doesn't want to wait that long.

Catholics and Lutherans can't agree upon a proposal to construct a 140-foot-high cell tower in the backyard of Faith Lutheran Church on West Market Street.
St. Hilary Catholic Church, which has an adjacent school and church, wants no such monopole structure in the neighborhood, saying it will be an eyesore and a potential danger to the children who use the nearby soccer fields.
T-Mobile is prepared to place at least $15,000 per year into the church's offering plate, possibly $30,000 if their faith in new tenants is well-founded.
• • • more

Medical concern-driven ordinance could invite suit, says councilor
June 18, 2008
BAR HARBOR, ME - Town Councilor Paul Paradis says a recorded meeting could provide a legal blueprint for carriers that might sue the community if they are denied an application to construct a cell tower 500 to 1,500 feet from a public school.
The ordinance that voters approved last Tuesday requires that towers be set back at least 500 feet from public schools. The Planning Board voted the following day to recommend that the ordinance be amended to triple the setback distance and to have it apply to all schools as well as child care centers.
In recommending the 1,500-foot setback, the Planning Board cited concerns about safety, aesthetics and property values. But Paradis said he had watched the board's deliberations on television, and it seemed clear what they were really worried about.
"I watched it, and the overwhelming issue, in my opinion, was the medical one," he said.
• • • more

Stealth tower and stealth owner is a concern for Colorado commissioners
June 2, 2008
PITKIN COUNTY, CO - Even though it violates a set of conditions imposed by Pitkin County commissioners, including a height restriction of 40 feet, a controversial cell phone tower in the heart of an employee housing project will be staying where it is, as it is, but it will sport a new set of branches.
Not only is this a spruce stealth tower, but its owner is on the stealth side, say the commissioners who aren't quite sure where they can find Wireless Capital, a California partnership.
However, the commissioners have been assured that the tree's branches will be picked up as the cell tower ages. But if the tower requires maintenance, then it must be lowered. It's an interesting cell site saga.
• • • more