Build it and they will come…to tell you that you haven't jumped through the bureaucratic hoops December 26, 2008 - If Haywood County, NC planners review Verizon Wireless' application to extend their Mauney Cove cell tower 20-feet, there will be no need to ask for an artist's rendering of what the visual impact will look like.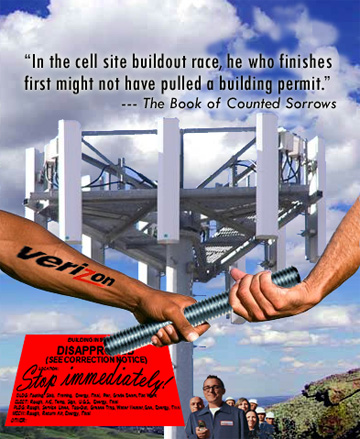 Commissioners can easily drive by the site and see how it will look since Crown Castle International has already extended the structure without applying for a building permit, according to County Planner Kris Boyd.
County commissioners learned of the erection error at their meeting last week. The illegal construction was discovered when neighbors around the tower were recently notified that there would be a public hearing to increase the tower's height. They called Boyd and asked why he would have a hearing for work that had already been done.
In addition to a permit, the construction requires an exemption from the county's cell tower ordinance. The additional 20 feet added to the tower exceeds the ordinance's fall zone requirement by six feet. 
Verizon is expected to provide the county with engineering that will identify a break point design that would recognize that if the structure were to collapse it would not fall into neighboring properties.

Canopy growth required retrofit
The tower was built five years ago and currently sits below the tree canopy which obscures its signals, Verizon said.
Commission Chairman Kirk Kirkpatrick joined other commissioners in stating that he won't argue with the need for cell service and the need for an extension on the structure.
Boyd said it's possible the legal team handling the request and construction crews got their signals mixed.
"In talking to them last week, it was very obvious they were just as misinformed as we were," Boyd said of Crown Castle. "The last question they asked was 'What do you want us to do to take care of this situation?'"
Government can also have poor communications
The private sector, however, doesn't have exclusivity on jumping the gun to build a tower site.
What some people described as a 300-foot tall cell tower being erected last month, residents of St. Pete Beach, FL requested that the structure's construction be halted.
City investigators responded and found that the 80-foot monopole, one of nine to be built, had not been permitted by Pinellas County Utilities and shut the project down.
The $3.5-million microwave project is expected to save more than $1-million a year in communications costs.
Now county officials are scrambling to get an application together that the City Commission must approve before work can resume.
The city's telecommunications ordinance requires that the tower be placed behind the 2-million-gallon water tank at Gulf Boulevard and 45th Avenue, but that placement may not meet the county's line of site needs.
Permits and inspections vary throughout the country
Obtaining a building permit for a tower site can be a daunting task for developers and contractors alike.
On occasion, contractors will find relaxed or nonexistent requirements for building a tower site and they will construct it without a permit or considering NEPA, SHIPO, FAA, and other federal requirements.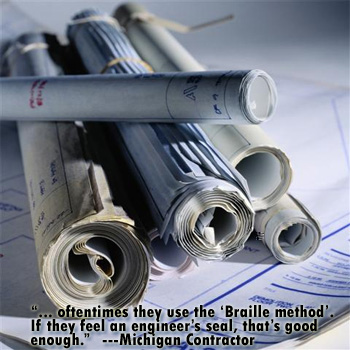 There was limited due diligence during the 1990's cattle car acquisitions by major tower companies and some sites had to be decommissioned because they had never been permitted and authorities wouldn't approve them.
Sites that are not required to be permitted and have no authorities checking structure design and installation procedures can be at risk of collapsing if contractors take shortcuts.
The area most often poorly designed or constructed can't be seen.
Although they might have a six inch reveal that appears to be professional, foundations are oftentimes designed for more stable soil conditions than the site's location, but their ineffectiveness cannot be seen below ground.
In addition, many owners have found that the foundation installed is considerably smaller or not constructed as required by the design drawings.
Up to 40% or more of a tower structure's cost can be in the foundations depending upon the instability of existing soils. Unprincipled contractors are known to cut construction corners during their installation to reduce costs.
Owners have also found that even though their tower has been installed according to design drawings provided by a state licensed professional engineer, the design was based upon incorrect soil borings provided or incorrectly furnished shear, compression, uplift and other design considerations.
If design drawings are approved by a building official, it doesn't always identify that the foundation meets code, according to a Michigan contractor.
"I'm not sure whether it's laziness or a lack of knowledge about tower design, but oftentimes they use the 'Braille method'. If they feel an engineer's seal, that's good enough," he said.
Oklahoma tower doesn't get an OK from an engineer
A Washington company is taking an installation contractor to court next month for allegedly providing faulty foundation installs on six 190-foot self supporting towers in Oklahoma.
According to Michael J. Landa, Director of Landa and Associates, Inc., Steve Larkin of Communication Construction LLC had his crews install the foundations almost two years ago and leaning towers, settling soils and other visual observations indicate foundations that not only puts the tower at risk, but climbers as well.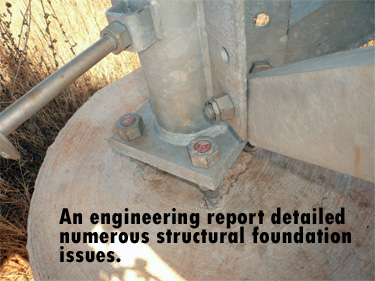 Landa believes that the structures are so inherently dangerous that he is looking for ways to condemn the sites before there are any injuries to tower technicians or workers that visit the sites.
After reviewing photographs of foundations of a tower in Calumet, a report prepared by DaVinci Engineering, Inc. of Santa Maria, CA said the foundations appeared to have several major structural issues.
The contractor said that the Calumet foundation had been poured on January 8, 2007 and a concrete truck became stuck at the site. Temperatures for the day ranged between 26 and 60-degrees F.
According to the DaVinci report, the concrete work appeared to have been done in sub freezing temperatures which could result in extremely low concrete strength. It also noted that the surrounding soils had settled 2-3 feet, an issue if the overburden was considered in the uplift design.
"These towers are an accident waiting to happen," Landa said.