Florida thief unknowingly poses for police as states and carriers try to stem copper thefts
May 11, 2007 - A copper thief who vandalized a Riverview, FL tower site and stripped #2 ground wire from a carrier's transmission lines and equipment, wasn't aware that his exploits were being captured digitally to assist the Hillsborough County Sheriff's department to make an early arrest if someone identifies the person.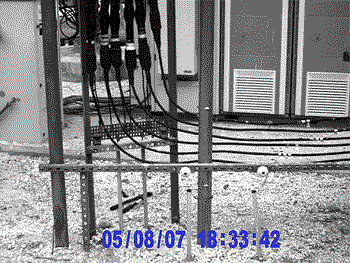 The tower site theft Tuesday evening in the small community southeast of Tampa was just one of dozens throughout the country this month, from Murfreesboro, TN to San Diego, CA. A Biloxy, MS AM station was unable to broadcast when thieves stripped transmission line from their tower two weekends in a row.

The high value of scrap copper has made tower sites high profile targets for thieves, some of them industry workers who can quickly strip transmission lines and grounding systems. To stem the increase in thefts, carriers are using multiple preventative measures.

Carriers trying new options
Site monitoring is being used more frequently along with other measures that are employed by the carrier that will allow them to identify if a transmission line has been removed. Unfortunately, the expensive copper clad coaxial cable can be as much as $10,000 or more on a site.

More importantly, a copper ground system removal might not be noticed for days or weeks and an unprotected site can suffer considerable damage from lighting.
Some carriers are requesting component manufacturers to stamp their buss bars with their names. Others are using tin-plated buss bars as the common thief does not recognize them as copper. Some carriers are having the contractors spray paint the buss bar with paint to also confuse the thief.
New monitoring products have been introduced in the market recently, from cameras that offer significant technology and application flexibility with remote control of pan, tilt, zoom and optional motion sensing detection, to a monitoring system that will provide an immediate alert if there is any continuity break of any copper product whether it is a transmission line, buss bar or ground cable.
Legislatures across the country are trying to combat copper thefts. In Connecticut, the Senate is considering legislation to require better record-keeping on scrap metal.
In Louisiana, thieves who steal copper belonging to utility companies would face at least two years in prison under legislation that cleared a House committee yesterday.
One of the nation's largest utility companies, Entergy Corp., is also seeking legislation that would require scrap dealers to record where the metal they buy came from and who sold it to them. The bill would apply to all utilities, including natural gas, electricity, cable television and telecommunications.

HB184 would make the theft of utility property punishable by a maximum $10,000 fine or two to ten years in prison.

An Arizona bill became law on Tuesday that eliminates on-the-spot cash transactions at scrap metal dealers. Instead, dealers will have to mail the payment to a physical address and keep a picture of the seller, a picture of the materials, a photocopy of sellers ID and the seller's fingerprints.

Unfortunately, the Legislature's solution to Hawaii's endemic copper thefts could be derailed by a typo. Honolulu Police Major Kurt Kendro said today that an extra ``and' inserted into the text of the bill essentially makes the law unenforceable. The additional "and," Kendro believes, means that only metal recyclers who don't have licenses will be in violation of the new law. Recyclers are required to have licenses.