Former wireless worker could be responsible for
$6 million in cell site thefts
September 30, 2008 - A Georgia cell site thief's business model was cleaner and considerably more profitable than commonplace copper pilferage, a labor intensive criminal enterprise that nets less than $3.35 a pound.

Within the past year, it also allowed him to drive a Mercedes, and on an income that reportedly exceeded at least a half million, live comfortably in two homes by simply stealing circuit boards valued at about $23,000 each from Metro PCS and Verizon Wireless cell sites in the Atlanta area.

Unfortunately, Dwayne Horton's business plan didn't have a credible exit strategy and the former Metro PCS employee is being held without bond at the Gwinnett County jail after he was arrested last week for allegedly stealing $1.8 million in circuit boards from cell sites.

That number could reach $6 million.
On August 24, someone broke into a cell site on Highway 78 in Snellville. Police say bolt cutters were used to get inside the compound's fence. Over $120,000 worth of computer cards were missing. Snellville Police quickly learned it was not the only tower burglarized.

"Based on the information we have been able to obtain there is approximately 6-million dollars worth of these computer cards missing throughout the metro area," said Snellville Police Chief Roy Whitehead.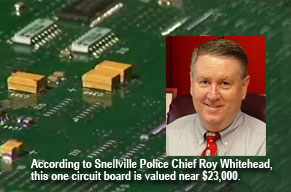 It wasn't until after Snellville detectives met with investigators from Metro PCS and Verizon, along with the FBI and Gwinnett County investigators, that they realized the magnitude of the problem.

"From the meetings, we discovered that the victims in the burglaries and thefts had lost nearly $6 million in property," Whitehead said.

Horton was arrested Wednesday after a month-long joint investigation by the joint task force. Several computer cards were recovered from the back seat of Horton's car when officers pulled him over to make the arrest, Whitehead said.

A search of Horton's residence in Dacula turned up nearly 80 computer cards.

Authorities say Horton, 43, was allegedly breaking into cell phone tower equipment buildings and cabinets, pilfering circuit boards and hard drives and then fencing them in cities as far away as Boston and Chicago.

Police are seeking to identify whether Horton had an accomplice.