PREVIOUSLY FEATURED WEB SITES...
Structural Components
Here's a web site where the company appears to have spared no expense in creating a graphically pleasing, easily navigated experience where after your first viewing you'll want to explore the rest of the content, even if you've found what you were searching for.

The Structural Components web site also offers live online help.

Structural Components' roots run deep as a leading designer and supplier of tower reinforcements to the wireless industry.

They are also well known for their guyed and self supporting towers.

Their standardized reinforcement products have revolutionized tower and monopole upgrades within the communications field.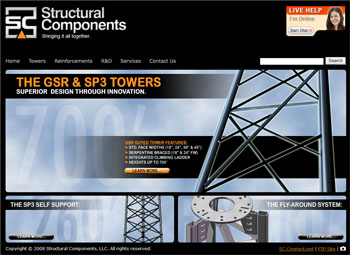 They have a full service field department and maintain a well trained staff that is ready to be deployed to any site.

SC's field personnel have degrees in engineering along with extensive training and experience to evaluate any structure type.

When a SC representative is on site, you'll be assured of receiving the most professional evaluation available in the industry.

The well-respected firm also provides construction management and architectural and engineering services.

Rosenberger LEONI Site Solutions
Online catalogs are a must these days if you're going to remain competitive. However, if they're not easily navigated they can do more harm than good, moving clients and potential customers to a company's competition.

Rosenberger LEONI Site Solutions'  online catalog web site  is one of those sites where the web designers clearly know about the industry and they make their customer experience an enjoyable one.

They provide up-to-date listing of their products, including photos,
descriptions, applications and their standard list pricing. Also, there is downloadable technical information when applicable.

Their quote to order system is remarkably easy to use and their staff's ability to quickly provide a quotation is well known.

However, if you're one of those many people that are not as conversant with a computer as you would like to be - or just prefer to speak with a knowledgeable professional - you can contact them at 337-598-5250.
.
TESSCO TECHNOLOGIES
With a wireless product line that makes most companies blush with envy,  TESSCO Technologies has one of the industry's - if not the nation's - most comprehensive and easily navigated web site.

Their user-friendly site carries more than 25,000 products that are required to build the industry's infrastructure, from monopoles to the safety equipment that climbers will be required to have to erect them as well as antennas, lines and test equipment to ensure RF integrity.

There are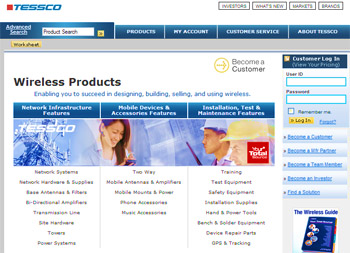 many interactive areas that make ordering an enjoyable opportunity to compare like products as well as obtain product knowledge.

Over 300 manufacturers are represented by the 25-year-old company.

Their web site worksheets help you to quickly decide upon the products and pricing necessary for your projects.

Their secure database on all of your purchases makes reordering a snap. And their order tracking and customer service is bar none.

ROHN PRODUCTS
Rohn Products just introduced their new web site at www.rohnnet.com. The tower manufacturer, established in 1948, has been a venerable institution in the industry and the company is proud of their reputation for having provided more towers throughout the world than any other manufacturer.
Upon passing a tower site it is easy for veterans and newcomers alike to quickly identify the SSV and SSMW series of self supporting towers that they have become well known for. Those products and more can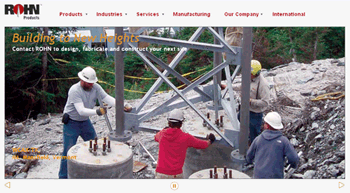 easily be viewed with crystal clear files of typical tower sections on their site.
As with all good web sites, it's a work in progress, and according to Vice President / General Manager Rollie Horton and National Sales Manager Dave Ramsay, suggestions for improvement are always welcomed.
Rohn had been acquired by a number of companies over the years and although they were recently purchased by O'Brien Steel, their new autonomy will help the company to achieve even greater personal service and product presentations.

SABRE SITE SOLUTIONS
If you're used to thumbing through Sabre Site Solutions' extensive product line in their catalog, you'll find their online catalog designed the same way - with the customer in mind. Each section features all of the products in their physical catalog along with a picture of every item and a product description.

Their antenna mounting section includes a tab entitled "technical information" which includes product overviews and design parameters to help you make the right choice before placing your order. They've even included shipping information so all you need to do is pick and click. Your order will be filled and shipped so it arrives on time and ready to use.


It's also easy to check the status of any order. You simply enter the order number and click on View Order Status. Or you can view your entire online order history by submitting the e-mail address and password of the account that your orders were placed under.

Sabre Site Solutions realizes that your time is important and they've developed a web site that will ensure that you can quickly and easily place an order.

Their extensive product line includes antenna mounting systems, hardware components, lighting systems and accessories, pre-engineered structures, tower and monopole accessories, and transmission line systems.

However, If you have a project that requires something special, you'll be able to quickly touch base with one of their knowledgeable and attentive product specialists when you call 866-428-6937.

And most importantly, all of their quality products are available at contractor-friendly prices.

NATIONAL ELECTRICAL CODE INTERNET CONNECTION
From a host of informational areas, to a free interactive NEC quiz, the National Electrical Code Internet Connection web site is a must visit if you're involved in the electrical end of communications build-outs.
And even if you're not ready to put the pencil to the electrical estimate, you'll find the site's content to be quite educational.
The Mike Holt Newsletter is a well-read industry blog and the site has free online courses on basic electrical theory, online code changes and grounding versus bonding.
There is also a highly respected free forum for all of your technical questions as well as graphics and videos.
Once you've visited the site you'll want to surely bookmark it since it is always being updated. In addition, it would be impossible to digest but a small percentage of the information that is available.

ANIMATED KNOTS BY GROG
Oftentimes to find specific information on the web it becomes a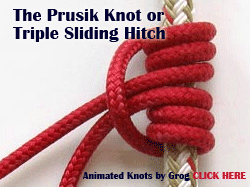 marathon of madness running from one site to another. If you're seeking knowledge about knot tying, give your keyboard a break and visit Animated Knots by Grog. Alan Grogono's site makes learning knot tying an enjoyable experience. In a short time you'll be able to type with one hand while tying a one-handed bowline with your other one.

Whether you're a seasoned climber, ground hand, or just starting in the industry, you'll find this site to be the authoritative source on knots. It has splendid animations and commentary.

From the Albright Knot to the Woggle, there are approximately 100 knot animations.The knot site is also available on a CD for easy and quick reference.

SHENANDOAH TOWER SERVICE, LTD.
Established in 1983, Shenandoah Tower Service, Ltd. has a proud history of dedication to helping to set the standard in the wireless communications industry by providing exceptional construction, maintenance and management services characterized by their commitment to safety first, and personalized customer service.
The company's CEO and former NATE director, Dave Anthony, believes that his Virginia firm's success is truly based upon his employees' exceptional attitudes, energy, perseverance and dedication to the 
company's strong fundamentals of providing quality, safe installations.
Most web site employment pages for wireless service companies - if there is one at all - provide little information about the job position and the company in general. STS's is surely the exception. A professionally photographed and narrated video on their site takes a new candidate through the various offerings that are available in the industry. Even if you are a seasoned veteran, the enjoyment of looking at the nation's tall structures is always interesting.
For almost 25 years, the company's motto has been, You can't achieve first place with average employees and mediocre work."

CELL COVERAGE.COM
Cell phone users nationwide now have a free and easy method to submit locations that identify areas of poor cellular coverage with CellCoverage.com's proactive web-based tool. 

Through CellCoverage.com, every cell phone user can now submit specific areas in their communities, neighborhoods, and workplaces, as well as on the roads and highways they travel, where they would like improved cellular coverage.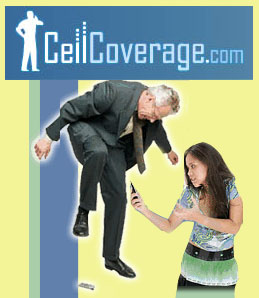 CellCoverage.com, has been designed as an efficient on-line tool to harness coverage-related information from all cell phone users in the United States, providing free access to each carrier to assist in the improvement of wireless coverage across the country. 

Free access to the data collected from all entries is available to the wireless carriers via a pass-code protected login screen to assist in the identification of cell coverage problem areas and the improvement of wireless coverage throughout the United States.

All cell phone users nationwide now have a free and easy method to submit locations that identify areas of poor cellular coverage or cellular dead spots.

The availability of data collected through the submissions to the CellCoverage.com web site will enhance the identification of areas where cell phone users desire coverage expansion or improvements.

WEISMAN CONSULTANTS INC.
For the past 27 years, Weisman Consultants Incorporated has been providing engineering services in connection with the design, analysis and inspection of towers. The well-known engineering firm has been accumulating industry specific experience, knowledge and expertise
 since 1980. Their clients include tower manufacturers, tower installers, tower consultants, tower owners, wireless carriers, and broadcasters.
They all provide due diligence in selecting a tower design and manufacturer through their tower industry knowledge that allows them to act as an unbiased third party, whose sole purpose is to provide the technical information and engineering opinion that will assist the buyer in making a favorable decision.
Tower analysis and design skills are not easily obtained, as even Weisman's most experienced engineers learn new methods and develop new tools from time to time. The company also trains engineers who are new to the tower industry since training can be a time consuming and risky process, significantly stalling company throughput by tying up experienced engineers, or, alternatively, increasing company liability.

CONNECT-IT WIRELESS COMPONENTS  
Component manufacturers' websites have come a long way in recent years in order to present product and pricing information in an easily navigated format. Connect-It Wireless, Inc. is one of those companies that have bridged information and shopping cart programming capabilities to ensure a secure website for ordering components.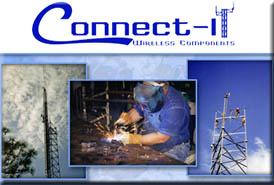 Although Connect-It Wireless, Inc. was formed in 2003 to meet the growing demand for antenna mounting hardware used in the communications industry, owners Jim and Faith Schultz have helped to establish and grow some of the nation's leading wireless component firms during the past ten years.

As a construction manager of a major carrier during the mid '90s, Jim understands the fast-paced requirements of a contractor and the need to provide products when promised and at competitive pricing.

With a facility in Jupiter, FL, Connect-It Wireless Components is steadily expanding its inventory and custom offerings to keep up with the ever changing and demanding wireless industry.

They currently supply products to a diverse clientele that includes major carriers to the small contractors.

COMTRAIN LLC
Long-recognized as one of the tower construction industry's most successful tower climber training institutions, ComTrain LLC combines the experience and skills of seasoned tower technicians, accredited teachers, writers and safety solutions to provide solutions. 
Their web site's photo section is a veritable who's who in the tower construction industry as well as in government agencies, utilities and other industries where climber safety is a top priority. ComTrain's courses meet or exceed regulations while remaining workable, efficient and cost effective.
Although many company web sites see limited traffic, ComTrain's registers over 3,300 visitors each month who use it for news, training schedules and teaching tools.
Customer Relations Manager Terri Nethery, who also manages the school's scheduling, always finds time to maintain the site's great amount of information and links to news outlets.
Winton W. Wilcox Jr., Founder and President of ComTrain of Monroe, WI, is well-known for advancing safety in the tower erection industry. His academy has trained many thousands of workers. A quick review of many resumes of tower technicians and company owners will proudly identify that they are "ComTrained".


HARK TOWER SYSTEMS, INC
Although visitors a couple of months ago would have found Hark Tower Systems, Inc.'s web site to be informative and user friendly, their recently revamped site is a textbook example of what a site should be.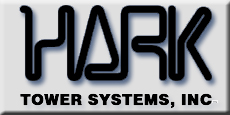 As one of the tower industry's leading independent suppliers of obstruction light monitoring equipment and site access control equipment, Hark has provided a site that is easily navigated and provides an excellent overview of everything a visitor would want to know without having to drill down into white papers.
You can quickly zip around the site and get a full understanding of the company's products, capabilities and contact information. Hark, like many other web site owners, realizes that viewers have landed on their site for one specific reason: they're interested in their products and services, not the weather, outdated news articles and a host of other information that takes away from the limited time that the potential client will be able to spend.
Hark's president, Randy Hargenrader, has been serving the industry for many years and has been involved in numerous developments in the monitoring industry. He was a featured speaker at the PCIA's 2006 Nashville conference where he discussed new technologies that will make FCC compliance more effective and less costly.


PRIMUS ELECTRONICS
Incorporated in 1981 and centrally located in Joliet, Illinois,  PRIMUS Electronics recently introduced their new web site that provides easy navigation and a wealth of information about their product lines in the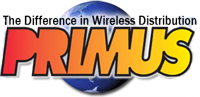 wireless industry.

Located in the nation's largest and fastest transportation hubs in the United States, PRIMUS is capable of expediting delivery from their fully stocked warehouse of the finest products available in the industry today.

Primus Electronics is dedicated to the goal of providing total customer satisfaction. You'll notice that as soon as you call and find that you are immediately connected to a real live person interested in your needs – not an automated phone system.

Under the leadership of Michael Johnson, President, PRIMUS has grown to be one of the most client-oriented suppliers in the industry. They currently have some excellent promotional
values to celebrate their 25th anniversary.