Suffering from a narcissistic personality disorder
Guilty cell site developer could receive
55-year prison term, $2 million fine
By Craig Lekutis, Publisher, WirelessEstimator.com
January 6, 2011 - On a talk radio business show broadcast in July of 2008 - What Does It Take To Become a Billionaire Entrepreneur? - well-known wireless cell site build-to-suit and project management entrepreneur Clovis Prince cautioned his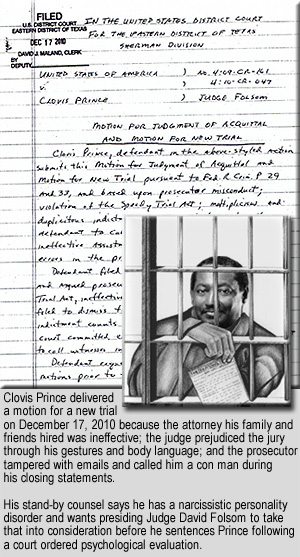 audience to  recognize that "Some of the things you need in business to be successful is to have a strong business plan; a strong financial model; have a strong financial institution behind you as well as having a strong exit plan."
However, when Prince's numerous enterprises started to fail after his strong financial institutions were no longer standing behind him, but suing him, and he was in the throes of bankruptcy, his exit plan in 2010 included a high speed car chase as federal agents tried to arrest him in Oklahoma City, Okla. on March 17.
He lost control as he turned his lights off during the pursuit and crashed his 2007 Lexus - a step down from his $200,000 Bentley that had been recently repossessed - and while injured, tried to run away from the agents and a city patrolman.
After being captured he was transported to the University of Oklahoma Presbyterian Medical Center and kept overnight for observation, providing him with another opportunity to review his exit strategy.
The following morning Prince said he needed to use the toilet and was escorted by a hospital worker and an agent to the nearest restroom.
After a few minutes the federal agent heard a loud crash and then forced open the barricaded door where he found the toilet pulled away from the wall with ceiling tiles scattered around it.
The agent said that it appeared that Prince was standing on the toilet in an attempt to pull himself through the ceiling and escape.
Another strategy in Prince's exit plan was to falsely state that he was not a beneficiary in a family trust although it was later found that he was; and he illegally transferred money during his bankruptcy proceedings.

Or so say the jurors for the U.S. District Court for the Eastern District of Texas who convicted him on December 9, 2010 of 23 counts of bankruptcy and 15 counts of bank fraud and money laundering after less than three hours of deliberation after a 14-day trial.
They also returned an additional verdict of a judgment in the amount of $15,477,554, money illegally obtained by Prince, most of which is unaccounted for in his bankruptcy financial statements.
U.S. District Judge David Folsom has withheld sentencing for Prince, who elected to serve as his own counsel for the bank fraud and money laundering counts, until he receives a psychological study to determine if Prince is suffering from "diminished capacity".
His standby attorney in the trial, Sherman attorney Don Bailey, believes that the evaluation will show that Prince suffers from a narcissistic personality disorder and he wants Judge Folsom to consider Prince's personality disorder before sentencing him.
Prince did not oppose the motion which stated that he has a grandiose sense of self-importance.
Sentencing guidelines for the 38 counts allow for up to 55 years in jail and a $2 million fine.

Entrepreneurial icon to con man
In his closing argument, U.S. Assistant United States Attorney Randall Blake 
described the 60-year-old Prince as a "con man".
Also, Judge Folsom didn't appear to be fond of Prince's pretrial and courtroom behavior which included numerous motions for mistrial and continuance as well as multiple attorney changes.
He ordered Prince to be ready on December 8, 2010 to make his closing arguments after Prince claimed he was suffering from dehydration, although medical tests identified that he was not.
Judge Folsom wrote that "The Court is of the opinion that Mr. Prince is attempting to avoid trial by misrepresenting or exploiting his medical condition."
The judge said that after innumerable attempts at delay, the court was not surprised by Prince's alleged medical situation.
"In fact, the court anticipated and expected such an occurrence," Judge Folsom said.
He further stated that it was "no more than another attempt by Mr. Prince to delay proceedings and to game the system."

The rise and sudden fall of Clovis Prince
Clovis Prince was born in 1950 in Guthrie, Okla. and was the middle child of 12 children in a family where his father fostered a strong work ethic, according to Prince.
"I guess I started becoming an entrepreneur at age six. I started cutting yards in my neighborhood so that I could have some additional money," Prince said during a radio talk show in 2008.
Prince attended the University of Oklahoma where he earned his B.A. degree in 1971.
After graduating from college, Prince was hired by General Motors as a manager and worked in that capacity until 1985, according to an interview he provided to African American HistoryMakers.

In 1986, he said he founded Prince & Associates which among other services, the company provided legal assistance to the public and private sector, an area of expertise that would later assist him with court filings as he represented himself against federal bank fraud charges.

A rich work history rife with inaccuracies
However, whereas Prince told HistoryMakers that he was working for General Motors until 1985, he informed another interviewer that he was at that time heavily entrenched in the wireless industry and not the auto industry.
"We started in the 70's and we completed in the 80's, so I guess the very first network that we turned hot was like '81, '82," he said during the interview where he also stated he was the project/program manager for the very first cellular network built in the U.S.
"We built about 60 sites and was able to launch a cellular network, and the rest is history," said Prince.
In 1991, Prince said he expanded his wireless business throughout the United States and overseas, which would have been a difficult task since he was serving a prison term at that time.
On February 27, 1986, Prince was convicted on 25 counts of mail fraud and sentenced to 15 years in prison. His crime: He collected for auto parts which he did not deliver.
He began serving his sentence on or about March 21, 1986. Prince then escaped from a halfway house around May 27, 1991, and he was apprehended in July 1992. He was released from prison on or about February 26, 1993, Blake said.
Judge Folsom ruled that the incarceration information could be presented to the jury following the prosecutor's argument that Prince "made fraudulent misrepresentations about his work experience in order to gain the trust of banks and to create the image that he was an exceedingly skilled and successful businessman with whom a loan of a million dollars could be entrusted."
He said, however, that the prosecution could not let jurors know about Prince's escape since it was not relevant to his intent to defraud.

Carriers and contractors taken in by Prince
Although Prince stated he expanded his telecommunications company in 1991, the earliest project he identified in his promotional material stated that in 1997, his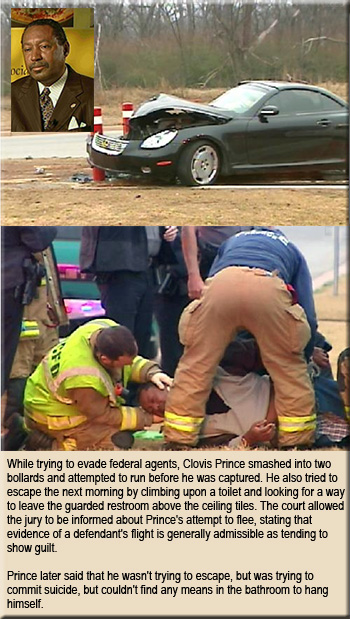 company was responsible for the "first ever monopoly agreement between Omnipoint Communications and the Florida Department of Transportation, Turnpike District."
Florida DOT records indicate that Omnipoint - Now T-Mobile - did build 11 monopoles along the turnpike's right of way in Dade and Broward Counties, after signing a lease agreement with the FDOT on April 8, 1998.
It didn't appear to be a "monopoly agreement," as Prince described it.
The following year, in a competitive bid, American Tower Corporation was awarded a contract to manage 19 existing FDOT towers as well as two they had already built in addition to being able to build new sites along FDOT lands.
The FDOT deal helped establish Prince's firm and his Dallas headquarters added numerous offices throughout the U.S.

According to his marketing literature, Prince & Associates provided special project services for Nextel Communications in New Orleans to allow the carrier to have extensive coverage during the CTIA 2000 convention.
Then they signed a major contract with Ericsson in 2003 and United States Cellular two years later, according to archives from their removed website.
But it appears that neither the carriers nor contractors vetted Prince's company or they might not have provided him with lucrative contracts or committed to build out sites for him.
A number of banks provided Prince with loans partially based upon his work history; however, the government introduced at Prince's trial that LegacyTexas Bank declined to make a loan to Prince after they became aware of his criminal history. The bank was close to funding a multi-million dollar loan when it discovered Prince's record after a background check.

AT&T was mainstay of his revenue
In 2006, Prince was named "Entrepreneur of the Year" from among 35,000 African-American business owners vying for the coveted award during the Fifth Annual PowerNetworking Conference in Atlanta.
In the audience were numerous AT&T managers who were singled out by Prince. He 
said that it was AT&T who believed in him and was the company clearly behind his success.
According to Prince, Cingular (now AT&T Mobility) inked a $325 million deal with his firm for turnkey tower services that assisted his company to expand to 15 national offices and to exceed $780 million in revenue in 2007 and become one of the largest minority owned businesses in America.
"I would not be accepting the Entrepreneur of the Year award without the support of Cingular Wireless allowing us to work on over 5,000 site locations in 2005," Prince said.
Fashionably attired in a custom tailored suit, Prince and his entourage would walk the major telecom trade show floors, commanding attention due to the company's stellar growth and Prince's networking capabilities, coupled with an engaging personality.
Prince's firm also dovetailed nicely with Verizon Wireless and AT&T Mobility's master plan to engage the minority business community to meet their goal to increase their percentage of spend with certified diverse suppliers year-over-year.
He was in demand as a motivational speaker in colleges and organizations, and in 2004 he was the keynote speaker at the Tower Summit & Trade Show.
No show hotels among questionable achievements
Prince said he was building a Holiday Inn Express and a Comfort Suites hotel on property which he owned, and he already had contracts for 85 percent occupancy during a July 15, 2008 interview. Prince said his goal was to have 20 more hotels in the near future.
Fifteen months later he filed for bankruptcy and he did not list any hotel assets.
As with a lot of Prince's statements, they're in conflict with published reports or court documents.
In example, working on over 5,000 AT&T sites in 2005 would typically not be awarded to a tier two contractor and would have required some type of master contract, but AT&T says in court documents that it did not enter into a master construction agreement with Prince until July 31, 2006.
Also, Prince stated that he had hired and trained in excess of 4,500 employees in the telecommunications and real estate industries.
Since there is no documentation that Prince & Associates was actively engaged in the telecommunications industry prior to his release from prison in 1993, the 4,500-plus employees over a 12-year period would suggest a robust corporate and site development staff in his 15 offices necessary to service AT&T, Verizon, U.S. Cellular and other clients.

Skeleton staff alleged
Nonetheless, a number of contractors contacted by WirelessEstimator said that the corporate office maintained approximately 15 to 20 employees and their regional offices were staffed by only a few people employed by Prince.
"They had a shell staff that, for whatever reason, AT&T kept funneling money through," said one contactor who stopped doing work for Prince in 2007. "We did all of the work, including the paperwork. I could never understand why there was a need for them at all," he said.
Prince, as some contractors do, would state that they had an office in a particular city by placing an employee within one of their subcontractor's offices.
Most of them, the contractors said, were 1099 contractors and not part of the large close-knit employment base that Prince purported to have and nurture.
When Crown Project Management (dba Prince & Associates) filed for bankruptcy, Prince listed amongst other assets a total of 24 desks and six file cabinets for his corporate and 15 national offices.

He didn't want to take the money and run
During a recorded interview he said he gave up an offer that would have put him on easy street if he sold his telecommunications company.
"A company that was in competition with me, a company out of South Florida, saw the vision and the way we were moving with growth every year for the last 20 years and they came to me and offered me a secure position for the rest of my life that would have made me a multi, multi, multi-millionaire."
"So, I called all of my executives in across the country and we all got in the board room and I told them that I had an offer to sell Prince & Associates for a lucrative award to me. And when I looked around the room I saw tears coming from my staff, my executive management team, people who have invested 20 years or so in helping me to build Prince & Associates to where it is today."
"I mean, it brought tears to my eyes that my staff was so passionate, so much in love in what we were building and what we were doing here that I just couldn't take this money and run," Prince said.

Compassion doesn't reach contractors
Although Prince said he had empathy for his employees' well being, three contractors contacted by WirelessEstimator said his business practices were less than compassionate.
Two well-established tower erectors said that it would be typical for them to complete a large portion of their awarded sites and Prince would then tell them that there was something wrong with their work and he wanted to reduce their billings even though he would never put in writing what the deficiency was.
"Or, if that didn't work he would just tell me that he needed to reduce my price after the work was done," said one of the contractors.
Another method, a contractor said, was to put the carrot in front of you that if you reduced your prices on the front end you would be eligible to make it up later because of increased build opportunities.
"But those opportunities never came to us. In fact we had to lien the sites for the couple that we did for him when his promises to be paid were never met," he said.
The unsecured claims amount reported by Prince in his bankruptcy filing for Crown Project Management, Inc. was surprisingly low for a company that was managing thousands of sites: $1,157,708.
CMS Wireless, a mid-sized contractor from Maumelle, Ark. was Crown's largest creditor with a claim of $852,791, followed by AmChel Communications of Wylie , Tex. in the amount of 79,861.44.
Both companies did not reply to a request for additional information about their collection efforts, but court documents show that CMS has placed what appears to be over 100 liens on AT&T cell sites.
In a court filing, AT&T said that it had paid Prince for CMS's work. A request to AT&T Mobility, to inquire why Prince's company wasn't vetted and why he was not required to provide lien waivers before being paid, or if he fraudulently provided them, was not immediately answered.
A number of Verizon sites have also been liened by contractors.

Safety appeared to be secondary or non-existent
If a contractor wants to work on a Black & Veatch or Bechtel-managed AT&T or 
Verizon site, their safety program, EMRs and other company information will be thoroughly reviewed.
If, however, you wanted to work on a Crown Management-managed site, all you had to do is send them your EHS plan to meet their pass down requirement, a number of contractors told WirelessEstimator.
Or in at least one instance, nothing was required.
"Nobody in his company ever mentioned safety. Even though we have an extensive safety program and manual, it was never mentioned or asked to be identified," said one contractor.
"I never saw a safety manual by Prince. Safety practices were never mentioned by Prince & Associates during our entire business relationship," he said. 
Another business owner said that he met with Prince's representative who asked for the quote first; then negotiated it; then - almost as an afterthought - asked if they had "some type of safety program" they could send them.
"I'm not even sure if we ever sent anything other than the form," he said.

The patina quickly rubs off of Prince's Crown
Propped up by his fraudulent funding schemes and telecommunications industry growth, in 2007 Prince & Associates began its new venture: Prince & Associates Restaurants, which included Prince Bistro and Papa John's Pizza franchises.

Prince also started building upscale homes. But the subprime credit debacle caught him off guard and he scrambled to keep his various enterprises afloat.
In addition, American Bank of Texas was pressuring his in-house counsel, Nicole Taylor, to produce non-existent annuity contracts that had been pledged as security for a loan.
According to court documents, Prince admitted to Taylor that the contracts did not exist - a fact which he also admitted to during the course of his bankruptcy.
On September 10, 2009, a Texas Grand Jury charged Prince with bank fraud and money laundering. In the indictment the jury said Prince's illegal acts resulted in proceeds to him of $10.7 million. Last month jurors raised the amount to be forfeited to $15.5 million.
Six months later, on March 10, 2010, the Grand Jury brought forth new charges against Prince, indicting him for bankruptcy fraud because he failed to disclose property transfers and falsely denied the existence of his interest in real estate and trusts.
Prince claimed that the real estate transfers were made in the "normal" or "ordinary course of business," but he was not a beneficiary of those properties in the Clovis L. Prince, Katherine M. Robinson, and Tamika D. Prince Trust.

Day one of trial starts with sanity and bank checks
On a motion by the government, both cases were consolidated for the trial which 
began on November 16, 2010.
After releasing a number of attorneys, Prince said he would represent himself for the bank fraud and money laundering charges which could result in 40 years in jail and a $1.25 million fine.
Dallas attorney Richard Deaguero, whose services were paid for by Prince's family, would defend him in the bankruptcy charges which could see Prince spending an additional 15 years in jail if he was found guilty. Fines could total another $750,000.
The court stayed in recess for 20 minutes because Deaguero had not arrived on time. After informing the court that he was sorry, but lost track of time, Judge Folsom assessed a sanction to be paid at the end of the day of $1,000.
A motion filed the day before was heard that stated that Prince wanted a psychological examination to show that his mental competence was in question since he now claimed that he had tried to commit suicide in the hospital bathroom after his car chase.
Judge Folsom may have considered the motion a delaying tactic, since Prince did not bring it up during a competency hearing on November 5, 2010 to identify if he was capable of representing himself, and asked Prince's standby attorney, Don Bailey, his opinion about Prince's mental condition.
Bailey said he did not believe there was an issue that Prince could not proceed with the trial.
Prince then said he wanted to make a pretrial record, but was informed that it should have been made the day before. He then requested a continuance which was denied. Prince continued to want to put motions on the record.
The government's case lasted for almost nine days while Prince & Deaguero took five days.
Prince wanted to cross examine one of the government's witnesses, a bankruptcy trustee, but was told by Judge Folsom at a bench conference that he would not be allowed since he retained counsel on the bankruptcy case.

Fraud defense: My attorney did it
The government said that Prince had apparently adopted the position that it was not he who defrauded American Bank of Texas, but rather it was his corporate counsel, Taylor.
A previous attempt by Prince to not allow Taylor to testify regarding any communications between he and Taylor on the basis of attorney-client privilege was denied prior to the trial.
An email was obtained by the government in which Prince insists to another attorney that Taylor told him that real estate was being pledged to American Bank of Texas rather that the non-existent annuity contracts.
"He even bolstered his assertion with a fabricated email in which Nicole Taylor purportedly made that representation to him," Blake said.

According to Blake, Taylor left Prince's business in December 2008 after having discovered, sometime earlier, that her employer had committed fraud.
During the trial Prince blamed others for the allegations of fraud, money laundering and perjury.

Judge asked to consider Prince's inflated ego and reduce sentence
Following the jury's verdict, the defendant's standby attorney filed a motion, approved by Judge Folsom, to have Prince evaluated to see if he suffers from a narcissistic personality disorder.


Bailey said if Prince is found to have the disorder, it would not fit the current basis for an insanity or competency defense, but would show a diminished capacity that should be considered at sentencing.
Based upon observing the defendant during the trial, Bailey said that Prince appeared to be suffering from a personality disorder which showed that he was preoccupied with fantasies of unlimited success, power and brilliance; required excessive admiration; had a sense of entitlement; was arrogant and had a lack of empathy towards others, among other areas identifiable with a self-absorbed personality.
It didn't take long for Bailey to reach his conclusion that Prince needed a psychological study. He discussed his concerns with the government's prosecutor who agreed on November 30, 2010 - nine days before the trial ended - not to oppose the motion. 
The study is expected to cost approximately $16,000.

New trial and attorney requested
A week after the trial, prince filed a motion on December 17 for judgment of acquittal and for a new trial.

The 14-page mistrial motion Judge Folsom will consider is based upon prosecutor misconduct; violation of the speedy trial act; multiple and duplicated indictment counts; failure to allow defendant to call witnesses in his defense, ineffective assistance of counsel; and trial court errors in the proceedings.

Amongst other concerns, Prince said during the trial Judge Folsom continued to make gestures, exhibited body language, and offered comments that prejudiced his right to a fair trial.

On December 23, 2010 Prince said he was replacing himself as counsel with Dallas bankruptcy attorney James E. Polk. Standby counsel Bailey was relieved of any further duties as Prince's attorney.