Following failed first try, rival CommScope to buy Andrew Corp. in deal valued at $2.6 billion
June 26, 2007 - CommScope Inc. agreed to pay $2.6 billion today to buy larger rival Andrew Corp., reviving its offer less than one year after an unsolicited bid was spurned.
Back in August, the company's $1.7 billion offer to Andrew was dismissed as "wholly inadequate." But ardent suitor CommScope never gave up and Wall Street provided an early morning engagement gift to Andrew, raising the company's share price over 12% to $14.60.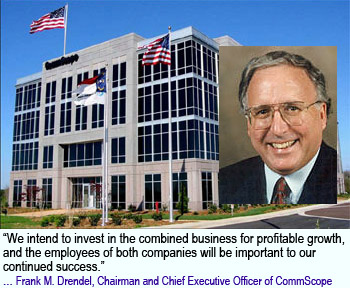 The rival companies say they can now generate big savings and provide a comprehensive set of products to network operators with little overlap in products, said to be approximately 2%. Under the agreement, CommScope will pay $15 for each share of Andrew, 90% of which would be paid in cash. The offer represents a 16% premium over Andrew's Tuesday closing price of $12.98.
Andrew's stockholders are guaranteed to receive $13.50 per share in cash, with the rest being paid in CommScope stock, cash or a combination of both. The companies expect the deal to close by the end of 2007. 
CommScope estimated it could generate annual pretax cost savings of up to $100 million in the second full year after the deal is consummated.

Non core assets to be sold
The company plans to eliminate duplicate operations and sell off non-core assets, a strategy that is likely to include the sale of Andrew's small satellite business which was announced earlier this year. They said that they were going to sell their underperforming assets during the first year after completion of the deal.
The companies said the acquisition would help them to cut manufacturing costs and diversify their customer base. A combination of the two companies is expected to trim procurement costs for copper and plastic, since both make coaxial cables, used for cellular, cable TV as well as high-speed Internet services.
Following the close of the transaction, Andrew will become a wholly-owned subsidiary of CommScope. Frank Drendel will remain Chairman and CEO of CommScope, and CommScope will retain its global headquarters in Hickory, North Carolina. The combined company also plans to maintain its Chicago-area presence, building upon Andrew's new state-of-the-art manufacturing and office facility in Joliet, Illinois. 
By acquiring Andrew, CommScope will be able to provide cellular and other clients with favorable site kitting by using Andrew's steel products group for antenna mounts and other accessories. Andrew's construction service group will have the opportunity to provide additional services to CommScope's clients.
Whereas CommScope uses a third party to manufacture their hanger kits and other transmission line accessories, Andrew manufactures many of those items and can provide favorable pricing and quality control with their own tooling.
Although Andrew's revenue is greater, CommScope is more profitable and growing faster. In 2006, CommScope earned $130 million on a 21% increase in revenue to $1.62 billion. Andrew lost $34.3 million last year even as sales rose 9.4% to $2.15 billion.
Andrew originally agreed to be acquired by ADC in May 2006 for $2 billion in stock, but the value later fell to as little as $1.3 billion after a decline in ADC's shares. ADC and Andrew backed out of the deal, but to effect the mutual termination, Andrew had agreed to pay ADC $10 million. In addition, Andrew had agreed that ADC would be paid another $65 million in the event Andrew effects a business combination transaction within 12 months.
Andrew CEO Ralph Faison said the new deal represents a better fit than a merger with ADC because CommScope has a strong position in the corporate-wireless market, an area where Andrew was weak.
For the second quarter, CommScope now predicts it will generate $500 million to $510 million in revenue, compared to its prior estimate of $490 million to $510 million. It also upped its forecast for operating margin to 15% to 16% from a previous range of 14.5% to 15.5%.
CommScope makes coaxial, fiber-optic cable and related products that enable network operators to provide cable, Internet access and phone services over a single line.

Andrew, the world's leader in 50-ohm cable, makes an array of products such as antennas, base stations and steel products used in the cable, wireless, satellite and phone markets.

The deal's due diligence was one of the industry's best kept secrets. Whereas many middle and senior managers were aware of the ADC discussions, today's announcement took them by surprise, most of them learning of the purchase when they arrived at work.

The sale requires approval by Andrew's shareholders, but not CommScope shareholders since the majority of the acquisition is being financed in cash. CommScope said it will be financing the deal, but the transaction is not conditioned on receipt of financing. It is expected that Andrew's shareholders will approve the sale.