New Band Expected to Play Out Profits for Contractors and Vendors
December 9, 2004 -- Some industry analysts believe it could cost Nextel three billion or more dollars to meet the FCC's 800 MHz reconfiguration order to ensure that 800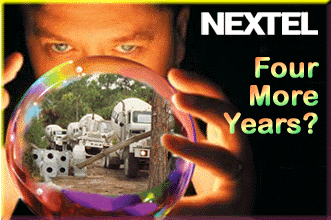 MHz  public safety  licensees and other 800 MHz incumbents receive comparable facilities to complete the FCC-mandated channel changes. Nextel says it will cost $815 million, but the FCC is asking for a $2.5 billion dollar letter to credit to ensure that they have adequate funding.  The reconfiguration will provide a much needed boost to vendors and contractors, but the national impact is still being weighed, especially now since Sprint and Nextel have agreed to merge A costly and time consuming lawsuit against the plan was averted in early November when Verizon Wireless and Nextel Communications dropped their lawsuits against each other and Verizon agreed not to protest the FCC's plan. Industry analysts believe this will speed up the process and allow Nextel to announce its high-speed wireless data technology decision by early next year and build out its 3G network using the FCC's replacement spectrum. 
Other industry opportunities opening up
Carrier cap ex budgets are increasing significantly and an expansion in lease-up business for tower owners is improving their bottom lines. According to industry predictions, 10,000 to 12,000 new cell sites will be built in the next three years. These numbers will be increased as Nextel moves forward with the FCC-mandated 800 MHz re-banding. The Nextel rebanding could take as long as four years.
As users continue to increase their minutes of use (MOU), carriers must add capacity to their networks, requiring them to add new sites and expand their existing sites. Carrier capacity and coverage requirements are driving the increase in vendor and contractor business; 3G data throughput needs are also providing a needed boost following a stagnant two-year downturn.
Industry commentators at the October PCIA show in Dallas were estimating a 20 to 30% increase in construction business for the industry based upon carrier and owner predictions.
The last 10 months haven't been kind to some vendors and contractors. T-Mobile's and Cingular's unexpected project holds resulted in suppliers sitting with excess inventory and site kits, and contractors scrambling to find work for their crews. A number of businesses were forced to close offices as a result of the slowdown.
Cingular opportunities no longer on hold
With the October 26 blessing of the U.S. Justice Department and the Federal Communications Commission, Cingular completed its acquisition of AT&T Wireless, creating the nation's largest cellular telephone company. Cingular shot out of the gate within days extolling the benefits of the union, focusing upon the number of sites and coverage they will be able to provide the user. The wireless infrastructure industry will be seeing additional opportunities as a result of the marriage that employs two different network cultures.
Cingular's network is largely GSM -- Global System for Mobile Communications -- while AT&T's is mostly TDMA, Time Division Multiple Access. Phones that work on one system won't work on the other and, because of frequency differences, some AT&T Wireless customers with GSM phones will still have to get new phones.
On the other hand, some AT&T Wireless customers have been on both networks for the past several months -- seeing "AT&T" on their phone screens sometimes, "Cingular" at others. In the short term, this will occur in more cities as Cingular allows "home-on-home" roaming as the two networks are reconfigured.
As Cingular reassesses its coverage footprint, some sites will be decommissioned, but new sites will be added and existing sites will be changed over to accommodate the reconfiguration. Some equipment shelter manufacturers have seen a marked increase in orders from Cingular.
Verizon's NextWave bid bodes well for industry competition
Verizon Wireless will add considerable spectrum in a number of top markets following their acquisition of bankrupt NextWave Telecom's licenses in an agreement announced earlier this month. Once the deal receives government approval as well as approval from NextWave's bankruptcy court, Verizon will gain 1.9 GHz spectrum licenses covering 73 million potential customers in 23 markets. The licenses include 20 megahertz of spectrum in New York, Boston, Baltimore and Washington, D.C., as well as 10 megahertz of spectrum in in an additional 19 markets including Los Angeles, Portland, Denver, Detroit and Philadelphia.
The new spectrum in key markets will assist Verizon in competing with Cingular Wireless which eclipsed Verizon as the nation's largest carrier following it recent acquisition of AT&T Wireless Services.
Washington, DC 20590-0001.


Copyright © Wireless Estimator, Inc. Please request reprint permission.