Minimum increase possibly 17%
Six year copper high forcing wireless manufacturers to immediately raise pricing
April 26, 2006 - During the past two months, wireless manufacturers and distributors knew they were going to have to raise their pricing on products that required copper. Many of them were cautiously viewing their competitors' price lists to identify what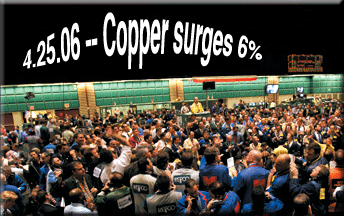 increases were being published. Others were holding out until they could assess if copper prices had peaked and were ready for a cyclical downturn.
Yesterday, the question was no longer, should they increase their prices, it was how quickly can they, and what percentage would be palatable as copper soared more than 6%, the most in more than six years. Threats to supplies from Chilean and Mexican mines prompted near-term copper futures in New York to jump 19.5 cents to a record $3.41 a pound.
One year increase tops 60%
During the past month, copper has increased more than 30%. This year it has climbed a staggering 62%, according to the New York Mercantile Exchange. However, this isn't news to the purchasing agents of manufacturers of transmission lines, ground bars, ground wire, bulkheads and other tower site products. They've been carefully watching the dramatic increases. Manufacturers of transmission lines are suffering some of the greatest increases due to the majority of their product being a copper jacket.
A transmission line manufacturer last month had increased their pricing approximately 10-15%; however, the recent surge in copper in the past weeks will probably see additional increases. Inventory control and management of raw goods will assist manufacturers to remain more competitive in an industry that has seen coaxial cable prices drop so much during the past three years that "it has almost become a loss leader," as one major manufacturer's executive described it.
Many manufacturers have held off on increases, but are now looking to raise their prices as much as 28% on some products. The lowest increase WirelessEstimator.com found was 17% from one manufacturer on their ground bars and associated tower products that require a greater percentage of copper to fabricate. Items such as copper clad ground rods, exothermic welding material and other products that do not require much copper in their manufacture are seeing slighter increases.
For multiple projects or large orders, many manufacturers and distributors are
requesting that their customers call for current pricing and not rely upon dog-eared price lists that may be outdated.
"I know we're going to have price increases, but we haven't received them from our suppliers yet. We're expecting them this week," explained one major industry distributor sales manager. He cited increased transportation costs due to rising fuel prices as an added burden for the purchaser.
Coppers were called
The rising cost of copper has created a new cottage industry - albeit illegal - individuals stealing copper products from cell and other communications sites.
During the past few weeks 12 Cingular towers have had their copper buss bars stolen, according Paul Childers, who is charge of the 50-plus cell phone towers in the greater Charlotte, NC area. Many other carriers have contacted authorities with similar thefts in other states. Childers says Cingular is considering an alarm system for its towers. A few people have already been charged with stealing copper bars from towers in upstate South Carolina.
Some thieves are quite brazen. A Florida carrier's cell site technician was called out to a tower site last month to identify why transceivers were malfunctioning. He didn't have to follow any equipment test procedures after noticing that transmission lines were stripped off the tower and cut off at the entry ports.
During the past six months, according to a contractor providing tower maintenance services in the Atlanta, GA metro area, as many as 50% of carrier sites are seeing copper being pilfered from tower compounds. There have been some instances reported where equipment shelters were stripped, but there was no indication of forced entry, indicating that carrier employees or contractors with access to the shelters may have been responsible.
Police have arrested many people throughout the nation who have been caught in the act of stealing buss bars and transmission lines. Many of them were arrested on site as they descended the tower with climbing gear and tools to assist them in removing the coaxial cable.
Childers joins the many carriers and tower site owners that are turning to site monitoring companies to protect their tower assets. The copper content loss is negligible to the carriers compared to the cost to re-install the equipment. Customer inconvenience is an even greater concern when a cell site goes down.
Copper scrap prices are also increasing, making it more profitable for those stripping cell sites. According to Consolidated Scrap Resources of Pennsylvania, today's price for #1 copper scrap, the designation for ground bar material, is $1.30 per pound. Ground bars, can run between four and 12 pounds or more. Pricing varies throughout the country with #1 copper scrap being salvaged at as high as $1.90 per pound.
Where is the top?
Experts can not identify at what price copper pricing will level off. Unlike previous years in the copper market where prices would drop back substantially from record highs, they do not see that happening, finding it somewhat analogous to gas prices.
China is one of the most powerful economic engines, shanghaiing suppliers to provide all the copper supply they can get. Japan's economy is also coming back, and the U.S. economy is growing stronger, adding to the increased demand for copper.
The U.S. housing boom has lifted copper demand, too. Building accounts for 46% of all U.S. copper use - the average single-family home uses 440 pounds. The wireless industry is also a leading consumer of copper for its transmission and grounding systems.
A 7/8" coaxial line contains about .27 pound per foot. The 1-5/8" line weighs in at approximately .85 pound per foot. A three sectored, nine antenna cell site at 175' would require approximately 1,338 pounds of copper. Add a 300' guyed tower with 4/0 stranded (.53 pound per foot) ring and radial grounds, with a bulkhead, ground straps and buss bars, and the site can exceed a ton of copper.
Most contractors want to clear out excess inventory sitting in the back of one of their storage bays, but if they didn't get rid of their surplus copper from last year they have probably beaten their stock portfolio this year.