Carrier's rural vision dashed, leaving contractors and suppliers holding over $86 million in claims
June 15, 2009 - Two years ago, Crossroads Wireless, headquartered in Oklahoma City, Okla., began building out their network with ambitious plans to offer mobile
voice, data and high-speed broadband products via a long-term roaming relationship with Sprint/Nextel and by using their own FCC licenses.
When fully built out, Crossroads said they would be the 11th largest 850 / 1900 MHz wireless carrier in the U.S. in terms of population covered.
The carrier's initial launch was scheduled for the first quarter of 2008 and its network was expected to quickly grow to cover rural Americans in over 34 states. Contractors and suppliers were anxious to be part of the build-out and embraced the opportunity.
When the $7.2 billion for broadband in the stimulus fund was announced, it might have appeared to some industry analysts that Crossroads was visionary in providing services in markets that catered to underserved areas.
It now appears that Crossroads was neither farsighted nor financed, and along with reported management problems, its rollout started showing cracks in 2008.
Earlier this year, Crossroads had been launching its broadband service in Pontotoc and Verona, Miss.; Hoxie and Harrisburg, Ark.; and West Plains, Mountain View and Willow Springs, Mo., according to the company.
But Crossroads was on borrowed time, and revenues that Crossroad would receive would be too little and too late to help the floundering carrier.
In late 2008, the stockholders of Crossroads Wireless tried to stave off a growing number of threatened lawsuits and non-delivery issues with irate vendors by stating that they were working through a funding solution with an area concept for development that had been approved by Sprint, whose spectrum they leased, and others that they believed would attract investment.
Patience of creditors wears thin
"We know you have been patient, but ask further indulgence as we identify solutions over the next few weeks. We will be in contact with an update on the progress of this plan," Crossroads Wireless said in its October 28 letter to vendors.
The 34 stockholders, mostly local exchange carriers, said that they still believed in the project and were "highly motivated to see it succeed".
But it appeared that Crossroads Wireless CEO Thomas Riley already knew that the venture was incapable of continuing operations when he cut over half of the work force in October, and In early November, another 35 were let go by email , leaving a skeleton staff to try and manage the already impaired operation.
Crossroads Wireless's 20 Largest Unsecured Claims

(Provided by Crossroads Wireless as of February 20, 2009)

Name
City
State
Total
Eastpoint Industries Inc.
Arkansas City
KS
2,648,870.76
Ramaker & Associates Inc.
Sauk City
WI
2,441,494.50
Dell Computer Corp
Dallas
TX
1,346,615.29
ADC Technolgies Corp
Rockville
MD
1,186,935.00
Compass Technology Services Inc.
Acworth
GA
1,183,600.00
Synergy Partners
Roswell
GA
1,173,700.00
VelociTel Inc.
Chicago
IL
802,625.00
Nortel Networks, Inc.
Chicago
IL
738,066.26
Transtector
Philadelphia
PA
638,714.37
Overland Contracting In.
Kansas City
MO
630,432.97
SiteExcell LLC
Little Rock
AR
574,850.00
Radio Frequency Systems
Charlotte
NC
516,192.75
CLS Group Inc.
Edmond
OK
498,357.00
Powder River Development
Laramie
WY
460,500.00
RYMSA Wireless
Merrimack
NH
417,578.10
A&A Communications, Inc.
Mount Ida
AR
358,191.00
Sabre Communications Corporation
Sioux City
IA
356,240.88
AT&T
Dallas
TX
309,682.37
Primal Technologies
Mississauga
ON
291,767.40
Amphenol Antel Inc.
Chicago
IL
271,427.75
TOTAL:
16,845,841.40
Exhausted by broken promises of payment, Sabre Communications Corp., Ramaker and Associates, Inc., and Overland Contracting, Inc., a Black & Veatch subsidiary, joined together and filed an involuntary petition (here) under Chapter 7 of the United States Bankruptcy Code on February 13. Their total claims were in excess of $4.8 million.
Ramaker and Associates, a Wisconsin-based development firm providing environmental site assessments, site surveys, NEPA filings and other pre and post-construction services, had the highest claim: $2,601,268. Sabre Communications was seeking payment of a judgment previous awarded to Cellxion Wireless, a division of Sabre Industries, Inc.
On February 25, an order for relief was entered by Crossroads LLC, and the bankruptcy court on that date converted the case to a Chapter 11 filing, allowing Crossroads to reorganize.
Crossroads identified in their list of personal property (here and here) a total asset value of $61,412,651. Creditors holding secured and unsecured claims (here) totaled $86,764,013.
The last date that a claim can be made against Crossroads is July 10.
Company's continuation nixed, auction approved
The United States Bankruptcy Court for the Western District of Oklahoma reviewed a joint motion by Crossroads Wireless and the court appointed committee of unsecured creditors, recommending a sale of substantially all of Crossroads' assets and approved their plan on June 1.
The court ordered that an auction for the Crossroads's assets will be held on July 21 at 10:00 a.m. (central time) at the offices of Crossroads' counsel, Mock, Schwabe, Waldo, Elder, Reeves & Bryant, 211 North Robinson, Oklahoma City, Okla.
The creditors committee had agreed to auction off the assets in three separate categories.
The first bucket will include the rights and interests in any or all of the Crossroads's FCC licenses, as well as  FCC Licenses of Crossroads License Holding Sub A Inc., a non-debtor unaffiliated entity.
The second category will include Crossroads's 26 telecommunications towers (here); and the third group will be two Commnet 850 MHZ licenses.
Interested parties may bid on any asset in any group as part of a bid for substantially all of Crossroads' assets, or any portion thereof.
The sale of the Commnet Licenses may be subject to regulatory approval. Velocitel, Inc. is claiming that they have a security interest in an FCC license. Radio Frequency Systems, Inc. also claims an interest in certain FCC licenses.
The auction will be a sealed-bid, multiple-round auction.

Lease auction date and guidelines not set
On March 10, Crossroads said that the company had approximately 2,000 property leases (here and here), but the bankrupt firm said it has reviewed these leases and on May 27 asked the court to reject 196 of them (here).

Crossroads said that those leases are of no value to the estate, not essential to any reorganization considerations and are an unnecessary expenditure of their limited resources.
In conjunction with its analysis of those undesirable leases, Crossroads said it has reviewed and analyzed fixtures and equipment on those sites and the value is inconsequential and they would like to abandon the equipment in lieu of removing it.
Crossroads said that if the leases are not rejected, they would be a continuing cost to the estate for accruing rentals.
The bankruptcy court agreed to pay three of Crossroads's executive managers a salary and bonus to assist until the bankruptcy was completed.
Lack of capital and management blamed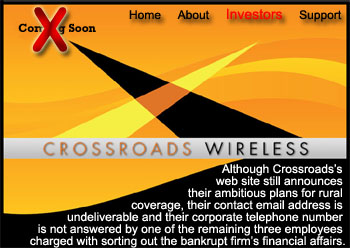 Crossroads was shut off in the capital markets, but a number of employees and contractors believe that the carrier's management played a role in the company's collapse.
Poor project management was oftentimes cited by people intimate with the build-out as a contributing factor in Crossroads' inability to roll out the project on time. In addition, they say, the company tried to deploy thousands of sites simultaneously and should have concentrated upon achieving revenue bases in a couple of states before dedicating money and resources throughout the country.
Backhaul problems were also cited as well as CEO Riley's micromanagement that slowed development efforts.
Prior to Crossroads Wireless, Riley held a dual position as President and CEO of Southwest PCS, one of the original start-up Sprint PCS affiliates, until it was merged into Alamosa PCS. He is a past President of the Oklahoma Telephone Association and is a member of the Oklahoma Telephone Association Hall of Fame.
Riley was the executive vice president of Chickasaw Holding Co., which has nine affiliate companies including Chickasaw Telecom. A spokesperson for Chickasaw said that Riley had retired from that position earlier this year and was not available for comment.
SpectraSite was industry's largest bankruptcy
The wireless carrier and tower development industry hasn't witnessed a major bankruptcy since SpectraSite Holdings, Inc., one of the then largest wireless tower operators in the US, filed for voluntary bankruptcy in November of 2002 after the collapse of the telecommunications industry and tightening of capital markets in 2001.
However, the Chapter 11 plan involved a restructuring of only the debt and equity securities of the Cary, North-Carolina-based company, which was a holding company without any business operations of its own. Lenders took a reorganization haircut of $1.8 billion.
SpectraSite Communications, the operating subsidiary, was an independent legal entity that generated its own cash flow and had access to its own credit facility.
SpectraSite Communications was able to continue to operate normally and without interruption, and its customers and creditors were mostly unaffected, although common share stockholders of SpectraSite Holdings, Inc. lost the full value of their shares.
SpectraSite remerged from Chapter 11 bankruptcy reorganization 74 days later as a slimmer, less-indebted tower consolidator under the name of SpectraSite Inc.
In 2005, American Tower Corporation snapped up SpectraSite in a deal that was valued at $11.3 billion.