Emergency Action Plan seen as an industry tool that will cut hours and advance jobsite safety
January 27, 2010 - A new Jobsite Emergency Action Plan form released today will shave many hours of research and administrative time required to complete the OSHA required document,
according to over forty company safety and project management representatives that beta tested it for over two months. It could also help to save a life.
Federal and state OSHA officials, who reviewed the program and gave it high marks for its capability to advance safety, noted that their inspectors appreciate seeing emergency response information, in addition to the required telephone numbers on a work site.
The lightning-quick Emergency Services Locator easily populates the nearest acute care hospital along with a travel route with a map and contact information for local fire, police and sheriffs' departments.
Optional entry fields are available for company personnel and their training certifications as well as other frequently included information appearing on company JEAPs.

Beta testers welcome its release
"Our PMs and administrators in our eight offices tested it and were amazed at its ease of use and accuracy," said Bruce Budagher, Executive VP/Owner of Data Cell Systems, one of the country's larger wireless contractors with over 80 field personnel.
"Although this will surely cut down the thousands of hours a week the industry spends to roll jobs, I believe the biggest advantage this program provides is its ability to possibly save a life."
"I can assure you. There are many companies that do not provide this emergency information for every job their employees are on. This now takes only minutes so there should not be any excuse for not having it readily available," Budagher said.

Don Espach, Manager - Safety and Health for Andrew, A CommScope Company, also gave high marks to the program.

"Great job! This is a remarkable program which will be a great asset to the tower industry. It makes it easy for any company to collect and make available crucial, and potentially life-saving information to crews on job sites," Espach said.

In a beta test questionnaire, respondents said that it typically took an average of 17 minutes to accurately identify the jobsite location in addition to the emergency contact information and transfer it to their company form. Once they were familiar with the WirelessEstimator.com program the average reported time was less than five minutes.
When the form is completed it can be easily mailed as a PDF to employees requiring the document.

Identifying an accurate address is made even easier
A random sampling of over 8,000 database addresses from tower companies identified an address error rate of almost 31%.
However, at times the towerco's address contained no errors and Google was unable to identify it, but Yahoo Maps located and accurately plotted the address. There were times where Google's ability to locate an address outperformed Yahoo.
To greatly reduce the error rate, WirelessEstimator.com's advanced mapping system uses both Google and Yahoo resources to identify a correct address. Bing's digital mapping data partner is the same firm used by Yahoo Maps, NAVTEQ.

Here are the friendly alternatives if address requests just say no!
If on occasion you're not successful with your client's address, and you know where the site is located on a map, all you have to do is move the navigator's tower icon to that location and you will receive the closest available address that can used for your JEAP.
Or, simply enter the latitude and longitude of the site.
Although a latitude and longitude search will provide the most accurate visual sighting of the jobsite, don't be confident that the returned street address is correct since reverse geocoding is not an exact science and the addresses provided by Yahoo, Google and Bing, can sometimes be up to a mile apart and even in a different zip code or community.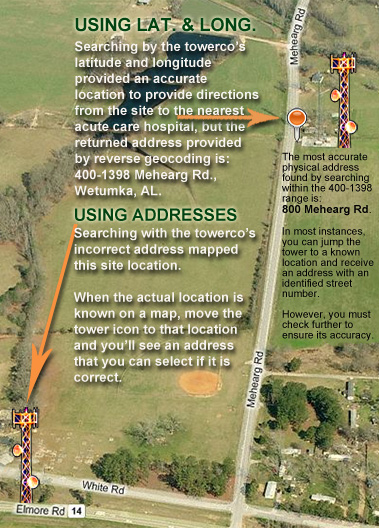 As identified in the picture at right, a towerco is providing its contractors and tenants with an incorrect address for an Alabama tower. However, the latitude and longitude provided by the towerco correctly places the locator's tower icon almost directly on top of their self supporting tower, and directions to the nearest acute care hospital will be mapped from this site.
Nevertheless, the reverse geocode can only provide an address from 400 to 1398 and a more accurate street number will be required.
When jumping the tower to where the worksite is located, place it at a known road entrance. Otherwise, locating the tower icon directly on top of the jobsite will provide a latitude and longitude - although correct for the project location - that might return a street address that is closer to an adjoining road where there is no vehicular access.