Emergency module becomes program of choice for industry's wireless contractors
August 17, 2010 - Just six months after its introduction, WirelessEstimator.com's Jobsite Emergency Action Plan has become the preferred communications safety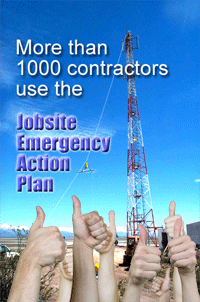 tool for more than 1,000 contractors throughout the nation.
The lightning-quick emergency services locator easily populates the nearest acute care hospital along with a travel route with a map and contact information for local fire, police and sheriffs' departments.
With thousands of jobs being rolled every week, contractors were expending an inordinate amount of time to meet OSHA requirements to provide resources for emergency services and first aid. Most importantly, however, information being obtained through web searches oftentimes contained inaccurate results.
Last month WirelessEstimator.com asked viewers to provide comments regarding their user experience with the safety module and we were overwhelmed with the response from dozens of companies.
Many of their remarks are appreciatively shown below.
Improvements are continuously being made to the module based upon the valuable suggestions of the program's users.
A hybrid mapping system within the program uses both Google and Yahoo resources to identify a correct address. Bing's digital mapping data partner is the same firm used by Yahoo Maps, NAVTEQ. 
.