FAA's 7/8" deletion places lighting compliance burden on tower owner's and FCC's interpretation
July 2, 2007 - Without any fanfare last February, 18 changes were made to the Federal Aviation Administration's Obstruction Lighting and Marking Advisory Circular, AC 70/7460-1K. The majority were comprised of editorial housekeeping corrections such as changing website addresses and incorrect punctuation.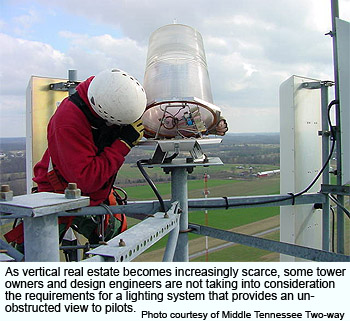 One revision specified that the number of light levels recommended for communications towers with high intensity lighting depended upon the height of the structure, "including" antennas and similar appurtenances. The previous AC stated that it "excluded" antennas and other accessories.
The very last change, pertaining to a diagram of medium intensity lighting for the top of towers, said: "Verbiage removed under first structure."
What the FAA deleted from the former advisory circular drawing, referencing medium intensity lighting systems (L-864 or L-865 or a combination of both) for towers up to 500-feet, stated: "Obstruction light should be mounted above all appurtenances excluding anything less than 7/8-inch (2.2cm) diameter."
Obstruction lighting professionals who monitor the advisory and who were instrumental in advising the FAA to make many of the changes that became effective following Revision K's sweeping overhaul of the 1995 Revision J advisory circular, said the 7/8-inch rule was introduced to allow lightning rods to be placed upon the top of the tower, above the lighting system and to allow small whip-type antennas to exceed the top of the tower and have lighting systems still provide unobstructed 360-degree coverage.
Obstruction size muddied by deletion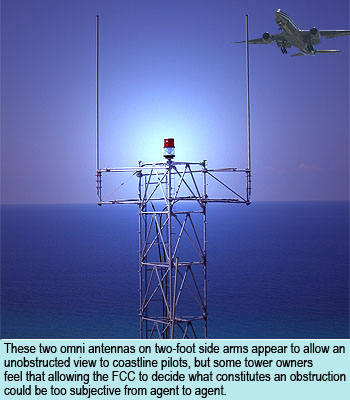 "At least it was clear and defined as to what an obstruction is," said one lighting manufacturing executive who couldn't understand why the change was made. He is concerned that the absence of guidance will create FCC enforcement problems.
"Now it is up to the tower owner and it is totally vague. With the 7/8-inch rule the owner of the tower knew exactly what could be placed on the top, and although some might have had some slightly larger obstructions, there was a clear understanding of what could and could not be installed," he said.
Although the FAA's lighting and painting standards are advisory in nature, the Federal Communications Commission is the enforcement arm of the government and has adopted the FAA's standards, making them mandatory.
More confusion than clarity
Air traffic control specialist Ellen Crum of the FAA's Airspace and Rules Group said the 7/8-inch obstruction guidance was deleted because it was felt that the comment underneath the drawing provided more confusion than clarity.
"We could not find a really good solid reason for having it in there," she explained, identifying that throughout the advisory circular it states that lighting must be unobstructed.
Although she said that there are no standards to identify what diameter a structural member, antenna or accessory would have to exceed before it obstructed an obstruction light, she did say that tower owners should take a common sense approach. "If it's conspicuous to an aircraft pilot then it is not obstructed," she said.
Concerned about the industry's litigious landscape, a major tower owner's site development manager said he was more comfortable with the 7/8-inch rule to use as a baseline. "What the change has affected is placing the burden upon the tower owner to make the decision as to what will or will not obstruct the tower's lighting," he said.
"It's not going to be recommended by a lighting manufacturer and it's not coming from the FAA. And I can assure you that if there ever was an accident where an aircraft hit a tower you can bet that the attorneys would say that the tower owner was at fault because the pilot could not see the obstruction lighting, even if it was fully operational."

Providing only a minimal obstruction, most tower owners will provide a lightning rod terminal that is a threaded 5/8" copper clad ground rod that extends above the top strobe light.

A Virginia program manager said that the previous 7/8" rule was somewhat ambiguous because it did not clarify how far the obstruction must be placed away from the light. He also questioned what pilot's view the FAA was considering.

"Are we talking about a 747 pilot looking at it from a high altitude or a crop duster who might be flying parallel to the light," he said.

No financial forfeiture in past four years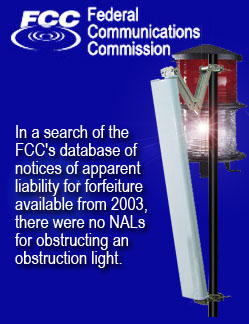 A veteran FCC enforcement bureau agent said he wasn't aware that the 7/8-inch rule had been removed from the circular. He said he never had an enforcement issue where a tower owner obstructed the view of the lighting on the structure. "Primarily we look at whether the lighting system is operational," he said, agreeing that whether or not something was obstructing a light might be too subjective.
In a search of the FCC's database of notices of apparent liability for forfeiture available from 2003, there were no NALs for obstructing an obstruction light.
"There are tower owners that know they might be obstructing their medium intensity light, but will not spend the extra $4,000 to put a second strobe at the top of the tower to make sure they're not in violation," said a Gulf Coast contractor that has numerous lighting maintenance contracts throughout the Southeast."
Public safety communications finds ten inches acceptable
Public safety radio service operations oftentimes install large diameter antennas such as a Celwave-Bogner-type-antenna in front of a single obstruction light at the top
of the structure, say contractors who build and maintain their towers. Although public safety communications engineers are aware of antenna diameters being as much as 10-inches or more, they request a single light at the top of a tower up to 500-feet instead of providing two lights that would provide an unobstructed view to pilots - if it is identified by the FCC that 10-inches is an obstruction.

A seasoned public safety communications consultant told WirelessEstimator.com that he is aware that some radio system vendors will specify a tower with a single strobe light at the top of the structure, with antennas possibly interfering with a 360-degree unobstructed view, but he could not identify what diameter obstruction would violate the intent of the advisory circular.
However, he said that the end user is still responsible for complying with all FAA and FCC requirements. "The owner is spending millions of dollars on their system and should have a reasonable expectation that it is being constructed correctly," he said.
"They should know the basic academic rules. If you don't take responsibility for the work you have being done, shame on you. It's as simple as that," he said.

Manufacturer says it's the customer's call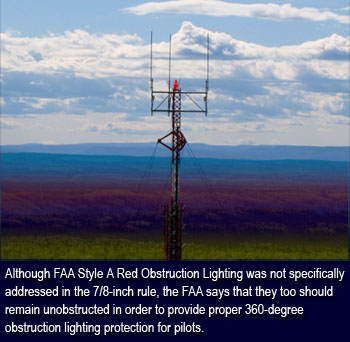 Tower manufacturers will oftentimes provide a single light at the top even though they designed the tower for antennas at the top of the structure that could possibly be considered as an obstruction and would require two beacons. "Based upon what the customer requested in their RFQ is what we provide," said a sales representative.
He, like many people in the industry who are restricted from talking to the media by company policy or are concerned that their comments could result in client conflicts, requested that his name not be used.
"We would let them know if it was a clear violation such as not providing high intensity lighting if the structure is over 500-feet, but we do not have any knowledge of what tower lighting the FCC approved or if it was approved at all," he said. "Also, a lot of times the design doesn't necessarily indicate what is going to be installed on the tower and it could be future loading which would only require a single strobe at the top," he explained.

Cell tower owners are also maximizing their vertical real estate and allowing carriers to install their antennas at the top of the tower, nesting a single light below or placing it on one leg of the tower or between two sectors on a mount. A three-sector panel antenna array could have as much as 96-or-more-inches obstructing the light, but it would not be evident from looking at the strobe light at ground level.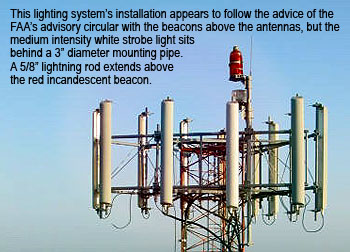 "What I find incongruous - change that to ludicrous - is the FAA requires obstruction lights to meet highly technical standards in the amount of candelas required, and all of the equipment has to be tested and certified," said a lighting distributor's representative, "but they're now allowing the purchaser and FCC to subjectively decide what will interfere with the proper operation of that system."
One lighting manufacturing executive is concerned that the deletion of the 7/8-inch rule might provide further nesting of their light and possibly provide an environment for antenna system noise or create conflicts with their lighting systems.
"Whenever we have had complaints in the past, what we have typically found is that the noise is coming from an incorrectly spliced cable," he said, but questioned whether 4G smart antennas and other technology changes might be affected due to their close proximity.
High intensity lighting levels at same configuration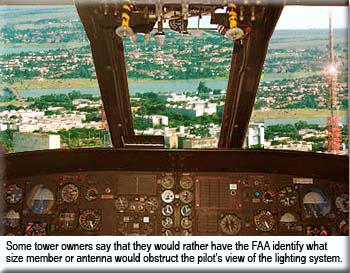 The marking and lighting advisory did not change the lighting configurations for high intensity lighting which requires one level of lights (three on each level) to be installed at the highest point of the structure. If the highest point is a rod or antenna incapable of supporting a lighting system, then the top level of lights are required to be installed at the highest portion of the main skeletal structure.
When guy wires come together at the top, it may be necessary to install this level of lights as low as 10 feet (3m) below the top, according to the advisory.
If the lightning rod or antenna exceeds 40 feet (12m) above the main structure, a medium intensity flashing white light (L-865) should be mounted on the highest point. If the appurtenance, such as a whip antenna, is incapable of supporting a medium intensity light, one or more lights should be installed on a pole adjacent to the appurtenance.
The adjacent installation should not exceed the height of the appurtenance and be within 40 feet (12m) of the top to allow an unobstructed view of at least one light.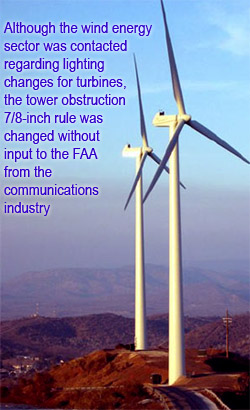 Priority was wind turbine lighting
Unlike ANSI/TIA/EIA 222 and other standards which are required to be reviewed and revised on a periodic basis, the FAA's marking and lighting advisory is changed only when the FAA believes there is a need to address concerns. The last changes to the advisory were made almost seven years ago.
Crum said that the most recent changes were driven by the need to address wind turbine lighting, an industry that has increased significantly in recent years. A new chapter on the marking and lighting of wind turbine farms was added after contractors and manufacturers requested further guidance and residents asked for the structures to be as unobtrusive at night as possible.
Wind energy business people were contacted by the FAA to provide their input in order to present a workable lighting scheme for the wind turbines. The communications sector was not contacted regarding the changes that effect tower lighting, Crum said.
However, she explained that the FAA is very fluid and will revise the advisory circular if there is enough industry concern for a more finite clarification of what size member, antenna or accessory would obstruct an obstruction light.
Your comments and suggestions should be addressed to: Edith Parish, Manager FAA Airspace and Rules Group, 800 Independence Ave., Room 423 AJR3, Washington DC 20591.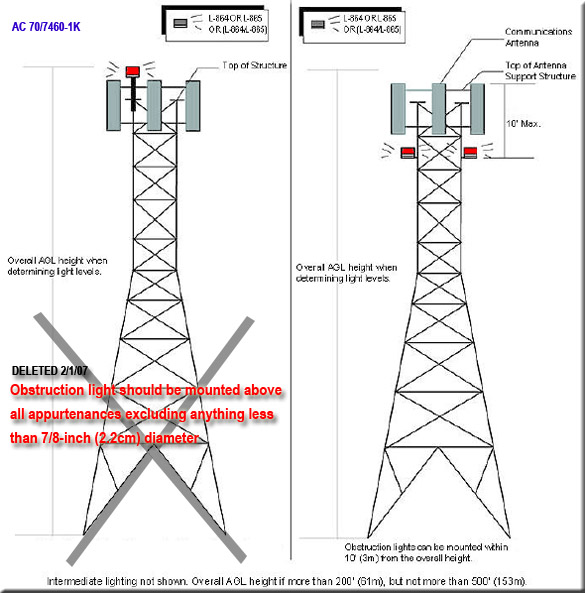 For additional information on obstruction lighting and to easily locate the vendors and installation contractors for these products, please click here.