WiFi contractors, suppliers and consumers are winners in Boston's Logan Airport dispute
November 4, 2006 -- The Federal Communications Commission (FCC) has ruled in favor of airlines running private WiFi hot spots at public airports, settling a dispute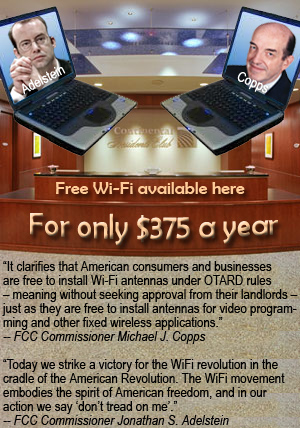 between Continental Airlines and the Massachusetts Port Authority (Massport), but having wider implications for broadband accessibility in office complexes, shopping malls and other locations.
The 23-page decision is being lauded by many businesses, carriers, equipment suppliers and tower erection contractors who are expanding their capabilities to provide crews that are capable of providing WiFi backhaul and installation services.
Although Continental offers the free service, it is only available to its President's Club members who pay $375 per year for the privilege.

American Airlines has already said they will resume offering WiFi at its Admirals Club lounge. T-mobile, which American would most likely use, charges $6 per hour.

Logan's service is $8.00 per hour. JetBlue Airways is looking into providing free service.

Massport wanted exclusivity
During 2004, Continental installed a wireless access point in its President's Club lounge at Logan Airport in Boston. The WiFi system used a pre-existing T-1 line and enabled passengers and certain Continental employees to access wireless internet services.

However, a year later Massport demanded that Continental remove the WiFi system on the basis that it was prohibited by the terms of Continental's lease and the airline should only use Massport's exclusive carrier instead.
 
Continental replied to Massport that the provisions of the lease prohibiting the WiFi system could not be enforced because of the FCC's  Over-the-Air Reception Devices (OTARD) rules. But Massport argued that federal rules do not apply because of the availability of an airport-wide WiFi backbone installed by Advanced Wireless Group (AWG) under contract with Massport.
Massport also asserted that Continental's WiFi system was a potential source of interference to other communications including public safety communications.   But the standards for protection against interference on unlicensed spectrum, where WiFi networks reside, aren't as strict as those on spectrum licensed for public safety purposes, the FCC said.
"It's an important tradeoff, and a critical one," Commissioner Jonathan Adelstein said in a statement. "WiFi users can freely deploy their networks in areas under their control, but, in return, must accept interference from other WiFi operators."
"Today's declaratory ruling reaffirms the Commission's dedication to promoting the widespread deployment of unlicensed WiFi devices. It clarifies that American consumers and businesses are free to install WiFi antennas under our OTARD rules - meaning without seeking approval from their landlords - just as they are free to install antennas for video programming and other fixed wireless applications," FCC Commissioner Michael J. Copps said in a statement.
 
Massport's policy could have established a dangerous precedent for landlords forcing tenants to buy landlord-controlled WiFi service.
The FCC's ruling was a big win for anyone looking to provide wireless broadband service in public or quasi-public places. However, the WiFi provider will still need the landlord's permission to be on the property. Tenants with leases will be able to provide their own service.
Although Copps said that WiFi providers would not have to seek approval from their landlords, it is doubtful that his comments could be construed that WiFi tenants on existing towers would be able to provide additional equipment without approval from the owner and an appropriate fee for the additional antennas and lines, say site leasing agents.
A lesson from another Carrier
Many companies are discovering that they are no longer able to use WiFi to separate their firms from their competition and free WiFi service is becoming more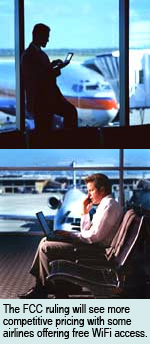 commonplace, such as Jet Blue's announcement that they are considering free service at Logan. The airline currently offers free WiFi at John F. Kennedy International Airport in New York and the Long Beach, California, airport.
In 1924, the boom in human cooling spread from the department stores to the movie theaters, most notably the Rivoli Theater in New York, whose summer film business skyrocketed when it heavily advertised the cool comfort provided by Willis Haviland Carrier's centrifugal chiller. The theatre was able to extract higher ticket and concession prices. The additional revenues were short lived, however, after competitors quickly followed suit as patrons became accustomed to expect a cool and comfortable environment.
Some road warrior WiFi users are eager to pay a $30.00 monthly charge for unlimited hot spot usage or $8.00 a day. But hot spot revenues might chill as PDA and laptop users come to expect reduced or complimentary access offered by a growing number of companies who want to offer another entrepreneurial carrot in addition to air conditioning.