Florida's wireless group readies September 6  second annual golf tournament in Celebration
August 7, 2007 - The Florida Wireless Association will hold its 2nd Annual Charity Golf Tournament to benefit Make-A-Wish Foundation on Thursday, September 6, 2007 at the Mystic Dunes Golf Club, 7850 Shadow Tree Lane, Celebration, Florida.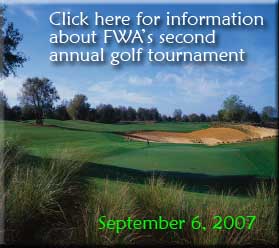 Registration begins at 8:00 a.m. Tee off is promptly at 9:00 a.m. For great sponsorship opportunities and player information, visit their Charity Golf Tournament website at:  www.fwa.golfregistrations.com
Your company can be the sponsor of the association's "World's Longest Beer Golf Cart" - there's only one so first come, first served.  Drinks are included in the sponsorship fee. Prize donations are gladly accepted by the association.
For more details on the tournament or sponsorship, contact Traci Clancy @ 954-732-4475 or Martha Penton @ 813-781-6809.
Also, you are invited to join your golfing friends and associates the night before at an industry-wide non-denominational happy hour.