Florida Wireless Association's Bucs/Falcons game event to benefit Make A Wish Foundation
June 19, 2007 - The Florida Wireless Association in conjunction with the Make A Wish Foundation is inviting its members to participate in the largest NFL pre-game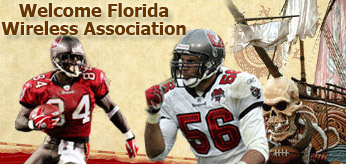 event in Florida, the Tampa Bay Buccaneers' 2007 tailgate party where the Bucs will be pitted against the Atlanta Falcons on Sunday, December 16, 2007 at the Raymond James Stadium, Tampa.

The price per ticket, $200, includes the game ticket, access to the tailgate zone and festival tent, picnic style seating, and a fully catered "all you care to eat and drink menu".

Tickets are limited to only 50 seats and, according to Traci Clancy of the wireless group, they will be on a first come, first served basis.

For additional information, contact Traci at tclancy@gtpsites.com or call her at 954-732-4475. Checks should be made payable to the Florida Wireless Association and sent to the organization at 1801 Clint Moore Road, Suite 110, Boca Raton, FL 33487.