National media will investigate carriers
and contractors in "Cell Tower Deaths"
UPDATE: Frontline has unexpectedly rescheduled their program investigating tower deaths in America. They could not provide a date for a future airing. See: Frontline
- - - - - - - - - - - - - - - -
February 15, 2012 - Three years ago, NBC Dateline's "Tower Dogs" trafficked in sensationalism, depicting tower technicians as conflict-ridden, hard drinking workers building out the country's wireless networks.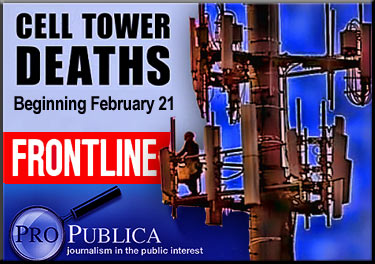 Last Tuesday, Dirty Jobs by Mike Rowe clearly rehabilitated that image when a tower erection project displayed the exacting procedures and equipment as well as the professionalism needed to perform a quality-driven safe installation.

But information is limited about the direction where PBS's Frontline and web-based ProPublica will take America on February 21 in their joint investigation, provocatively titled "Cell Tower Deaths".

Information in their promotional trailer identifies that, according to their interviews and research:
• Independent contractors who are building and servicing America's cellular infrastructure are 10 times more likely than an average construction worker to die on the job;
• Complex layers of subcontracting insulate the carriers against liability, despite the fact that they set the aggressive schedule that can force subcontractors to cut corners in order to meet deadlines, and those ambitious timeframes may be one of the reasons why workers are dying;
• A contractor can be cited by OSHA after a fatality and be given a minimal fine;
• There is a hidden cost that comes with the demand for better and faster cell phone service.
Training certifications and turfing firms might be explored
Industry managers interviewed for the joint investigation by the two non-profit media organizations have informed Wireless Estimator that the inquiry into industry fatalities might also explore training certifications and turfing contractors, based upon the questions they were asked.
The National Association of Tower Erectors' leadership has been aware of the ongoing investigation and a number of its directors are hopeful that the investigation will provide a positive effect upon the industry.
The upcoming Frontline program became a frequent topic of conversation at NATE's 17th annual conference in San Antonio, Tex. last week.
An executive with one of the nation's largest tower owners welcomed the national focus upon tower technician safety, stating, "If anyone gets a black eye out of this, it will get them back into fighting shape so that it doesn't happen again."
OSHA Assistant Area Director Raul Carrillo of the San Antonio District Office said he would be watching the Frontline piece when it airs next Tuesday. "It sounds like it might be interesting. I'm going to let my associates know about this as well," he said.
Carrier wants contractors to observe 100% media crawl protection
Providing a link to Frontline's promotional trailer, a turfing vendor said AT&T was apprehensive about the upcoming investigation and cautioned its contractors to avoid any media contact.
"AT&T is concerned that a Frontline investigation is being conducted to provide information for a program they will run later in February," a Black & Veatch Corporation turf director informed the firm's contractors on February 8 in an email.
The director cautioned that contractor employees should not provide any specific detailed information regarding their work or for whom they are working to any third party.
Contractors were warned that they should not allow their actions on site to be recorded on camera.

A media spokesperson for AT&T declined to comment upon the Frontline investigation or their vendor's request to their contractors.

AT&T relies primarily upon turfing firms to build out and maintain their mobile network such as Bechtel Corporation, Ericsson, NSORO, Goodman Networks and others.
Upon acceptance of their proposal, each site development management company is provided a geographical area identified by AT&T as their "turf".
Contractors working for the turfing companies have oftentimes complained that the large development companies will take a hefty percentage off the driver prices that AT&T provides them for project management, making it difficult to maintain profitability with an AT&T project.
Wireless Estimator has identified that the amount can be up to 45% or more.

NATE requests its members to join them on the sidelines
The NATE Board of Directors issued a news release yesterday stating that it was aware of Frontline's segment and was awaiting the full airing as well as ProPublica's articles before responding to any questions from the media.

According to Chairman Jim Coleman, NATE declined being interviewed "due to the nature of the questions provided by Frontline and ProPublica."

They did, however, provide a statement to both media outlets regarding the trade group's focus on industry safety and NATE's role in empowering members with tools to enhance their own safety programs.

"While we await the airing of the PBS Frontline segment and related ProPublica articles next week, we strongly urge our membership to reserve any comments to customers and vendors about the program until we get a better understanding of its content and message," Coleman said.

NATE also cautioned its members that any response they offer could be attributed to the entire organization.

"We ask that any opinions you may give are clearly attributed as such and you refer any inquiries involving NATE to the IR [Industry Relations] Committee and our public relations agency," Coleman said in his statement.

Since 2003, there have been 94 fatalities of technicians working on communications sites.

Two media heavyweights partner in fatality research
Although a Wall Street Journal columnist tried to identify whether tower climbers had the most dangerous job in America during 2006 in a 2008 article, and other media have cobbled together articles on tower technician safety, there hasn't been a serious investigation into what is universally recognized as an overly hazardous occupation.
Based upon previous partnerships with ProPublica, Frontline is expected to provide an in depth look at cell tower fatalities and the hidden cost that comes with ambitious deadlines required to build out America's cellular networks, and ProPublica will provide the research for the deep-content industry article.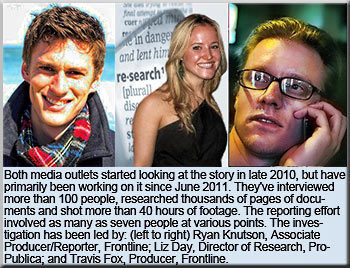 Ryan Knutson, an associate producer and reporter for the Frontline documentary, said they started peeling back the industry's safety concerns in late 2010, but primarily began working on it since June 2011.
Knutson said that more than 100 people have been interviewed on and off camera. They've read through thousands of pages of documents and shot more than 40 hours of footage for the program.
The reporting effort involved as many as seven people at various points during their investigation, according to Knutson.
Produced at WGBH-TV in Boston, Mass. and distributed through the Public Broadcasting Service, Frontline has been critically acclaimed and has received numerous Emmy Awards since the program debuted in 1983.
ProPublica was a recipient of the 2011 Pulitzer Prize in National Reporting and a 2010 Pulitzer Prize in Investigative Reporting.
The independent, non-profit news site produces investigative journalism in the public interest in conjunction with the nation's leading media.
Known for its legion of links to documents and reporting references for every investigation, ProPublica is led by Paul Steiger, the former managing editor of The Wall Street Journal.
The news organization began publishing in June 2008 and is supported by individuals as well as major organizations such as the Sandler Foundation, Carnegie Corporation of New York, Ford Foundation and the Bill & Melinda Gates Foundation.

The Frontline program will also look at people imprisoned for child death cases on evidence that that turned out to be unreliable or wrong. Some PBS programs will be broadcasting the wireless construction industry investigation on February 22. Check your local listings for dates and times for "Cell Tower Deaths".