Global Signal closes $1.2 billion Sprint tower transaction
May 27, 2005 - Global Signal, Inc announced that it has closed its previousl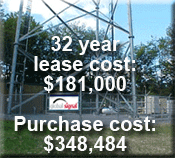 y disclosed transaction with Sprint Corporation under which Global Signal will have the exclusive right to lease or operate approximately 6,600 communications towers for 32 years. Under the terms of the transaction, Global Signal will also have the option to purchase the towers and certain related assets from Sprint at the end of the lease  term at a price of approximately $2.3 billion. At the closing, Global Signal paid approximately $1.2 billion in cash to Sprint for the transaction.

As the exclusive operator of the Sprint towers, Global Signal will take over existing collocation arrangements with tenants who currently lease space on the towers. In addition, Global Signal may sublease space on the towers to additional third party tenants. Sprint, whose Nationwide PCS Network covers more than 250 million people throughout the United States, has committed to sublease space from Global Signal on approximately 6,400 of the towers for a minimum of 10 years.

The towers are located in various major metropolitan areas throughout the United States, and further enhance Global Signal's exposure to markets in the western, southeastern and northeastern regions of the country. In particular, more than 75% of Global Signal's tower portfolio will now be located in the top 100 basic trading areas (or BTAs) of the wireless industry, with approximately 61% of all towers concentrated in the top 50 BTAs. In addition, substantially all of the Sprint towers' current revenue is derived from wireless telephony tenants, which will result in more than 80% of Global Signal's revenues being derived from wireless telephony carriers, government and investment grade tenants.

With respect to the transaction, Global Signal's Chairman and Chief Executive Officer, Wesley Edens, said "We are pleased to have completed this transaction, which marks a significant transformation for Global Signal, making us the third largest wireless communications tower company in the United States. We now have one of the best tower portfolios in the industry and expect the Sprint towers to have an accretive effect on our distributable cash flow in the third quarter of 2005."

David Grain, Global Signal's President, added "The Sprint towers deal has nearly tripled the size of our tower portfolio and has significantly increased our presence in strategic areas of the United States that have the strongest concentration of wireless traffic. This large transaction, along with our smaller tower purchases, continues to reflect our strong focus on driving dividend growth and shareholder value by accretively deploying capital."