Global Signal acquires exclusive lease rights for Sprint Sites' towers at $178,000 each
February 21, 2005 -- Sprint Corp. has confirmed earlier reports that Global Signal Inc. will pay $1.2 billion to lease Sprint's wireless towers and other structures for 32 years, with an option to buy.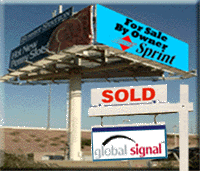 Global Signal, based in Sarasota, Florida, will have exclusive rights to lease and operate more than 6,700 communications towers from Sprint, based in Overland Park, Kansas. Sprint will sublease space on the towers from Global Signal for 10 years, starting at $1,400 per month per tower. Global Signal will take over Sprint's existing collocation arrangements with tenants that lease space on the towers and will be able to sublease space on the towers to additional third-party tenants.
The transaction, which calls for Global Signal to make one $1.2 billion payment, is expected to close in the second quarter. Global Signal will have the option to buy the towers after the lease expires for about $2.3 billion.
The leasing agreement provides a better economic situation for Sprint based upon a favorable tax treatment, but analysts are quickly assessing how it will affect Global Signal's bottom line. According to an executive at Global Signal familiar with the agreement, the length of the lease is being treated internally similar to ownership. "The structures would probably have been fully depreciated over that period of time, anyway," he explained, further stating that "thirty-two years are multiple lifetimes in this industry."
SPRINT LOCATIONS

State
Sites
State
Sites
State
Sites
State
Sites

AL

78

ID

8

MS

23

SC

18

AR

57

IL

420

NC

169

TN

200

AZ

135

IN

198

NE

50

TX

907

CA

788

KS

82

NH

29

VT

127

CO

79

KY

50

NJ

144

VA

164

CT

92

LA

93

NV

94

WA

155

DC

1

MA

121

NY

255

WI

68

DE

13

MD

154

OH

581

WV

1

FL

274

ME

11

OK

114

WY

4

GA

147

MI

171

OR

83

 

 

HI

35

MN

99

PA

181

Total

 

IA

54

MO

194

RI

20

Sites:
6,741

Source: Company Information 9/12/04
Based upon its existing portfolio of structures from company information dated 9/12/2004, Sprint Sites' 6,734 structures averaged $178,000 each for the 32-year lease. If Global Signal were to purchase the locations in 2037, it would cost a total of $520,000 each according to the lease-purchase agreement.
After emerging from bankruptcy in 2002 and changing its name from Pinnacle Holdings, Inc. to Global Signal, the company maintained a portfolio of approximately 3,300 structures. The exclusive lease agreement will place them as the nation's third largest tower company behind American Tower (14,000) and Crown Castle (10,600) and ahead of SpectraSite (7,802), SBA Communications (3,164), and AAT Communications (1,800).
Although a few of the major tower owners expressed an interest in acquiring the towers and reviewed Sprint's book, structure capacity and site location conflicts with their existing towers were considerations that affected their proposals. Other interested bidders included Liberty Media Corp. and two private equity firms.
One of Pinnacle Holdings' earlier cattle car buys was Motorola's tower sites, many of which required retrofitting in order to add new tenants. Global Signal's Vice President of Sales and Marketing Jeffrey Langdon and Vice President for Corporate Development and Operations Ronald G. Bizick, ll, were former SBA Communications executives.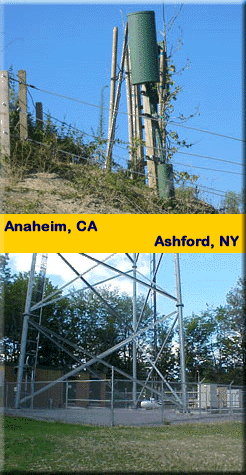 Sprint Sites' structures range from a 7' tall panel antenna attached to a wooden post in Anaheim, CA to a 350' self supporting tower in Ashford, NY. Most of the towers are concentrated in metropolitan markets with 40% of their sites in four states, Texas, California, Ohio and Illinois.
Prior benchmark sale was $180,000
iPCS Inc., a PCS affiliate of Sprint, announced in September of 2004 that they had reached an agreement to sell up to 92 communications towers to TCP Communications, LLC of Boston. The towers are located primarily in Michigan, Illinois, Iowa and Nebraska. TCP paid an average of $180,000 per site. The $16.5 million deal has since closed. The iPCS Inc. sale has doubled TCP's tower count. They previously owned 89 structures in 11 eastern states. TCP is funded by Catalyst Investors, LP, a private equity fund specializing in media and communications industries. Founded two years ago, many of TCP's officers held executive positions with SBA Communications.
Although there have been major tower site purchases in the past exceeding TCP's average of $180,000 per site, the Sprint sale reflected a more rigorous due diligence by interested companies. Speed to market was no longer the driving force.  Consolidators carefully reviewed the portfolio's cash flow and the potential for additional leases. The larger tower companies had to assess locations having duplicate coverage. Some Sprint sites were within blocks of their towers. During the past two years tower owners have cleaned up a greater portion of their inventory, selling bare or unprofitable structures. Some companies were not anxious to tackle their balance sheets again and allay shareholder concerns.
Structure capacity weighs heavily
Identifying each site's capacity was the most difficult task for Global Signal during the offering period. Many of Sprints' earlier sites were limited in their ability to accept additional tenants without extensive retrofitting. In addition, national standard TIA/EIA 222-G will have to be used in 2005 when it is released to analyze capacity for new tenants. Some structures that would have been acceptable may now be overloaded.
Sprint said it had decided last year that the tower collocation business wasn't part of its core business.
"After reviewing possible scenarios, Sprint concluded that accepting the offer from Global Signal was the best course of action for creating economic value while maintaining network integrity," Sprint said in their corporate press release. Sprint also said it expects the transaction to have no material impact on its 2005 operating income; adjusted earnings before interest, taxation, depreciation and amortization; and earnings per share.
Ground lease requirements will change accounting practices
In connection with the February 7, 2005 Securities Exchange Commission (SEC) statement issued by the Staff of the Office of the Chief Accountant and consistent with other public companies in the tower and other industries, tower owners are reviewing their accounting practices to determine whether they will adjust their method of accounting for certain types of ground leases underlying their tower sites. As a result of this accounting adjustment, SBA Communications has announced that it will calculate its straight-line ground lease expense for certain types of leases using a time period that equals or exceeds the time period used for depreciation of the tower, which is typically 15 years. Prior to the adjustment, SBA calculated its straight-line ground rent expense using the current lease term (typically five years) without regard to renewal options.

Some tower owners are depreciating all of their tower assets over a 20-year useful life, without regard to the underlying ground lease because of their experience in successfully renewing ground leases prior to expiration. In a recent accounting adjustment, Crown Castle announced that it would calculate its straight-line ground lease expense using a time period that equals or exceeds the time period used for depreciation. The result of Crown Castle's depreciation correction will shorten the depreciable lives of some of their tower assets that have ground leases shorter than 20 years. In the event that tower owners identify that the impact of the adjustment is material to prior period financial statements, restatements of those prior period financial statements will be made. Any adjustments, they say,  will be non-cash in nature, and will not affect historical or future cash flows from operations or the timing of payments under related ground leases. However, it is anticipated that the non-cash adjustment will increase reported ground rent expense for fiscal 2005, but will have no impact on cash flows from operations.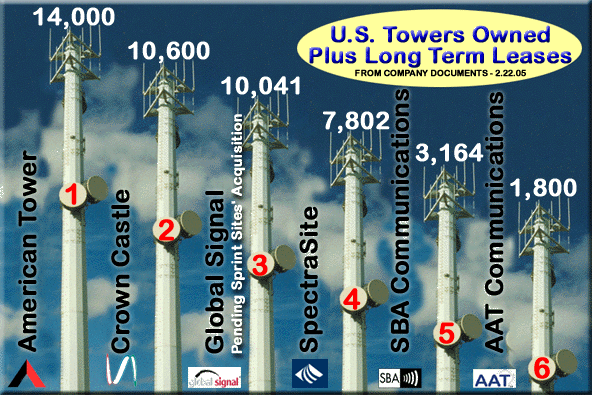 Copyright © Wireless Estimator, Inc. Please request reprint permission.