ATC and Crown get FCC okay to cut back light monitoring inspections from quarterly to annually
May 16, 2007 - The Federal Communications Commission released an order yesterday allowing American Tower Corporation and Crown Castle International to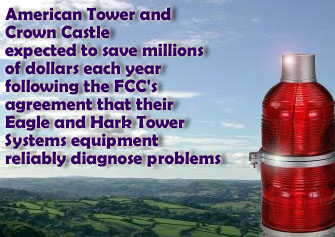 inspect their lighting monitoring systems once a year instead of the required intervals not to exceed three months.
Removing the quarterly requirement is expected to save both companies millions of dollars each year. ATC filed a request for a waiver for towers utilizing the Eagle Monitoring System, a product of Flash Technology, on May 19, 2005. On January 24, 2006, the Wireless Telecommunicatons Bureau released a Public Notice seeking comment on the waiver.

Global Signal, Inc. (acquired by Crown Castle International earlier this year) responded, requesting that it also be granted a waiver with regard to its towers that are monitored by HARK Tower Systems' equipment.

AOPA objects to annual inspection
The Aircraft Owners and Pilots association (AOPA) objected to the annual inspection request, stating that the technology used by ATC required further evaluation. AOPA indicated that it favors introduction and use of new technologies, but believed that quarterly inspections should continue until these new technologies have been thoroughly evaluated. The FCC did not find their concerns persuasive.

The FCC said the Eagle and HARK monitoring systems "reliably diagnose problems, including any failures or control devices, indicators and alarm systems, within real time, and therefore render strict application of the rule unnecessary to serve its underlying purpose. Moreover, these waivers will relieve ATC and GSI of the burden of performing thousands of unnecessary quarterly inspections."

The FCC noted in their decision that the granting of the waivers will encourage other tower owners to invest in similar state-of-the-art technologies.

PCIA - The Wireless Infrastructure Association has filed a Petition for Rulemaking with the FCC to amend the monitoring requirements to exempt systems using NOC-based monitoring technology from the quarterly inspections. On-site inspections were first mandated in the 1940s and 1950s. HARK also recommended that Section 17.47(b) be modified to relieve inspection requirements for all tower companies using a sophisticated monitoring system.

Global Signal said it had conducted 24,153 on-site quarterly inspections since October 2001 and ATC reported 43,761 since March 2002. Both tower companies said that there were no incidents discovered during any of these quarterly inspections that required the issuance of a NOTAM under FCC rules.

For a copy of the Memorandum Opinion and Order, click here.