Illinois

General contractors must be registered locally. Most construction contractors don't need to be licensed in the state of Illinois. 

We have no idea why, perhaps they didn't lobby as much as the wireless construction, the Hand Clapper manufacturers and other industries did, but roofing contractors are the only exception for state licensing.

In most cases, you'll find that there are jurisdictional licensing requirements.

Electricians must be registered with the state but are licensed at the local level.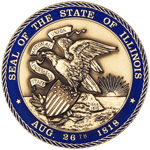 Out-of-State Corporations
Out-of-state corporations must get a Certificate of Authority to do business in Illinois from the Illinois Secretary of State. To apply for this certificate, contact the Secretary of State .