Towercos strive to profit in India in spite of a culture of corruption and business roadblocks
November 2, 2011 - Buoyed by voice and data penetration projections, the nation's publically traded tower company executives are quick to inform analysts how they're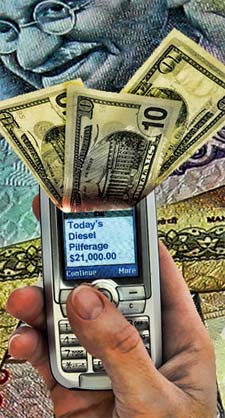 propping up their consolidated income through strategic investments in other countries.
However, business cultures can collide and companies that are structured by their domestic achievements oftentimes find that they can't rely upon their successful origins and expected operating expenses, especially in India where American Tower Corporation owns 8,414 towers, equal to approximately 40% of the Boston-based company's 21,209 domestic structures.
According to ATC's third quarter report released yesterday, the company owns 39,669 towers, with an international footprint of 18,460, representing 47% of all of its towers.
Understanding India's culture and its telecom and business development issues is uncomplicated for ATC's president of its Asian subsidiary, Amit Sharma.
The well-respected former member of Motorola's Asia-Pacific executive leadership team seems to have tailored his education to be able to successfully lead ATC in its India expansion: an MBA in International Business from the Wharton School, an MS in Computer Science and a Bachelor of Technology in Mechanical Engineering from the Indian Institute of Technology.
But there are some aspects of trade that neither Sharma nor any other tower company in India can budget for or anticipate in its business model: A rising tide of corruption and pilferage, and tower prices plummeting as operational costs rise.
Pilferage is a problem
Although ATC did not respond to a request to discuss its India operations, Manoj Tirodkar, Chairman of India's GTL Infrastructures, the largest tower company which does not operate mobile services, said, "At the operational level the issues of pilferage of diesel and issues related to labor are areas that concern us."
A GTL official has also said that security at many their cell sites has become a burdensome expense to fund with guards costing two-thirds of the rental income for single tenant towers.
GTL's site managers estimate around 20% of their total diesel consumption is pilfered. Although GTL has their fuel expenses set up as a pass-through to the carrier, the amounts are oftentimes disputed and have to be negotiated.
India has approximately 350,000 towers and roughly 30,000 are being built annually to meet the country's mobile demand.
However, more than 400 million people in rural India—about half the rural population and a third of the total population of the country—do not have access to electricity, making diesel powered cell sites throughout the country a requirement.
Some cell phone carriers estimate that more than half of the opex of a remote base station goes to fuel.
In addition to diesel fuel thefts - seen by some landlords as an expected perk along with their rent if it's a respectable amount of pilferage, cell sites have a considerable problem with radio, copper and transmission line larceny.
Unlike the U.S., which is enacting new legislation to prevent cell sites from being disabled due to theft and meting out hefty fines and jail terms for those caught, India's thefts are not taken as seriously by authorities who say their resources to investigate would stretch their departments too thin.
India's tower companies are also being required to pay steep fees over the value-added tax on every tower to municipal, local and state governments.
GTL's managers have also acknowledged that unions and the lack of skilled workers have also added to operational costs, making many of their sites unprofitable.
Corruption can also add to the price of doing business
"It's almost a requirement India to have to add to your cost to 'smooth' the way in almost every construction project in the country," explained one US-based contractor to Wireless Estimator. "If you're going to take on a large scale project, you'd best be prepared to find roadblocks that can only be resolved by compensating someone."
"Graft will easily find you," he said.
Corruption has been endemic in India for many years, and as the nation continues to grow - in 2010 by 10.4%, slightly surpassing China's growth rate, according to The Economist - more opportunities arise.
Last year, the head of an anti-graft commission, Pratyush Sinha, threw his hands up in despair, saying his job was thankless and that increasingly materialistic Indians were becoming "utterly corrupt".
India's corruption starts at the top and works its way down to the local level, according to published reports.
Road contractors allege that at least 5% percent of every project's cost is paid in bribes.
Telecom is no exception, it's possibly worse
Except for a case last year where a Lackawanna County, Penn. commissioner was indicted for receiving $14,000 in a tower siting bribe, the U.S. is fairly transparent in its telecom dealings, especially on the FCC and carrier levels.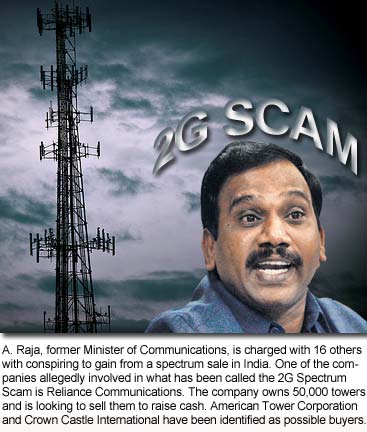 Not so in India, said a Delhi court last month, charging former Telecom Minister A Raja and 16 others with conspiring to sell and benefiting from undercharging mobile carriers for 2G spectrum licenses. The court said the shortfall was approximately $39 billion.
Telecom companies Reliance Telecom Ltd, Swan Telecom and Unitech Wireless and some of their executives were charged with criminal conspiracy and forgery of documents and violating corporate law following the investigation that surfaced after 2008 when a federal auditor said the government potentially lost billions when radio bandwidth was sold without an auction.
All of the accused pleaded not guilty to the charges. Their trial is scheduled to begin Nov. 11.
The majority of ATC's new towers constructed internationally during its third quarter were in India where they were working on a build-to-suit project for both Reliance and Vodafone.
In August, according to Reuters, ATC was contacted by Reliance Communications to offer a proposal to buy its 95% stake in Reliance Infratel, a tower subsidiary of the second-largest mobile phone operator in India.
Media reports have also linked Crown Castle International among the suitors for Reliance's 50,000 tower unit.
The deal price was first seen as being able to bring in $5 billion for debt laden Reliance, but industry observers believe it will be closer to $4 billion or less.
India moving towards a tower buyer's market
Tower Vision India Private Limited, founded in 2006, is reportedly negotiating with ATC, Bharti Airtel Ltd., and the Carlyle Group LP to sell its 5,500 completed towers and another 2,500 being developed.
The founders, Quadrangle Capital Partners and Fore Group Ltd. own about a 90% stake in the business and are seeking a valuation of more than $125,000 per operating tower in the purchase that is reported to be in excess of $750 million.
That number might be too pricy in a country where tower valuations continue to drop.

A high mark was reached in January 2009 when Viom Networks Ltd. bought Quippo Telecom Infrastructure Ltd's 18,000 towers at an average cost of approximately $150,000.
But in the next largest purchase one year later, GTL bought Aircel Ltd's 17,500 towers for $1.9 billion, slightly higher than $108,000 per structure. Earlier this year, GTL was forced into a debt restructuring because of operational losses, partially attributed to high interest rates.
Enforcing India's contracts is troubling
Whereas U.S. towercos are used to utilizing the court system to equitably enforce agreements with tenants, contractors and suppliers, India's enforcement system can be lit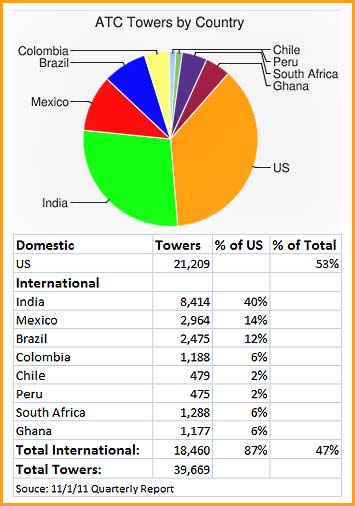 erally described as almost the worst in the world.
Last year, foreign direct investment into India fell by almost a third. In the World Bank's "2011 Ease of Doing Business" index (See below), India ranks 132nd out of 183 countries, scoring particularly badly on ease of starting a business and, above all, enforcing contracts - 182nd, behind Angola, but with only Timor-Leste, an island off of Indonesia, being the worst in the world.
In ATC's 2010 Annual Report, the company says that under the Indian Telegraph Act of 1885, they are required to provide tower space on a non-discriminatory basis, but they are able to negotiate agreeable terms and conditions.
They also note that the Indian government has the right to take over their infrastructure in the case of emergency or war.
Amongst other caveats added in 2009's Annual Report, ATC stated that their business is subject to risks associated with doing business internationally through the "...possible failure to comply with anti-bribery laws such as the Foreign Corrupt Practices Act and similar local anti-bribery laws."
ATC chief notes India's strong demand for new towers
ATC Chairman and CEO James Taiclet sees a strong future in India going into 2012.
"We are currently seeing strong demand for build-to-suit towers that should continue into next year in India, and we're seeing their wireless carriers increasing their outsourcing of new tower builds and collocations," said Taiclet during an earnings call Tuesday.
Although India represents 46% of ATC's international tower count, Taiclet said that he was not going to break out each country's contribution, but will treat international business as a segment.
"So the best way for, I think, us to talk about and advance the business internationally is the combined organic growth rate, which is about 9% in 2011," said Taiclet
"We think it could be at that or better next year because of some very good things happening in these individual markets. So we won't necessarily break out country-by-country. None of them are over 10% of revenue anyway. But collectively, they're touching on almost 30% now and that vibrancy within that portfolio is what we're really, really after," Taiclet informed analysts.
Mexico is more receptive to foreign investments
Sixteen percent of ATC's international towers are located in Mexico.
Tom Bartlett, ATC's Executive Vice President and CFO, said during ATC's call that a big contributor to the company's international growth was clearly their new Latin American and South African markets.
One U.S. manufacturer and three contractors informed Wireless Estimator that India doesn't have exclusivity on some questionable business practices, and that they would have had problems in Mexico if they didn't comply with overt requests for payoffs.
The World Bank ranks the country as 53rd of 183 countries in the "2011 Ease of Doing Business" index.
Crown Castle International's foreign interest is in Australia where it has approximately 1,300 towers.
With a non-domestic count of 300 towers, SBA Communications Corporation, the nation's third largest publically traded company is also expanding internationally, but their purchases in Canada, Costa Rica, El Salvador and Panama only represent 3% of their company-owned towers.

Privately held Global Tower Partners has 208 towers in Mexico and 251 in Costa Rica.

Currency fluctuations can cut into earnings
International companies face risks if there are marked swings in foreign currency exchange rates.
ATC's foreign subsidiaries use the local country's currency and all assets and liabilities are translated into U.S. dollars at the exchange rate in effect at the end of the applicable fiscal reporting period.
Yesterday's Q3 report saw ATC swing to a third-quarter loss as unrealized foreign currency losses veiled the company's revenue growth.
Unrealized foreign currency losses of $101.5 million related to intercompany loans and similar unaffiliated balances were reported while the year-earlier included unrealized foreign currency gains of $5.53 million.
However, revenue rose 23% to $630.4 million and Wall Street liked what it saw yesterday, raising the stock to an all time high of $58.00 in afternoon trading.

The World's Easiest Countries To Do Business With

Legend for US-based tower companies doing business abroad:
ATC, American Tower Corp. - CCI, Crown Castle Int. - SBA, SBA Communications Corp.
GTP, Global Tower Partners

Rank
Country
Rank
Country
Rank
Country
1
Singapore
62
Poland
123
Uganda
2
Hong Kong SAR, China
63 ATC
Ghana
124
Swaziland
3
New Zealand
64
Czech Republic
125
Bosnia and Herzegovina
4
United States
65
Dominica
126 ATC
Brazil
5
Denmark
66
Azerbaijan
127
Tanzania
6
Norway
67
Kuwait
128
Honduras
7
United Kingdom
68
Trinidad and Tobago
129
Indonesia
8
Korea, Rep.
69
Belarus
130
Ecuador
9
Iceland
70
Kyrgyz Republic
131
West Bank and Gaza
10
Ireland
71
Turkey
132 ATC
India
11
Finland
72
Romania
133
Nigeria
12
Saudi Arabia
73
Grenada
134
Syrian Arab Republic
13 SBA
Canada
74
Solomon Islands
135
Sudan
14
Sweden
75
St. Vincent and the Grenadines
136
Philippines
15 CCI
Australia
76
Vanuatu
137
Madagascar
16
Georgia
77
Fiji
138
Cambodia
17
Thailand
78
Namibia
139
Mozambique
18
Malaysia
79
Maldives
140
Micronesia, Fed. Sts.
19
Germany
80
Croatia
141
Sierra Leone
20
Japan
81
Moldova
142
Bhutan
21
Latvia
82
Albania
143
Lesotho
22
Macedonia,  FYR
83
Brunei Darussalam
144
Iran, Islamic Rep.
23
Mauritius
84
Zambia
145
Malawi
24
Estonia
85
Bahamas, The
146
Mali
25
Taiwan, China
86
Mongolia
147
Tajikistan
26
Switzerland
87
Italy
148
Algeria
27
Lithuania
88
Jamaica
149
Gambia, The
28
Belgium
89
Sri Lanka
150
Burkina Faso
29
France
90
Uruguay
151
Liberia
30
Portugal
91
China
152
Ukraine
31
Netherlands
92
Serbia
153
Bolivia
32
Austria
93
Belize
154
Senegal
33
United Arab Emirates
94
Morocco
155
Equatorial Guinea
34
Israel
95
St. Kitts and Nevis
156
Gabon
35 ATC
South Africa
96
Jordan
157
Comoros
36
Qatar
97
Guatemala
158
Suriname
37
Slovenia
98
Vietnam
159
Mauritania
38
Bahrain
99
Yemen, Rep.
160
Afghanistan
39 ATC
Chile
100
Greece
161
Cameroon
40
Cyprus
101
Papua New Guinea
162
Togo
41 ATC
Peru
102
Paraguay
163
São Tomé and Príncipe
42 ATC
Colombia
103
Seychelles
164
Iraq
43
Puerto Rico (U.S.)
104
Lebanon
165
Lao PDR
44
Spain
105
Pakistan
166
Uzbekistan
45
Rwanda
106
Marshall Islands
167
Côte d'Ivoire
46
Tunisia
107
Nepal
168
Timor-Leste
47
Kazakhstan
108
Dominican Republic
169
Burundi
48
Slovak Republic
109
Kenya
170
Djibouti
49
Oman
110
Egypt, Arab Rep.
171
Zimbabwe
50
Luxembourg
111
Ethiopia
172
Angola
51
Hungary
112 SBA
El Salvador
173
Niger
52
St. Lucia
113
Argentina
174
Haiti
53 ATC
53 GTP
Mexico
Mexico
114
Guyana
175
Benin
54
Botswana
115
Kiribati
176
Guinea-Bissau
55
Armenia
116
Palau
177
Venezuela,  RB
56
Montenegro
117
Kosovo
178
Congo, Dem. Rep.
57
Antigua and Barbuda
118
Nicaragua
179
Guinea
58
Tonga
119
Cape Verde
180
Eritrea
59
Bulgaria
120
Russian Federation
181
Congo, Rep.
60
Samoa
121 SBA
121 GTP
Costa Rica
Costa Rica
182
Central African Republic
61 SBA
Panama
122
Bangladesh
183
Chad

Statistics from The World Bank and the International
Finance Corporation - 2011 Report and published tower company reports
-