Louisiana

Unless you are well connected, capable of handing out lots of free 50-yard-line Saints tickets and your company's name is the Huey "Kingfish" Long Wireless Communications Construction Company, to do construction work in Louisiana you will need to be licensed by the State Licensing Board for Contractors.

Contractors usually have to post a bond equal to 5% of the contract price for any lump sum or cost-plus contract. The minimum bond amount is $1,000.

To find out if a contractor is licensed in Louisiana, click here .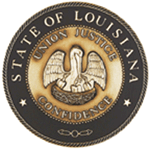 Out-of-State Corporations
Out-of-state corporations must get a Certificate of Authority to do business in Louisiana from the Louisiana Secretary of State. To apply for this certificate, click on Secretary of State .