Massachusetts 

Anyone who supervises construction work or demolition (even a crew of one) needs a license.
Can you then supervise the Big Dig if you obtain one? No, just up to a building or structure of less than 35,000 cubic feet of enclosed space.  How that relates to towers we're not quite sure, especially if it's not a monopole. Check local jurisdictions for licensing requirements.
To find out if an electrician is licensed in Massachusetts, click Electrical Licenses.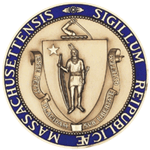 Out-of-State Corporations
You must register with the Massachusetts Secretary of State and get a Certificate of Good Standing to do business in the state. To get an application, click on Secretary of State .