Michigan 

Contractors working commercial projects must be licensed. Electricians, plumbers and HVAC contractors also have to be licensed.

If you're going to take on a project in the Upper Peninsular, please be advised that there are only two construction seasons, winter and road reconstruction.

To find out if a contractor is licensed, click on LICENSING.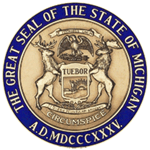 Out-of-State Corporations
An out-of-state corporation needs to register with the Corporation Division to do business in the state. For information, click on: Corporation Division.