Minnesota

The Minnesota Department of Commerce does not require licenses for commercial general contractors or electricians. Check the local jurisdiction for any licensing requirements.

Minnesota is a wonderful and beautiful state for wireless construction, but be aware of wintertime conditions where some weathered contractors will tell you that the 10,000 lakes state has 11 months of winter and one month of bad sledding.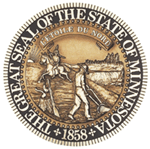 Out-of-State Corporations
Out-of-state corporations should contact the Minnesota Secretary of State before doing business in Minnesota. Click on Secretary of State.